'HSM' Songs You Need To Give Another Listen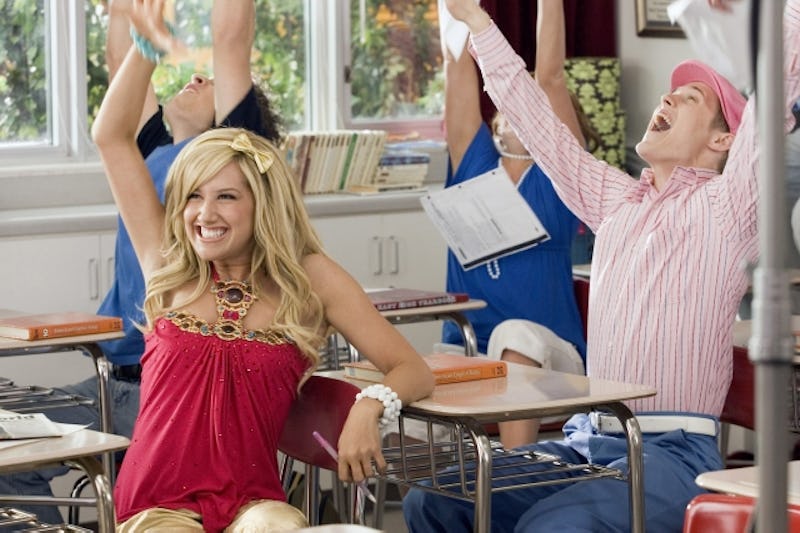 By now, you have probably heard the greatest news ever: High School Musical 4 is happening. I know, it's practically a miracle. Not a lot has been said about the details of the film or who will/will not return for it, but It's official, and, right now, that is enough. (Even though all wouldn't be truly right in the world without a cameo from Zac Efron, but I digress.) One thing that made these films special, again besides Zac Efron, was the music in each film, and there are some obvious High School Musical songs that need to be revisited.
I may have been a huge HSM fan, but if I'm totally honest, not every song was a winner. Yes, even I was going to punch a wall if I had to hear the song "I Don't Dance" played one more time. But, for the most part, each song in the films added something special to the movie and moved the story forward in an integral way. Some of them were cheesy uptempo songs, but there were a few that made me tear up. High School Musical 3: Senior Year gets me every time.
To prepare for the newest film in the franchise, listen to these old HSM classics, and fall in love with the Wildcats all over again.
1. "Breaking Free"
Obviously no list about High School Musical could be complete without mention of this song. I don't know what it was that appealed to people, but this song will go down as a classic for years to come.
2. "We're All In This Together"
This is the song that single-handedly made this film what it is. Every school has a cheer or an anthem that the entire student body knows, and this was East High's. Not too complicated, and super catchy.
3. "Bet On It"
OK, even though I love Zac Efron, this song was not the greatest showcase of his dance skills. There were some things I wish he hadn't done in this video, but it just made him all the more endearing. And proved that even Zac Efron as flaws.
4. "Gotta Go My Own Way"
I wasn't a believer in Vanessa Hudgens vocals until I saw her sing this song.
5. "Can I Have This Dance"
Who doesn't want the star athlete to ballroom dance with them on a rooftop while dressed in the cutest suit? I mean, this was every girl's dream.
6. "What Time Is It"
To this day, I will not respond to the question, "What time is it?" Without answering "Summertime." I know I'm too grown for that, but I'm not stopping anytime soon.
7. "Work This Out"
I'm a sucker for any musical scenes that are done in a kitchen. Just putting that out there.
8. "Just Wanna Be With You"
This was one of my favorite scenes from all three movies. I loved that Ryan and Kelsi were the perfect couple we never saw coming or knew we wanted.
9. "Everyday"
This scene always makes me tear up just a little. The way they're all looking at each other while singing, and the way you can just feel their genuine love for one another, just gets me every time.
10. "Get'cha Head In the Game"
Do I even need to explain this one?
11. "All For One"
This song is just too fun to resist. I love that they ended the second movie with a fun pool party and a small cameo from Miley Cyrus.
12. "Start Of Something New"
The song that began it all. Troy and Gabriella meeting on that fateful New Year's Eve will forever be one of the cutest love stories ever told. OK, maybe not the cutest, but close.
13. "High School Musical"
There wasn't a more perfect song to cap off the whole franchise with than this. It really played to the feelings that we all had while watching the film, and was the perfect closure to a great franchise.
I can't wait for High School Musical 4, and I hope you can't either now. Here's to hoping that Zac Efron will stumble upon this article, remember all of the good times, and decide to make a small appearance in the fourth film. Because, after all, once a Wildcat always a Wildcat.
Image: The Disney Channel