The Worst Things Ever Said On 'Real Housewives'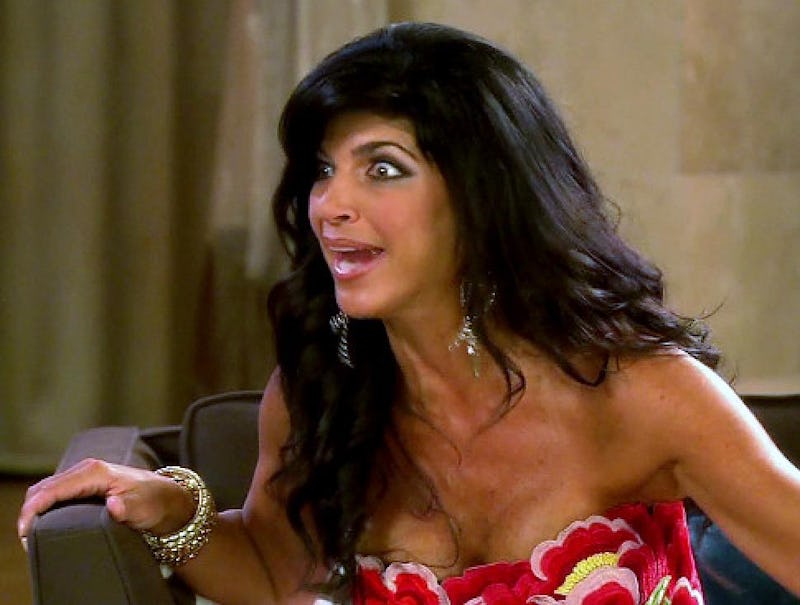 If you're ever in the mood for some drama, you know where to go: Bravo's super successful franchise Real Housewives. The reality series never fails in entertaining its biggest fans, especially when it comes to fights. There is at least one major argument each season, which brings the drama to a whole new level. Like with most disagreements, mean things are usually said, and unfortunately, these words can't be taken back. With that, let's talk about some of the worst things ever said on Real Housewives .
It's kind of hard to narrow down the worst things any of the Housewives have ever said throughout the entire franchise — there's just so many — but the ones listed below are pretty brutal, if I do say so myself. Seriously, these women aren't afraid to hold back what they're really feeling. The same can be said for other "characters" who pop up from time to time, like Real Housewives of New York City's Aviva Drescher's father, George Teichner. Yeah, to say he was controversial would be an understatement.
Pretty much everyone who either stars or has appeared on any of the Real Housewives shows has said at least one horrible thing. Now, let's talk about the worst ones to have been uttered so far.
1. When Meghan Confronted Vicki
During Season 10 of The Real Housewives of Orange County, Meghan King Edmonds and Vicki Gunvalson never saw eye to eye. "You're just an old woman who's pissed off and bitter" is one of the many things Meghan had to say about Vicki.
2. When Brandi & Kim Weren't BFFs
Remember when Brandi Glanville and Kim Richards weren't friends on Real Housewives of Beverly Hills? Yeah, then Brandi screamed the above at Kim in Season 2 at Dana Wilkey's game night. It was one of the more epic fights between Brandi, Kim, and Kyle Richards.
In 2011, Kim responded to Brandi's crystal meth comments in a Twitter post. "I'll be the first to admit that I have struggled in the past with certain vices; but I have never in my life, EVER, used crystal meth," her post reads. "I have discussed openly my issues with alcohol. As many of you know, sobriety is a lifetime process, a process that is a priority in my life right now. I am grateful for the love and support of my children, family and dear friends. By Brandi throwing out that accusation, it not only hurt me and my reputation, but hurt my children."
3. When Kyle Wasn't A Good Sister
During the Season 1 finale of Real Housewives of Beverly Hills, Kyle Richards outed her sister as an alcoholic, which not only made this a memorable episode, but just goes to show you sometimes the Richards aren't great sisters to one another. Now, for the quote from Kyle to Kim, as yelled in the limo: "You are a liar, and sick, and an alcoholic."
Since Season 1, Kim has been very open about her struggle with sobriety on multiple occasions. For example, in July 2015, after Kim was arrested in April 2015 at the Beverly Hills Hotel, she got candid with Entertainment Tonight about her arrest and entering rehab. "I love sobriety," she admitted. "I've always loved sobriety, and relapsing was very hard for me. It was not easy. I have to say, don't take this wrong, but I really wanted to go to treatment because I needed a break from what I was going through at home."
4. When Dorinda Was Way Harsh
During Season 8 of Real Housewives of New York City, Dorinda Medley said to Ramona Singer, "Mario? Oh, sorry, that's right, he left you for someone else." Whoa. Even though there has been a lot of tension between Dorinda and Ramona over John, that is still pretty harsh.
5. When Kim Dissed Taylor
During RHOBH Season 1's "dinner from hell," while Kyle and Allison DuBois were going at it, Kim Richards and Taylor Armstrong couldn't help but have an argument with each other. Kim said to Taylor, "Why don't you go blow up your lips some more?" No one should ever criticize someone else's appearances, but these ladies just can't seem to help it.
6. When Aviva Had Enough Of Ramona & Sonja
Remember that time Aviva conquered her fear of flying and met up with the ladies in St. Barts. As soon as Aviva arrived, she wasn't happy with anyone, especially because they didn't have a "congratulations" sign or a party for her actually getting on a plane. Amongst all the tension, she also managed to say this to Ramona and Sonja Morgan: "You're both white trash, quite frankly."
7. When Tamra Wasn't Religious
Despite Tamra Judge getting baptized in Season 10, in earlier RHOC seasons she didn't appear to be super religious. Let's think back to that time she criticized both Alexis Bellino's religion and her boobs. She said, "You are psychotic, Jesus Jugs." This really is one of the most memorable Tamra quotes.
8. When Joe & Teresa Were At Odds
Joe Gorga and Teresa Giudice had their fair share of fights on Real Housewives of New Jersey, especially when he and his wife, Melissa Gorga, joined the show. They also had some extremely mean things to say to one another like when Joe said to Teresa at his son's christening, "You're garbage."
9. When Teresa Flipped A Table
Who will ever forget when Teresa flipped a table during RHONJ Season 1? She and Danielle Staub never saw eye to eye, which is probably why she called Danielle a "Prostitution whore!" Yeah, Teresa, never minces words.
10. When Aviva's Said... This
Oh, Aviva, one of the many mistakes you made during your time on RHONY was bringing your father into the spotlight. The evidence is here in this very quote said by George to Aviva, aka his daughter: "Baby, you really have a beautiful tan. If I wasn't your father, boy, I'd be after you." *cringes*
11. When Aviva's Father Was Just Creepy
The line about Aviva wasn't the only cringe-worthy quote from George. Check this one out, where George not only creeped out Carole Radziwill, but everyone else, too. "Carole, I could give you your first squirting orgasm." No, George. Just no.
12. When Aviva's Father Went Way Too Far
Really there are no words for when George said this to Ramona: "I'm gonna lick my lips and put my hand on your vagina." As Hermione Granger once said, "Excuse me, I have to go and vomit."
13. When Slade Slammed Vicki's Appearance
Oh, Slade Smiley. Gretchen Rossi might love you, but Vicki sure doesn't. He once said this about Vicki post-surgery during one of his "stand-up comedy routines:" "Hey, don't get mad at me because she looks like Miss Piggy, it's not my fault."
14. When Porsha Talked About Kenya's Privates
When Kenya Moore and Porsha Williams weren't getting into a physical fight at the Real Housewives of Atlanta Season 6 reunion, Porsha was saying to Kenya, "Your vagina is so rotten, no one will claim you!" She just has a way with words, doesn't she?
15. When Brandi Was Just Plain Mean
For the short time Joyce Giraud was a part of RHOBH, she and Brandi had several altercations. When Brandi wasn't purposely mispronouncing Joyce's name, she was saying things like this (to her face): "Joyce is a big fat pig." Yeah, that's typical Brandi.
16. When Kim Followed In Brandi's Footsteps
And Kim yelled, "You're a slut pig," at Brandi. They clearly have the same unfortunate vocabulary.
Unfortunately, that's just the short list...
Images: Bravo; realitytvgifs (8), bethenny (1), beamlyus (1)/Tumblr; Giphy (7)