The 29 Most Iconic 'Real Housewives' Quotes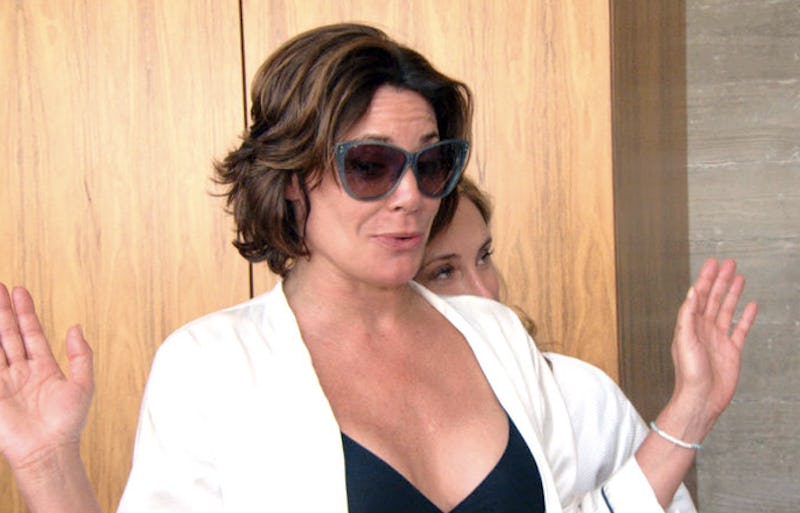 Being a dedicated Real Housewives viewer goes beyond tuning into the TV shows every week. It's about incorporating the franchise into your lifestyle. It means doing your best to act like a Real Housewife. And if you can't be (or pretend to be) rich, famous, or get on TV, then the next best thing to do is channel some Real Housewives sass. You can do this by incorporating iconic Real Housewives quotes into your life. There have been so many gems over the years that it is kind of difficult to narrow things down, but there plenty of quotes that every Real Housewives fan knows.
These include quotes that are so great that they get repeated over and over again by cast members on the actual show, as well as quotes that were only uttered once but will live on in infamy. These include the shady moments that have made it into countless Internet memes, and some of the truly top Real Housewives quotes have made it onto merchandise like clothing, furniture, mugs, and decorations.
Don't be fooled, some of the women, especially the newer ladies, have really done the most to try to be funny and quotable, but there are just some Real Housewives quotes that stand out above the rest and have become iconic.
1. When LuAnn Wanted Heather To Be Cool
This quote has to be LuAnn de Lesseps' best contribution to the world. There is absolutely nothing that she can do to ever top the moment when she called out Heather Thomson for freaking out because The Countess brought a dude back to the crib during a group vacation.
2. When NeNe Wanted To Remind Shereé That She's Rich
When is NeNe Leakes ever not talking about how rich she is? That is her comeback in every single argument and it weirdly never gets old. Although, I'm sure Shereé Whitfield is tired of hearing it in person.
3. When The Psychic Made Predictions About Kyle's Marriage
Psychic Allison Dubois made bold predictions about the state of Kyle Richards' marriage. This was the first time they met and Kyle didn't even ask for a psychic reading, so it was a pretty aggressive first impression to say the least.
4. When Tamra Attacked Alexis
Instead of sticking to the actual argument at hand, Tamra Judge just attacked Alexis Bellino for her religious beliefs and large breast implants during the Season 8 reunion episode of Real Housewives of Orange County. It was pretty uncalled for, but it was hilarious and will never be forgotten.
5. When Camille Described Faye Resnick
This phrase was only uttered once, but will live on forever. Camille Grammer describing Faye Resnick as "morally corrupt" was so resolute and coolly delivered that it became instantly iconic. I will never ever get over this. Camille was the queen of one-liners.
6. When Teresa Called Danielle Honey
By the second season of Real Housewives of New Jersey, it was clear that Danielle Staub and Teresa Giudice hated each other. So when Teresa referred to her as "honey," Danielle just wasn't having it.
7. When Teresa Asked How To Address Danielle
Danielle didn't want Teresa to call her "honey," so Teresa turned up the sass and asked if she preferred the word "bitch" instead. As if that was going to smooth over the tension...
8. When NeNe Didn't Approve Of Kim's Love Life
When NeNe and Kim Zolciak went from besties to frenemies the claws really came out. NeNe decided to call out Kim for her relationship with "Big Poppa" at the first Real Housewives of Atlanta reunion and the moment was legendary.
9. When Sonja Was Looking For Dorinda
Drunk Sonja Morgan has the ability to make anything entertaining, so when she was interrogating Dorinda Medley's boyfriend John to ask where she was, it became instantly quotable — even though in real life it's only applicable to very specific situations involving women named Dorinda.
10. When Kim Insulted Brandi
I love me some Kim Richards, but she is not always the most well spoken. She was stumbling over some words to insult Brandi Glanville and settled on "slut pig" for some reason. It was just the most randomly weird combination of words, but it worked in a Kim sort of way.
11. When Shereé Got Mad At A Party Planner
When Shereé had enough of her party planner, she pulled out her inner gangster and told him who was boss. And this is a question that we can all apply to our lives in many situations. Thank you for this gem, Shereé.
12. When Danielle Wanted Teresa To Pay Attention
You wouldn't think that this would be a stand out statement, but it really was. Danielle Staub asking her enemy Teresa GIudice to pay attention angered Tre so much that she flipped a table on her. Yep, this is what helped lead to that iconic moment.
13. When Bethenny Wanted Personal Space
I love Bethenny, but she is far from affectionate, so when people get all in her business she does not cope well. Lesson learned: don't get all up in Bethenny's face.
14. When Faye Resnick Came For Brandi
I still don't get why people keep inviting Faye Resnick to events, but she really has brought some of the most memorable Real Housewives of Beverly Hills scenes. Faye decided to stir the pot and come for her bestie Kyle Richards' enemy Brandi Glanville by implying that she is poor and un-ladylike. Damn, girl!
15. When The Richards Sisters Fought In A Limo
Kyle and Kim Richards arguing in the back of the limo had to be the best Real Housewives of Beverly Hills scene of all time. All of the tension between the sisters came to a head. Kim randomly screamed about Kyle taking her house and then Kyle called her sister a "liar and an alcoholic." It was the most real moment and it definitely cemented RHOBH's place in reality TV history.
16. When Joe Gorga Insulted His Sister At A Christening
The first episode of RHONJ's third season started off rough. Joe Gorga called his sister Teresa Giudice "garbage" after she congratulated him at his own son's christening and a physical brawl broke out in one of the most explosive scenes ever. It was out of control to say the least.
17. When Kelly Talked Down To Bethenny
Kelly Bensimon tried (and failed) to put Bethenny Frankel in her place when they went out for drinks to figure out why they did not get along off the bat. And, well, they never ever got along, especially not after this rudeness complete with condescending hand gestures.
18. When NeNe Referred To Kim As "Wig"
NeNe completely undermined Kim when she just started referring to her as "wig" mid argument and stopped using her name. This is something she has done several times, and it was hilarious at every occasion.
19. When Camille Gave Us All A Vocab Lesson
Camille describing Kyle as "pernicious" came out of left field and made viewers pause the TV, look up the word in a dictionary, and see if it was actually applicable to the situation. That word will always remind me of this moment.
20. When Caroline Acted Like A Mob Wife
Caroline intimidated every viewer when she uttered the words, "Lemme tell you somethin' about my family." I don't know about you, but even through the TV, I was instantly afraid of her.
21. When Kim Kept It Very Real
Kim Zolciak was boy crazy back in her single days and she had no qualms about it. She was just keeping it real when she had to describe her love life.
22. When Brandi Came For Kim
In Brandi's first season on RHOBH, she really came out the gate instigating controversy, as if she knew Kim Richards or anything about her life. The moment was both vicious and unforgettable.
23. When Bethenny Told Off Jill
Jill Zarin tried to beef with Bethenny and would not stop coming for her, and Bethenny was just so over it so she told her to "get a hobby" so she could find something or someone else to focus on and stop instigating controversy.
24. When Kim Was Conscious Of Her Diet
Kim Zolciak requesting a multi-course meal and then insisting on a Diet Coke to be healthy was just outright comical. We have all been there though.
25. When Aviva Randomly Threw Her Leg
No one was really talking to Aviva when she decided to declare how real she was and throw her leg during the Season 6 RHONY finale. This was an insane moment and it was pretty much unprovoked, which made it even crazier.
26. When NeNe Talked Over Kenya At The Reunion
NeNe had no time for Kenya Moore at the Season 6 RHOA reunion (or ever at all) when she decided to just talk over her and mock her. Now "so nasty and so rude" is one of her signature catchphrases and she quotes herself all the time.
27. When Alex Stood Up For Herself
Alex McCord decided to stand up for herself against Jill Zarin who thought she was the queen bee of the crew and completely shut her down. Jill didn't even have a comeback.
28. When Kim Texted NeNe
Everything about this text from Kim to NeNe was amazing. This is arguably the most important text message of all time. Not only did we get to hear both women talking about its content on the first season of RHOA, but Bravo displaying a screen shot of the actual message just made it become even recognizable to the die hard fans.
29. When Real Housewives Became Iconic
Nothing stands out more in Real Housewives history than when Teresa Giudice got mad at Danielle Staub for asking her to pay attention. Teresa yelled out "prostitution whore," slammed her hands down, and flipped the table. It's the best scene in reality TV history.
Real Housewives has really made a major impact on pop culture. For anyone who just scoffs at the franchise for "just being a reality show," these quotes prove the haters wrong. Real Housewives and its most memorable lines will always be legendary.
Images: RealityTVGIFs/Tumblr (30); Bravo (2)