How To Use The "Drumpfinator" Chrome Extension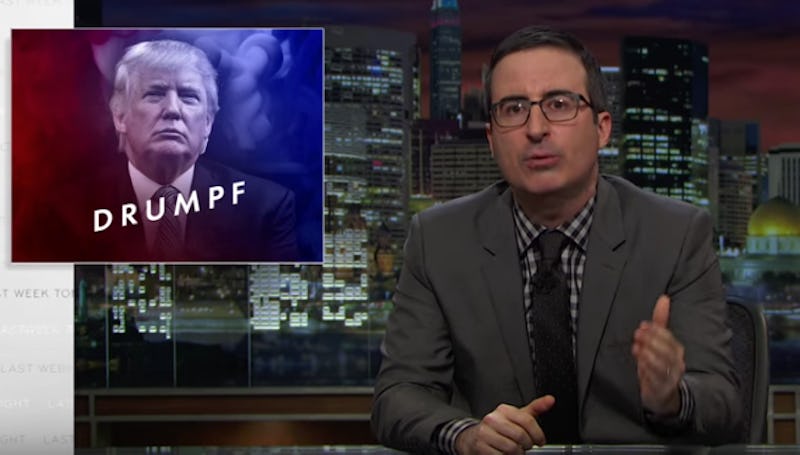 John Oliver had a lot to say in his end-of-February episode of Last Week Tonight, and it was all about one man. In the 30-minute show, which was fully dedicated to taking out leading GOP presidential candidate Donald Trump, the host laid the evidence on thick as to why Americans should steer clear of voting for the businessman. To top off the seriously funny and seriously serious Trump attack, Oliver informed viewers of Trump's ancestral surname, Drumpf, and invited everyone to download a browser extension that would replace each instance of the word "Trump" with "Drumpf." So here's your step-by-step guide on how to use the "Drumpfinator" Chrome extension, because it's exactly what your Internet browser needs.
But before jumping right into the Drumpfinator experience, it's important to understand Oliver's real mission in offering up not only the extension, but the #MakeDonaldDrumpfAgain hashtag, "Make Donald Drumpf Again" hats, and the Donald J. Drumpf website. The show host and comedian is seeking to change the minds of those who may have been swayed by the shiny "Trump" name. He wants those folks to imagine how they would feel if they "just met a guy named Donald Drumpf," and then reconsider the candidate's appeal. So bring the Drumpfinator into your life with the full understanding that a movement is afoot. Only then are you ready for the easy-to-follow guide on making Donald Drumpf again.
Go To The Chrome Extension Site And Search For "Drumpfinator"
You can also get to the Drumpfinator extension page via donaldjdrumpf.com — the website Oliver's team whipped up. Then click on the "Get your Drumpfinator Chrome extension" button.
Click The "Add To Chrome" Button
Well, duh. It's the pretty blue button with the plus sign.
Wait Patiently For The Extension To Download
I know watching that circle in the bottom left-hand corner turn wholly green is not easy, but have patience, child. Your time for making Donald Drumpf again will come soon enough.
Close Out Your Chrome Browser, Then Reopen It
Because that's just the way things work when you want new stuff on the computer. So if you want nice things, you have to follow the rules.
Search For Any And All Things Donald Trump
These days, you could probably go to any news site, blog, or social media page and find something Trump-related. So just type in "f" in your URL bar, because you know it will automatically pull up facebook.com, hit the enter key, and you're sure to find some Drumpf on your newsfeed.
It's really that simple. And with glowing reviews, there's just no excuse not to hit the "add extension" button and see everything coming up "Drumpf." For your own enjoyment, here's actual feedback from user Joshua Kennedy, who gave the extension a full-out five star rating:
Before the Drumpfinator, I thought about unfollowing my über-Conservative cousins who enjoy espousing the wonders and joys of "The Donald." After the Drumpfinator, I can enjoy their Facebook idiocy once again. Instead of scowling and spending hours typing facts and figures they ignore with wild abandon, I now have a good chuckle and move on with my day. Thanks, Drumpfinator!
Now to get on that download and write your own rave review, since it's a given that the Drumpfinator will be the best thing to happen to your life since the "Notorious RBG" nickname was born.
Image: Last Week Tonight/YouTube