13 Best Natural Deodorants To Shop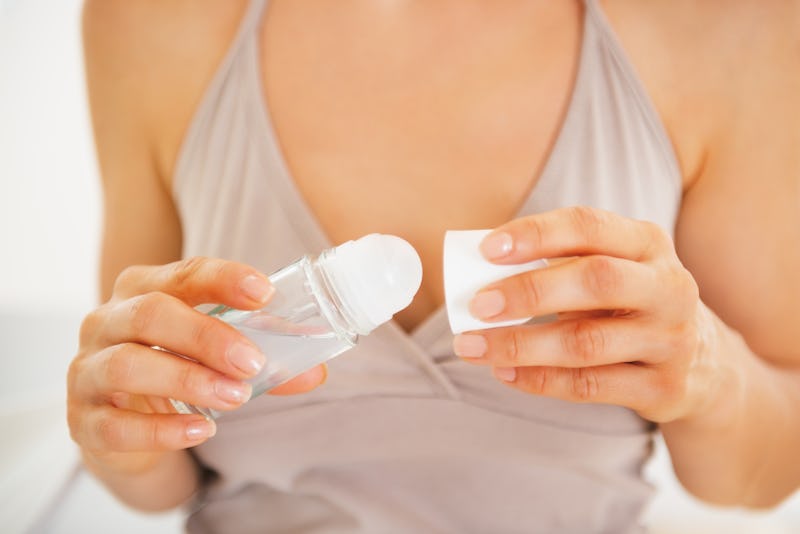 Picking the right deodorant is no easy task, and forgoing chemicals for all natural versions can make it even trickier. To save you some serious (and possibly seriously stinky) trial-and-error time, I've pulled together all the best natural deodorants to shop. I'm willing to bet you'll be pleasantly surprised at just how effective all the deodorants below are!
If you're not a natural beauty product geek like me, let me break down the difference quickly between natural deodorants and aluminum-based antiperspirants. As shared in GQ, "Deodorants fight odor by killing the bacteria that makes sweat smelly. Antiperspirants stop wetness by blocking your sweat ducts, usually with aluminum salts." So, essentially, antiperspirants clog up your pits so you don't sweat in the first place, whereas natural deodorants work with sweat to kill the stinky bacteria.
There's some debate over whether or not aluminum antiperspirants are safe, but the American Cancer Society has currently ruled them as OK to use. Ultimately, it's your call!
I personally choose to use natural deodorants because I have incredibly sensitive skin and find that antiperspirants irritate my arm pits. Though I admittedly deal with sweaty pits more often than my antiperspirant-rocking friends, all of these deodorants keep me smelling good.
LAVANILA Lemon Vanilla, $13, Amazon
Oh y'all. This smells SO good. And on average, I continue smelling good for at least seven hours before sneaking in a reapplication.
Equisetum 24h Deodorant, $19, KORRES
This deodorant lives up to its 24 hour coverage name thanks to a blend of 100 percent hypoallergenic ingredients.
Thai Deodorant Stone, $11, Amazon
This crystal takes a little getting used to since you have to remember to wet it first, but I've borrowed my friend's a million times and always love how well it works without being heavily scented.
Natural Deodorant , $14, MILK
This deodorant is packed with organic lavender oil for an extra hydrating experience that smells like that moment in yoga class when the teacher walks around with aromatherapy oil and all is right in the world.
Fragrance-Free LAVANILA, $14, Amazon
For extra, extra sensitive skin, this fragrance-free roll-on is extra gentle.
Long Lasting Deodorant Stick, $13, Amazon
This deodorant stick features grapefruit seed extract, aloe vera, and witch hazel to keep your pits smelling squeaky clean.
Almonds, And Aloe Roll-On, $16, Amazon
This sweet smelling deodorant is not only effective against stanky pits, but also incredibly hydrating.
Herbal Natural Deodorant, $4, Amazon
With tea tree oil and vitamin E, this hypoallergenic deodorant can fight off stink even after a run!
Natural Crystal Spray, $17, Amazon
Hit your pits with crystal spray for stink-free bliss!
Jason Natural Natural Deodorant Stick, $7, Amazon
This stick is infused with a super refreshing natural apricot scent. Noms.
Tom's Of Maine Soothing Calendula Deodorant, $11, Amazon
This totally vegan and cruelty-free deodorant utilizes soothing calendula to cut through odors.
Natural Liken Deodorant, $7, Amazon
Featuring liken plant extract, this deodorant is both gentle and effective.
Natural Cucumber Deodorant, $4, Amazon
For the freshest smelling deodorant, you can't beat cucumber.
Want more beauty and style tips? Check out the video below, and be sure to subscribe to Bustle's YouTube page for more hacks and tricks!
Images: Fotolia; Courtesy Of Brands