Why 'Josie & The Pussycats' Was My Everything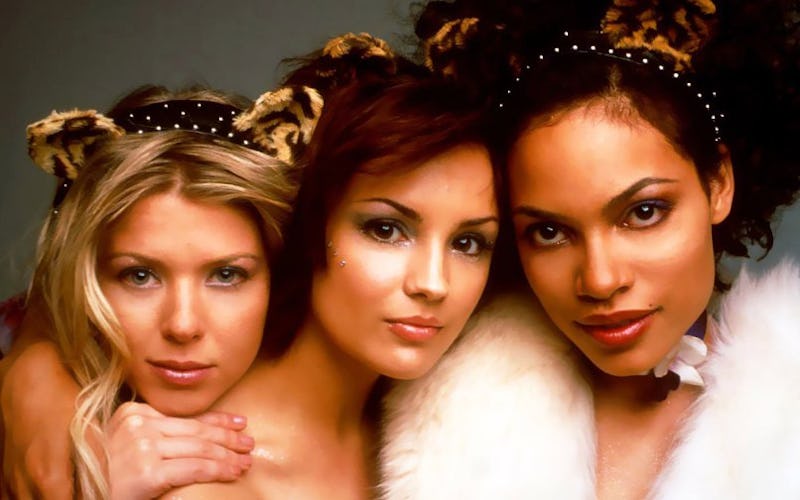 In his 2001 review of Josie and the Pussycats, Roger Ebert gave the film a half-star, calling it "as dumb as the Spice Girls." This critique didn't sit well with many of the movie's preteen fans, including my younger self; yes, the movie has its problems, but to dismiss it outright and treat it so harshly? That clearly wasn't necessary, especially considering how important the film was to its young fans. As many others can attest, Josie and the Pussycats is an entry-level feminist film reeking of power, sarcasm, and glitter. It's also one of the few films from my preteen salad days that I can still enjoy as an adult, without feeling let down by cliches or bad plots.
And I know I'm not alone in feeling this. For so many women who grew up during the early '00s, the movie was an important part of their adolescence. From the memorable costumes — complete with skunky highlights and sequins — to the doomed boy band, Du Jour, symbolizing the end of *NSYNC and the Backstreet Boys, Pussycats is a mix of late-'90s girl power and early-'00s camp that all can enjoy. And even though it could definitely use a remake to make it even better (hint, hint), here's why I'll always be a fan.
1. It Has An Incredible Cast
Only the costumes in this film are more early-millennium than this movie's line-up of actors. There's Rosario Dawson. There's Rachel Leigh Cook. There's Tara Reid. There's Parker Posey. There's Missi Pyle. It's basically a checklist of every woman I admired circa fifth grade.
2. It Shows A Powerful Sense Of Sisterhood
I grew up out in the country, on a randomly-placed cul-de-sac, in the middle of a cornfield. Fortunately, there were a gazillion kids on my street, and the other girls and I would put the Josie VHS on repeat and act out the musical numbers, cat ears and all. In hindsight, I can see we weren't just obsessed with the film's poppy riffs and shiny pants; we were totally into a movie that represented our own feminine relationships.
3. It Passes The Bechdel Test
If you're not familiar with the Bechdel Test, here's what's up: In order to pass, a film must have two women in it who talk to each other about something other than a man. While Josie and the Pussycats passes with flying colors, Fusion reports that over half of 2015's top movies failed the Bechdel Test big-time.
4. It Features Plenty Of Female Musicians
This movie totally inspired me to join marching band and learn bass guitar in middle school, and, later as an adult, become a counselor at a punk rock summer camp for elementary-aged girls. Seeing a movie that featured so many female musicians clearly had an impact; considering how few women exist in the music industry, the existence of a movie that puts them front-and-center was huge for me, and likely countless others.
5. It Has A Thoughtful Anti-Consumerism Plot
Josie and the Pussycats is full of overt product placement, yet it discusses "subliminal" language hidden in pop music. While it's a little hypocritical to feature this element in a mass-marketed, Hollywood film, Josie was one of the first movies I saw that made fun of the industry, and itself. If a movie can get a kid thinking about how marketing practices are often manipulative, that's something to celebrate.
6. It Stars A Feminist Villian
I am always interested in seeing female villains on-screen, as the ways they're written often say a lot about gendered expectations. Case in point: Parkey Posey's character in Josie is the "bad guy," a woman in power who is both sexual and in control of a major record company. Part of her evil aura comes from the fact that she's occupying a role traditionally reserved for men. The film could certainly do better in making her less one-note, but her existence is rare and noteworthy.
7. It Puts Diversity First
The universe of characters in this movie unites a breadth of talent and identities. Considering how rare that is to see on-screen today, it'd be great if more teen movies followed the path of Pussycats and did a better job of featuring women of color and LGBTQ folks.
8. It Gives Sex-Positive Vibes
While there are no sex scenes, this movie does feature characters who are fighting for control of their sexualities and musical careers at the same time. In that respect, it's relative to present-day discussions surrounding contemporary artists like Miley Cyrus.
9. It Comes Off Hella Queer
While I don't think that all intimate friendships have to have a romantic aspect, all I want is an alternative ending to this movie where Rosario Dawson and Tara Reid ride off into the sunset together. It's possible! Watch it again — you'll see what I mean.
10. It Features A Small-Town-Girl-Making-It-Happen Story That Rocks Me To My Core
I'm a sucker for narratives that show women from unlikely circumstances making it big with their art. Who isn't?
11. It Sees Carson Daly Get His Butt Kicked
Whatever. I can't handle that guy.
As Josie and the Pussycats gears up for its 15th anniversary, I think it's high time that critics revisit the movie and give it another shot.