16 Crock-Pot Recipes Perfect For A Party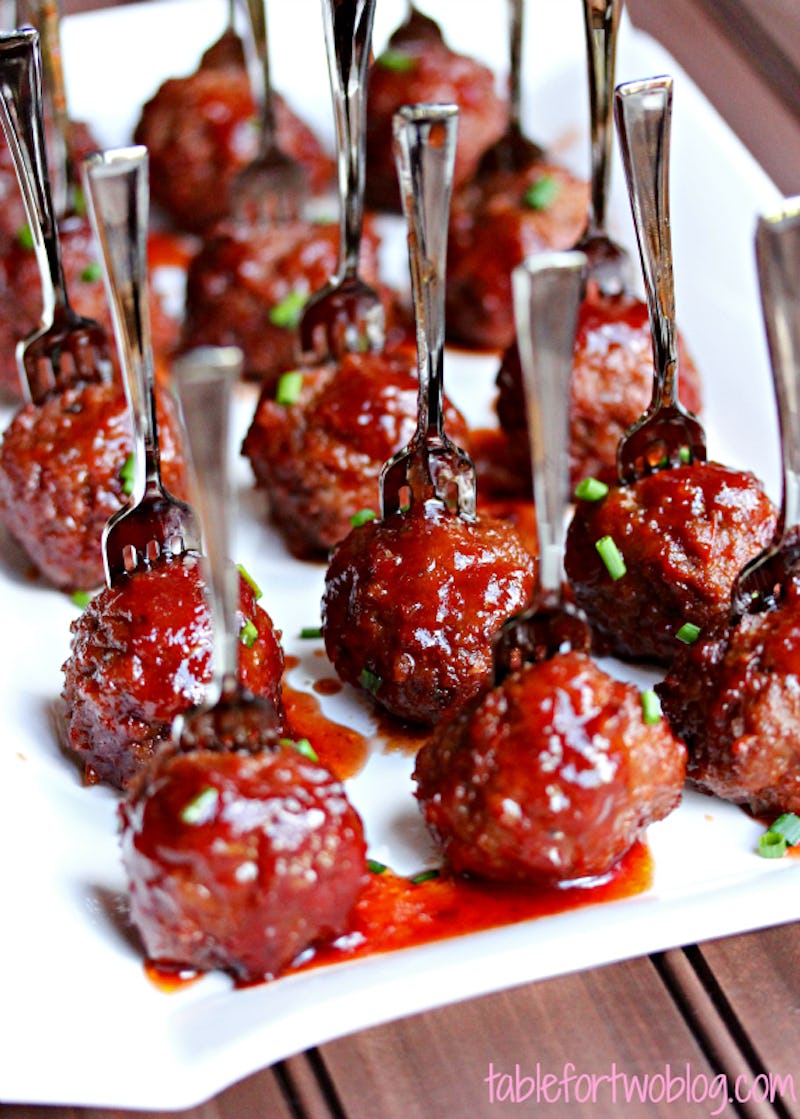 The weather is getting warmer and that means one thing — party season is about to kick into full swing again. Something about spring weather pulls everyone out of his or her holes, and people will find any excuse to get together for a good old-fashioned party. And, anyone who's ever hosted a party knows, Crock-Pot party recipes are the key to success.
Hosting a party isn't easy work. You have to clean the entire house, make sure you have enough booze and ice to satiate your friends' endless thirst, and on top of that, you have to have one heck of a spread of food to dig into. With an endless list of to-dos, food sometimes gets pushed to the bottom and you end up with a lackluster veggie tray and some chips and dips. Not the best impression for the first party of the season.
Instead of phoning it in, be lazy and still put out some delicious food. How, you might ask? It's time to pull out your trusty Crock-Pot. Any recipe where you can simply dump a bunch of ingredients in and go about your business for a few hours is a huge party win. The fact that you are only dirtying one dish to make it and never worry about it getting cold on the buffet table are just bonuses. Check out the roundup below for the Crock-Pot party recipes that won't disappoint.
1. Mini BBQ Pork Sliders
BBQ pulled pork sliders from Table for Two are the lip-smackin' goodness your partying friends won't be able to stop eating. Just lay out extra sauce, pickles and buns. Boom, party win.
2. Slow Cooker Corn & Jalapeno Dip
Hit them with this sweet and spicy dip from Damn Delicious for a real fresh treat that they won't be expecting. The burst of sweet corn and burn from the jalapeno already have my mouth watering.
3. Crock-Pot Pulled Pork + Beer Cheese Grilled Cheese Sandwiches
Just look at all that cheeeeeese. Did I mention there's beer and pork in there too? How Sweet It Is nails a home run with this over-the-top grilled cheese sandwich.
4. Slow Cooker Chicken Burrito Bowls
Who needs Chipotle or Qdoba when you can create your very own burrito bowls at home? This recipe from The Kitchn is the perfect excuse to set up a huge burrito bar spread.
5. Slow Cooker S'mores Brownies
Don't forget dessert. There's always someone who has a sweet tooth, and these gooey, chocolate-packed brownies from Something Swanky are just the recipe you need to bust out to win over a hungry crowd. Talk about taking the fuss out of baking.
6. Crock-Pot BBQ Beer Pulled Chicken with Cheddar Corn Popovers
BBQ and beer? It doesn't get much better than that, and Half Baked Harvest has a recipe for pulled chicken so tender and flavorful, you'll have to pick your jaw up off the floor after the first bite. Go the extra mile and whip up some fresh cheddar corn popovers to go with it, rock star.
7. Sweet & Tangy Balls
A little sweet, a little tang, and a whole lot of deliciously tender meat. Table for Two's sweet and tangy balls put those cocktail sausages and your grandmother's meatball recipe to shame.
8. Slow Cooker Spinach & Artichoke Dip
No one can turn down a creamy, cheesy spinach and artichoke dip. Damn Delicious makes it simple for you to make with this slow cooker recipe that will be gone in seconds.
9. Crock-Pot Carne Asada Nachos
Do you know how many times I've dreamed of hosting a nacho bar? Ditch the boring store-bought taco seasoning and get your carne asada on with this flavorful recipe from How Sweet It Is. Load up on the toppings and watch as everyone builds their very own pile of nacho deliciousness.
10. Slow Cooker Cheeseburger Dip
Want cheeseburgers without busting out the grill? Dive into a big vat of this cheeseburger dip from Pass the Sushi instead. It's everything you love about cheeseburgers, in one easy-to-make recipe. #winning
11. Slow Cooker Buffalo Chicken Meatballs
Buffalo chicken is always a huge hit at parties, but making buffalo chicken wings is ridiculously time-consuming. Damn Delicious has your buffalo chicken craving covered with these poppable chicken meatballs that are full of the fiery buffalo flavor you love.
12. Slow Cooker Buffalo Chicken Cheese Dip
This spicy party dip from Foodie Crush brings on the cheesy goodness with three different types of cheese. The layered dip keeps warm in the slow cooker throughout the party so it'll always be creamy and delicious.
13. Crock-Pot Coconut Hot Chocolate
Pay homage to the final days of winter with a little Crock-Pot hot chocolate action. Spike this oh-so-addictive recipe from How Sweet It Is with some whipped cream or coconut vodka to really get the party started.
14. Slow Cooker Sticky Chicken Wings
Chicken wings made easy? Yep, Damn Delicious makes it happen with these slow cooker sticky chicken wings. They're finger-lickin' good.
15. Crock-Pot Apple Butter Barbecue Meatballs
Barbecue meatballs get kicked up a notch with apple butter in this recipe from What's Cooking Love?. The generous coating of apple butter makes these sweet and savory meatballs the perfect party appetizer.
16. Slow Cooker Spicy Beef Queso Dip
A party wouldn't be a party without a big Crock-Pot full of queso, would it? Brown Eyed Baker has a stupid simple recipe that has cheese, heat, and beef.
They shall name you Party Queen of all the land after this spread.
For more ideas, check out Bustle on YouTube.
Images: Table for Two; Damn Delicious; How Sweet It Is; The Kitchn; Something Swanky; Half Baked Harvest; Table for Two; Damn Delicious; How Sweet It Is; Pass the Sushi; Damn Delicious; Foodie Crush; How Sweet It Is; Damn Delicious; What's Cooking Love?; Brown Eyed Baker