Where Can You Buy MAC X Charlotte Olympia?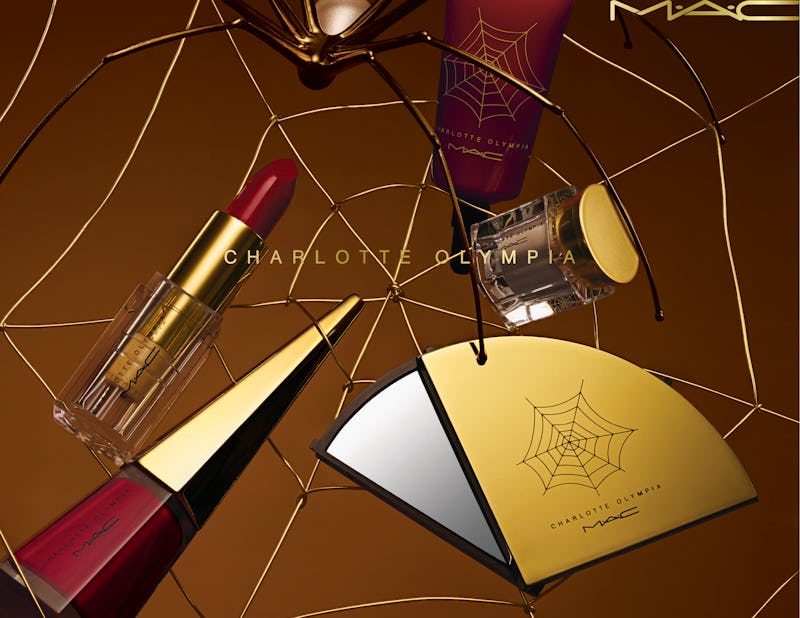 This designer has set her sights on makeup, so if you're able to carry one of her bags while wearing the lipstick she designed, you're going to want to do just that. Where can you buy the MAC x Charlotte Olympia? You can shop the line at the MAC Cosmetics website starting Mar. 17. You'll also be able to buy it right off of the shelves at MAC stores from Mar. 24-May 5.
A Charlotte Olympia original isn't necessarily inexpensive, but snagging her retro glam inspired makeup products is sure to be a bit more affordable. I'm certainly thankful for that, because I'm dying to get my hands on some of the deep red lipsticks, liners and nail polishes that this collection offers. You can't reach full-on diva status without a bold red lip, after all.
This line offers everything from oil blotting sheets to those lacquers I mentioned, and it's got everything you need to give your beauty look a flawless finish. Right down to the case you carry your products in. That's right. This collaboration really thought of everything, and that's exactly why it's the ultimate glam girl's dream come true. Check out some of what this latest MAC collab has to offer and start counting down the days until you can shop these pieces. If you want them as badly as I do, I just know they're going to fly off of the shelves!
1. Red Nail Polish
This bright red polish will complete your fierce look.
2. Dramatic Lip
A deep red lipstick is perfect for achieving the ultimate dramatic lip.
3. Oil-Blotting Sheets
Give your face a shine-free finish by always having these oil-blotting sheets handy. They're so cute that you won't mind being seen with them.
4. Liquid Eyeliner
Black liquid liner will give you the perfect winged eye every time.
5. Red Gloss
If you like rich, shiny color on those lips then this is the product for you.
6. Highlighter
A girl's got to highlight all of the right places, you know?
7. Compact
For those times you need a quick touch-up, you'll want to have this chic little compact handy.
8. Mascara
Because thick, volumized lashes are key, after all.
9. Makeup Bag
Last, but not least, there's also this incredibly cute carrying case to hold the rest of your MAC Cosmetics x Charlotte Olympia goodies.
Get ready to add these pieces and more to makeup collection to make it all the more glam. I don't know about you, but I can't wait to get that rouge all over me!
Want more fashion and beauty tips? Check out the video below and subscribe to Bustle on YouTube!
Images: Courtesy MAC Cosmetics (10); Giphy (1)