That Kid From 'Jerry Maguire' Is Weirdly Hot Now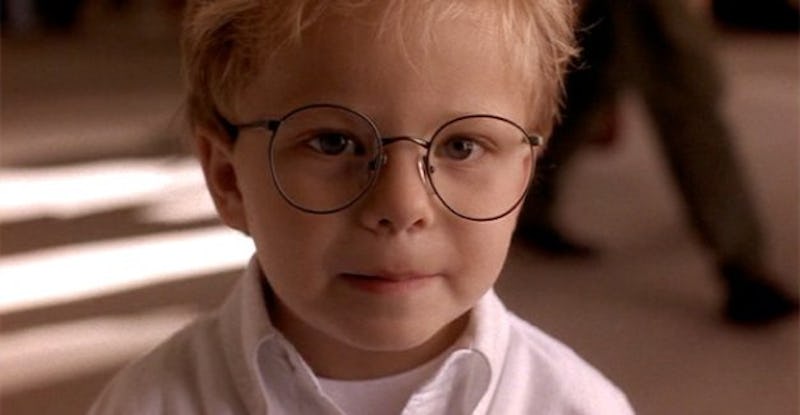 I hope you're ready to wrap up your week by getting your world shaken up a little bit, because I just saw a photo of Jonathan Lipnicki now, and, oh boy, is he not the kid you might remember from some of your favorite childhood movies. In case his name doesn't ring a bell, Lipnicki was that tow-headed bundle of cuteness from films like Jerry Maguire, Stuart Little, and The Little Vampire. He started working in 1996, at just 6 years old, and became one of the most prolific child stars out there for a minute. I know you'll recognize his face, even if his name isn't familiar. I've kind of lost track of him in the interim, and, because I'm naive, I assumed Lipnicki was exactly where I left him: a spiky-haired blond kid charming audiences from behind his oversized frames. But nope. Lipnicki is 25 now, and he's grown up in a way that's very confusing for me and my memory.
I guess... what I'm trying to say is... Jonathan Lipnicki is hot now. There's really no way around it. I feel weird saying it, because ,when last we met, he was a little baby pocket human, but he's very much an adult now, and an attractive one at that. LIFE IS WEIRD YOU GUYS. We live in a world where you can go from this little boy wonder, just being adorable and stealing our hearts:
To this fully grown human just a few years later, baffling our brains and confusing our... well... loins. Seeing anyone shirtless whom I've only known previously as a child actor tends to bamboozle me, but particularly when I had literally no inkling that they'd turn out to be some kind of muscle-bound hunk like this:
I mean come on! The guy has achieved a full Longbottom! Or a Nick Jonas! Whatever phrasing you want to use, we blinked, and Jonathan Lipnicki went from a boy to full-grown, brawny man, and I'll never be able to watch Jerry Maguire the same way again.
Image: TriStar Pictures; Giphy