Watch The 'Hamilton' Ladies Sing Feminist Quotes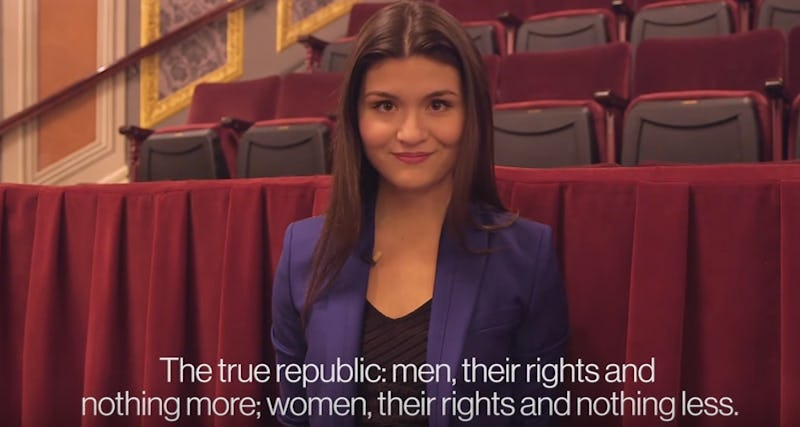 Are you sitting down? You should probably be sitting down, because Glamour has made all your wildest feminist-slash-theater-geek dreams come true. In a recent video, the women of Hamilton performed quotes about feminism in honor of Women's History Month. I repeat: The women of the Broadway hip-hop musical Hamilton, which follows the short life of Founding Father Alexander Hamilton and is so insanely popular that it's literally impossible to get tickets, sang and rapped iconic feminist quotes for two glorious minutes. The only thing keeping that entire sentence from being all caps and italicized is the remnants of my already-tattered sense of professionalism. Also, it's impossible to choose what parts to emphasize.
Tragically, most of us won't get to see Hamilton stars Phillipa Soo, Renée Elise Goldsberry, and Jasmine Cephas Jones perform in person. Unless you got tickets by virtue of being a celebrity or performing a small act of God, the closest you'll get is this year's Grammy performance of the opening number — but if you've already watched it an embarrassing number of times, Glamour's video comes is a fabulous alternative, and it has an Audre Lorde quote. Need I say more? Let's look at some of the best moments below:
1. "Don't let the bastards grind you down."
Margaret Atwood is somehow even better when accompanied by beatboxing.
2. "No one is more arrogant toward women, more aggressive or scornful, than the man who is anxious about his virility."
Simone de Beauvior gets it.
3. "Women are like tea bags. You never know how strong they are until they get in hot water."
That feeling inside? That's your teenage crush on Eleanor Roosevelt resurfacing.
4. "The true republic: Men, their rights and nothing more. Women, their rights and nothing less."
Phillipa Soo reciting Susan B. Anthony is what dreams are made of.
5. "I am not free while any woman is unfree, even when her shackles are very different from my own."
Told you there was an Audre Lorde quote.
Check out the video below:
Images: Glamour Magazine/YouTube (5)