How 'Underground' Connects The Real Past & Present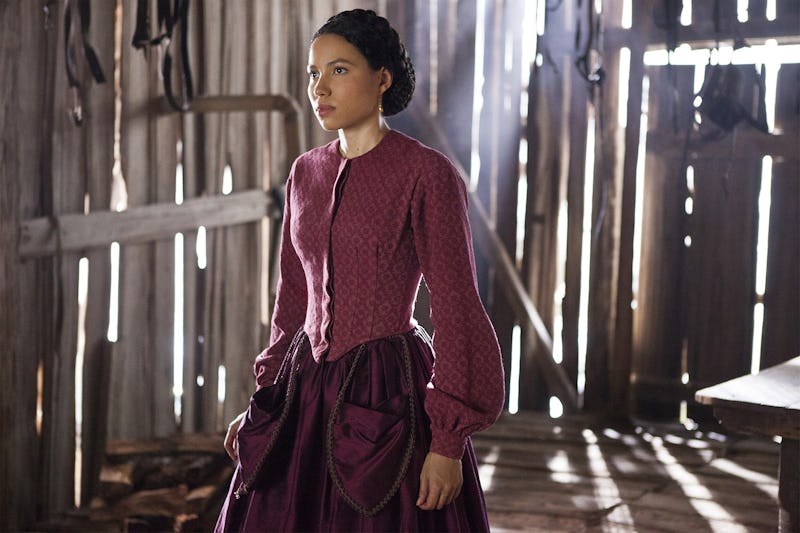 On Wednesday night, WGN America will premiere its explosive, unflinching new drama Underground, which follows a group of slaves as they flee a Georgia plantation, as well as the abolitionists who help them along the way. Though it doesn't tell the true story of any specific person, the series is a truthful look at the Underground Railroad. In an interview with Bustle, Star Jurnee Smollett-Bell explains how Underground maintained historical accuracy by paying impeccable attention to detail to give viewers an unprecedented look into the lives and journeys of slaves in 19th Century America.
"This is definitely not the kind of role where you can just show up on set," Smollett-Bell says of playing Rosalee, which is her most research-intensive role to date. Her preparation began with books that tell slave narratives, but the actress says no resource was more powerful than actually hearing the voices of former slaves. "I heard their actual voices because you can go on the Library of Congress website and listen to the recordings," she says. "In the 1930s, Freedom Writers went down to interview men and women who were still alive who had survived slavery. Some of them had been kids, but some of them had strong memories of it, they were in their 90s and 80s, but it is an amazing resource."
It's the detail in depicting the day to day lives of slaves that sets Underground apart from other historical dramas. In this case, the real history is far more powerful than anything fiction could provide. "We shot on real locations," Smollett-Bell says, before explaining how being in those significant places affected her while filming the series.
When you see us running, we are really running in real swamps or in real landscapes. We shot on real plantations, we shot at the LSU Rural Life Museum, which are preserved slave quarters, and the shacks that we used were real slave shacks. So the second you step onto those grounds you immediately feel a different spirit. There's not a lot of work that you have to do other than just be and allow that to take you over.
Underground is about both the slaves who risked their lives to seek freedom and those who stayed behind, and aims to show all aspects of the lives of the men and women who had so little control over their destiny until they seized it from slave owners. Smollett-Bell speaks eloquently about how delving into the past was the only way to shape the series into a story that would not only resonate with viewers, but also let them see the world through the eyes of people whose stories are so seldom told from their own point of view.
History books tell the story from such a removed point of view and just reading their words, men and women who had survived slavery, was the best sort of research because you were able to make it personal and bring a level of humanity to your character. They talked about all aspects of what life was like on a plantation. They laughed, they loved, they had children, they had gardens, they had shoes that wore out — all of the small details that a history book wouldn't really discuss, those were the things I really needed to be informed about.
But when you watch Underground, it's not just history you will be seeing. The series finds relevance as both a period drama and a piece of social commentary. It uses modern music during historical scenes, and while the characters are grounded in their time period, Underground reaches across time in its portrayal of the struggle of black Americans.
"I think it connects us to our lineage from the past to today," Smollett-Bell says. "It does create an urgent sense ... I think people will see a direct connection from our past to our present. It is undeniable that there are a lot of wounds that our country still is trying to repair, and it is directly because of where we come from. Because we come from a history of slavery, and that dynamic is in our society and in our culture, we are still experiencing the residue from it."
Underground will accurately explore the world as it was, and make viewers think about how that affects the world today, when it premieres this Wednesday at 10 p.m. on WGN America.
Images: WGN America (2)