Why Caila Quinn Probably Isn't The Bachelorette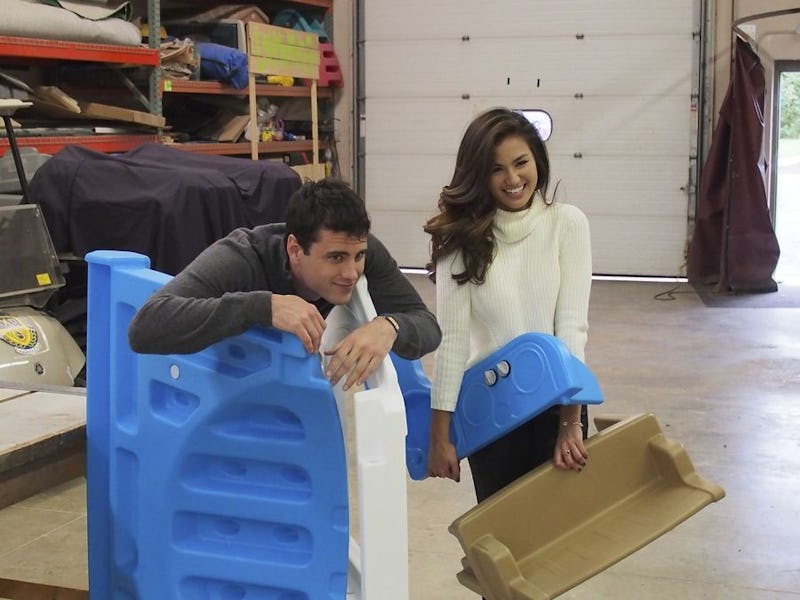 Big news, Bachelor Nation! Word on the rose-covered street via an Us weekly report is that Caila Quinn may be the next Bachelorette. After she and her always too-perfect Barbie hair (honestly, what sort of shampoo does she use?!) were sent home by bachelor Ben Higgins in last week's episode of The Bachelor, rumors began swirling that Quinn could soon be named the next bachelorette to capture the hearts of a bunch of eligible bachelors, and America, during next season of The Bachelorette. (For what it's worth, ABC had no comment in response to Us Weekly's reports.) Personally, though, I cannot see the second runner-up of Ben Higgins's season being the next Bachelorette. Don't get me wrong — there are a ton of reasons why Caila would make a great Bachelorette (some relating to the previously mentioned Barbie hair), and I'm not saying she shouldn't be — but there are also some reasons why the rumor about Quinn being the Bachelorette probably isn't true.
According to Us Weekly's report, sources are claiming that Quinn may have been filming a Bachelorette "intro package" in her hometown of Hudson, Ohio this past week — the source even noticed that the group stopped by Quinn's alma mater, Western Reserve Academy. Most suspiciously, Us Weekly reported that sources claimed to have observed Quinn engaging in some classic Bachelorette activities like standing inside a gazebo staring out into the abyss. I mean, I know that sounds convincing, but I don't think it's anything like confirmation yet.
Here are the reasons the news that Quinn possibly being the next Bachelorette cannot be true:
Nothing Has Been Confirmed
While the rumor mills have been turning over Quinn's little video shoot, the King of the Bachelor-nation, Chris Harrison, has yet to confirm or comment on Ms. Quinn as the bachelorette — and, when Bustle reached out, ABC released no comment as well. All rose-heads know, never believe anything Bachelor-related until Harrison tells all.
The Filming Could Be For Something Else
The Bachelor franchise has never met a spin-off they didn't like. Ergo, it is very possible that Quinn and crew were filming for an entirely segment. According to Us Weekly, people who randomly passed by were reportedly required to sign release forms to appear on television — but crews did not specify which televisions show they would be appearing on.
Amanda Could Also Be In The Running For The Bachelorette
Rumors have been circulating thanks to HollywoodLife that producers were allegedly trying to decide between Caila and Amanda for Season 12's bachelorette.
Caila Has Been Busy Doing Other Things
Other than being extremely interactive with The Bachelor fans on Twitter and Instagram, Caila is way too busy to be the next bachelorette. She taken a super envy-worthy trip to Spain and posted all these gorgeous pictures on Instagram to prove it. Her instagram describes how she's been working her tail off at her software sales rep job and posting drool-enducing watercolors on Insta. Bottom Line: Caila might not be the Bachelorette next season because she's too busy being an creative, independent world traveler.
Nothing Is Set In Stone
And one thing to remember is that even if Caila has begun filming for The Bachelorette, it doesn't actually mean she's the bachelorette. This could be a fake-out like when Bachelor Jason changed his mind and unengaged himself from Melissa Rycroft because he was still in love with Molly Mesnick. Hey, it's The Bachelor — anything can happen.
I mean, if those rumors about Caila filming something are true, trust me: there are so many explanations that don't include The Bachelorette. Hair tutorial, for instance.
Images: ABC/Scott Evans; Giphy (3)