When Is ABC Announcing The Next Bachelorette?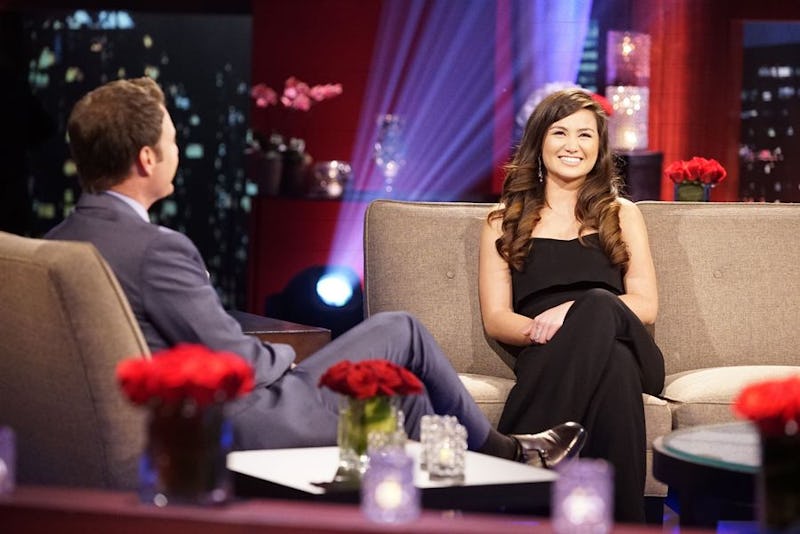 Though ABC has not at all confirmed it, according to an Us Weekly report, Caila Quinn may be America's next Bachelorette . After professing her unrequited love to Season 20 Bachelor Ben Higgins and getting sent home in last week's shocking episode, it seems like the former Bachelor contestant is ready to get back in the dating game — which could mean good things for this rumor.
Quinn recently told E! that despite the setback, she is "ready for the one and for my best friend and I'm still looking for that." Though ABC had no comment in response to Us Weekly's report when Bustle reached out, it's worth noting that this rumor doesn't exactly come out of nowhere: In addition to following the trend in recent years of picking third-place finishers as next-season contestants, according to Us Weekly, the software sales rep was seen in her Hudson, Ohio hometown last week "filming her Bachelorette intro package." Interesting... very interesting. ABC, meanwhile, has kept mum about the whole thing, and a Season 12 premiere date remains TBD. So, considering this rumor is breaking now, and ABC has no comment as of yet, it's worth wondering — could it be that ABC will announce the next bachelorette during the "Women Tell All" special?
Well, ABC had no comment in response to that question either — but for the sake of being good Bachelor viewers, let's reexamine the facts. For Season 11, Kaitlyn Bristowe (and fellow contestant Britt Nilsson) were announced as the new bachelorettes during the After the Final Rose special on Mar. 9, 2015, following Season 19's Bachelor finale the same night. In 2014, Season 10's Andi Dorfman was announced in the same manner, as was Season 9's Desiree Hartstock in 2013. So, based off this trend, it'd be safe to assume we might have to wait for After the Final Rose, right?
Not necessarily. In 2012, Chris Harrison went on Good Morning America to announce Season 8's Emily Maynard as the new bachelorette, proving that the franchise doesn't exactly shy away from mixing it up — so a new means of announcing Season 12's bachelorette isn't out of the realm of possibility.
The only way to know for certain? Make sure you're ready to go when ABC broadcasts their Women Tell All special on March 7. (And of course, a week later, when The Bachelor's finale, plus the After the Final Rose special, is set to air.)
Images: Rick Rowell/ABC