25 One-Pieces To Shop For Spring Break & Summer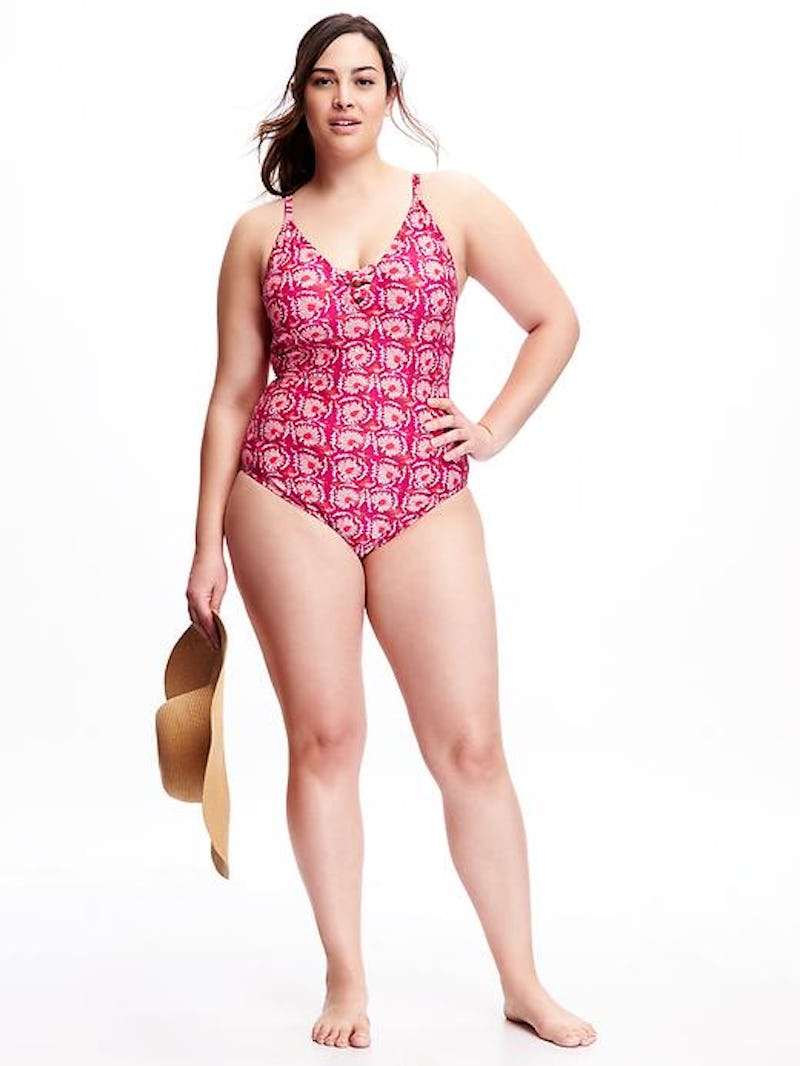 It's officially March, and that means one thing: It's a downhill ride to beach season. Celebrate! Even though it's still cold out, you know the struggle of finding a bathing suit at the last minute is real (the best ones always sell out so fast), so it's time to start thinking about one-piece swimsuits to shop for spring break and summer. You're going to have your swimsuit style nailed the day it gets warm enough to hit the beach — trust.
One-pieces have come back in a major way over the past couple of years. I mean, who says feeling sexy has to mean showing off your midsection? Personally, I love the throwback, retro feel of a one-piece, and I'm totally in good company, because even Beyonce rocks them all the time. And you know by now, whatever Queen Bey says, goes.
Though they used to be a little more boring and basic, one-pieces have gotten some serious style updates, and there are more options now than ever to choose from, which is good for you, and maybe not so great for your bank account. If you're in need of a new bathing suit this season, shop these 25 one-pieces that will kill it for spring break or over summer.
Mossimo Women's Mesh One Piece, $40, Target
Mesh insets give the feel of a bikini, without actually wearing one.
Tori Praver Seafoam, $60, Target
Up the retro feel with a chevron print.
Clean Water Plus Size Suit, $50, Target
Add some glam with an embellished belt.
Tori Praver, $60, Target
A bold pattern makes a one-piece a little more exciting.
Ava & Viv Plus Size Suit, $40, Target
Nothing says chic and classic like black and white.
Ruffles add femininity to a one-piece.
Printed Plus Size One-Piece, $60, Old Navy
Pretty in pink always scores for beach season.
For those times when you can't decide between a one or two piece.
Control Front Plus Size One-Piece, $42, Old Navy
No worries about accidentally busting out with this suit.
This neckline is daring, to say the least.
Lezard The Collete, $235, N asty Gal
Go romantic and boho with a lace swimsuit.
Florals? For Spring? Groundbreaking.
Lee + Lani, $265, Nasty Gal
I bet none of your friends will be wearing a flamingo swimsuit. Truth.
Oil Slick Suit, $98, Nasty Gal
This one is sure to draw some attention.
Fleur Du Mal, $265, Nasty Gal
No cover up required.
ASOS Curve, $44, Asos
You can never go wrong with a classic halter.
Bandeaus aren't just for bikinis.
ASOS Fuller Bust Swimsuit, $40, Asos
If you have a fuller bust, choose a swimsuit like this that offers more support.
Boohoo, $17, AsosYou love wrap tops and dresses, now try it in swimsuit form.
River Island, $60, Asos
It stands out even more with a black/neon combo.
Costa Del Sol Plus Size Suit, $35, Flounces look just as good on a one-piece as they do on a bikini top.
Mara Hoffman, $212, Nordstrom
Switch up your neckline with a cross-front silhouette.
Tutti Frutti Swimwuit, $158, Nordstrom
Just because the bottoms aren't separate, doesn't mean they can't have fun detailing.
Red always makes a statement.
25. Zipper
Miracle Suit Plus Size, $178, Nordstrom
Add some edge with zipper detailing.
Want more fashion and beauty tips? Check out the video below and subscribe to Bustle on YouTube!
Images: Old Navy; American Eagle; Nasty Gal; Target; Nordstrom; ASOS