10 Beauty Hacks For Acne-Prone Skin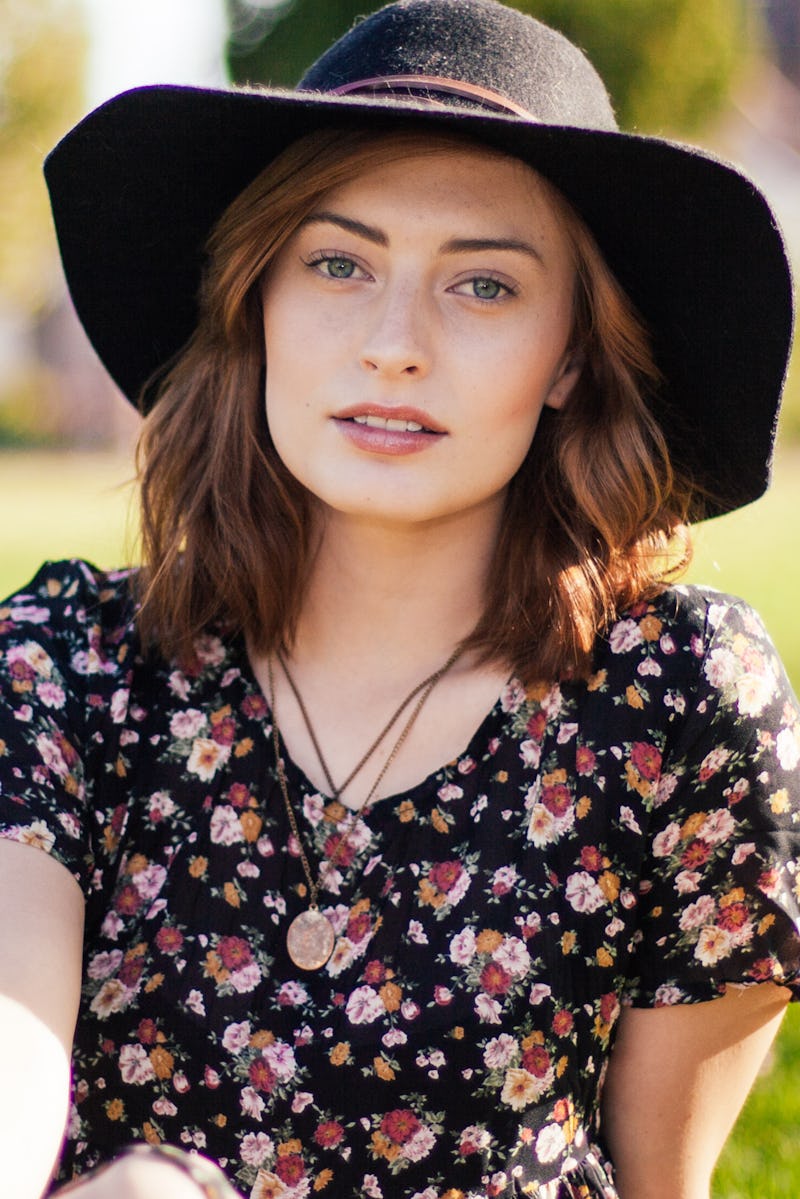 It's a vicious cycle: You have acne-prone skin, so you cover up your blemishes with makeup, but pore-clogging products just make your acne worse. The good news is that there are plenty of beauty hacks for women with acne-prone skin. Whether you choose to cover your blemishes with makeup or go natural, you can reduce breakouts and keep skin looking flawless by paying more attention to skin care.
Cleansing your face is the first step to getting rid of acne, but you can keep fighting it when you're wearing makeup with products that do double-duty, like concealer with salicylic acid. You can also stay sanitary by using a disinfecting cleanser on your tools; that way, you don't put the same germs on your face every day.
There's no reason you should have to cake your face with tons of makeup to cover blemishes, but you also don't have to stop wearing makeup to make sure your skin stays clear. You can have the best of both worlds if you just tweak a few things in your routine and change up your products to suit your skin type. Look for ingredients that are meant to help your skin, and you won't have to sacrifice beautiful makeup for clear skin.
Treat Blemishes With Dermatologist-Designed Acne-Fighting Concealer
Murad Acne Treatment Concealer, $17, Amazon
The last thing you want to do when you have a blemish is cake on a bunch of concealer to cover it up. But the Murad Acne Treatment Concealer actually fights acne while you use it. The salicylic acid clears breakouts while vitamins A, C, and E, give your skin antioxidant protection. This concealer was developed by dermatologists, so you know it's good for your skin.
Wake Up To Clear Skin With Overnight Cucumber Treatment
Dermalogica Clean Start Breakout Clearing Overnight Treatment , $19, Amazon
Before you go to bed, apply Dermalogica Clean Start treatment to give yourself clear, calm skin. The salicylic acid prevents acne and unclogs your pores, while cucumber reduces redness. The treatment will also help your skin balance oils with tea tree and lavender. You'll wake up looking radiant with clearer, happier skin.
Use Powder Foundation To Soak Up Oil
Jane Iredale PurePressed Base Mineral Foundation, $55, Amazon
Powder foundation is perfect for building coverage to hide acne and soak up extra oils on your face. Jane Iredale Mineral Foundation is oil-free, so you won't have to blot in the middle of the day; plus, it has pine bark and pomegranate extracts to boost your skin's antioxidants. SPF 20 and zinc oxide protect your skin from sun damage and calm inflammation, leaving you with a flawless natural finish.
Clear & Tone Skin With Clarifying Cleanser
Bliss No 'Zit' Sherlock Clarifying Cleanser + Toner, $12, Amazon
Cleansing day and night is an important step to fighting acne, but it's even better when your cleanser can do double duty. The Bliss No 'Zit' Sherlock Clarifying Cleanser + Toner gets rid of impurities while toning your skin to clear your clogged pores. It also has salicylic acid and probiotics to prevent acne and boost your skin's natural barrier.
Combat Redness With Color-Correcting Primer
Pur Minerals Correcting Primer Redness Reducer, $26, Amazon
When your skin is red and irritated, your best bet for keeping your makeup looking smooth and natural is the Pur Minerals Correcting Primer Redness Reducer. This green primer is formulated to counteract redness and keep your makeup looking flawless all day long. It's paraben-free so it won't clog your pores and it readies your skin for beautiful foundation application.
Pick The Foundation That Improves Cell Turn-Over
Lorac Natural Performance Foundation, $36, Amazon
Covering acne with foundation tends to clog pores and make your blemishes worse, but the Lorac Natural Performance Foundation includes nutrients to boost your skin's health and appearance. Papaya fruit, olive leaf, and lemon fruit aid in cell regeneration, while xyleine and vitamin A improve skin's texture to give you a flawless, photo-ready finish.
Use Amazonian Clay Blush To Improve Skin's Texture
Tarte Amazonian Clay 12-Hour Blush, $29, Amazon
Tarte's Amazonian clay formulation makes for one of the best makeup products for acne-prone skin. This long-lasting blush creates warmth, and the clay hydrates your skin, gets rid of oil, and reduces redness. Tarte has a whole range of products with Amazonian clay, so if you're looking for bronzers, blushes, eyeshadows, and more, look no further.
Disinfect Brushes With Spray Cleanser
Japonesque Makeup Brush Cleanser, $11, Amazon
So many of us tend to neglect the "wash your brushes every day" rule, but it's easy to maintain them with the Japonesque Makeup Brush Cleanser. Users love this spray for quick everyday treatments; it only requires a spritz and a couple of minutes to air-dry.
Build Coverage With A Makeup Sponge
Beautyblender Double Blender Sponge & Cleanser Kit, $40, Amazon
If applying makeup with a brush or your fingers isn't working for you, try the Beautyblender. The Beautyblender Double Blender Sponge & Cleanser Kit comes with two of the classic sponges and a specially formulated cleanser to keep them in good shape. Use a damp sponge with liquid or cream products to distribute your makeup evenly and keep it looking seamless.
Fight Acne While You Sleep With A Bamboo Pillowcase
Nufabrx Pillowcase for Blemish Prone Skin, $37, Amazon
To keep your skin clean, you should really be changing your pillowcases every two or three days, but that can be such a chore: That's where the Nufabrx Pillowcase comes in. The bamboo fiber fabric is formulated with lavender, lemon balm, tea tree oil, and wintergreen oil to keep your skin fresh throughout the night. In an independent study, the pillowcase was shown to reduce certain kinds of acne by 91.5 percent over a 24-hour period. Now, you don't have to feel guilty for those pillowcases you haven't washed in the past week.
Bustle may receive a portion of sales from products purchased from this article, which was created independently from Bustle's editorial and sales departments.
Images: Pexels/SnapsWireSnaps; Amazon (10)