Shower Hacks to Keep Hair Feeling Fresh For Longer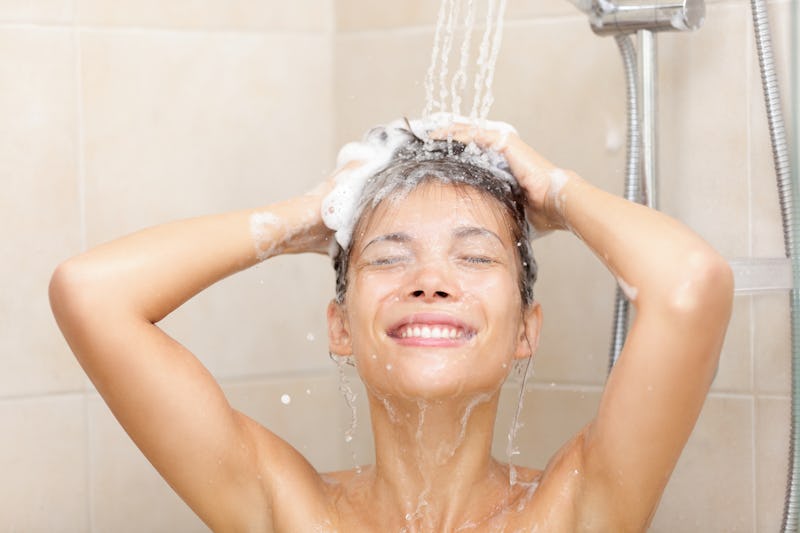 With the increasing popularity of dry shampoo, everyone is finally realizing that keeping your hair cleaner for longer is actually a possibility. But of course the flip-side is your hair might produce a lot of oil and feel gritty from all of your style-extending products. Still, there is a way to keep your hair cleaner for longer with a few tricks that let you spend more time sleeping and less time ducking in and out of the shower.
When you wash your hair every day, it gets stripped of the natural oils it needs to stay shiny and healthy, so try skipping a few days (or, dare I say, even a week) between shampoos to let your hair do its thing. It may feel odd to go so long between washes, but once your hair is used to it, you'll wonder why you ever thought you needed to shampoo every day.
You don't have to use so many gels and creams after you shower ... if you start using products that boost your style while you're still washing your hair. Volumizing shampoo is great for building body without needing additional mousse or hairspray. Make sure you're giving your ends some attention, too, while still getting rid of build up with a cleansing conditioner. And of course, when you need a quick fix throughout the week, dry shampoo is a great solution, but it's even better when it actually makes your hair feel clean. Here are nine shower tricks to keep your hair feeling clean between washes.
Clean Roots With Clarifying Seaweed Shampoo
Paul Mitchell Clarifying Shampoo Two , $14, Amazon
Stylists Nunzio Saviano and Kyle White say the best way to wash your hair with shampoo is to target the roots. This Paul Mitchell Clarifying Shampoo Two is a deep-cleansing shampoo that freshens roots with seaweed extract and rosemary, breaking down styling products, dirt, and everyday build-up. Because this clarifier actually decreases oil in hair over time, you'll feel the effects for longer, too. Just lather it up at your roots, and the ends of your hair will be cleaned as you rinse.
Condition Ends With Cleansing Citrus Conditioner
Matrix Biolage Cleansing Conditioner, $30, Amazon
This Matrix Biolage Cleansing Conditioner cleanses as it repairs your hair with orange peel oil, so you're left with nourished, fresh-smelling strands. It's also sulfate-free, so your hair is never stripped of the nutrients it needs (which can lead to hair getting dirtier, faster). Plus, if you've been putting conditioner on your entire head, it's time to switch things up. You only need conditioner on the ends of your hair, where your strands are the most damaged — otherwise the product can create build up at your roots, which could make your hair greasy.
Use Rice Starch Dry Shampoo That Actually Feels Clean
Amika Perk Up Dry Shampoo , $28, Amazon
This Amika Perk Up Dry Shampoo is made with natural rice starch to soak up oil — feeling totally lightweight and clean, unlike some dry shampoos that tend to make your roots feel gritty. Users say no white powdery residue gets left behind, and one daily hair washer even said, "...with this, I can go for a good three days!" If your hair tends to produce a lot of oil and shine (the unwanted kind), spray this on roots after blow drying to soak up oils.
Use Less Post-Shower Products By Volumizing While You Shower
Blowpro Blow Up Daily Volumizing Shampoo, $17, Amazon
The build-up your hair gets from using a bunch of different products after you shower makes your hair dirtier, faster. Start using this Blowpro Blow Up Daily Volumizing Shampoo to amp up the volume while you're still washing, instead of using mousse, texturizing powder, and hairspray after you get out of the shower. The pure protein blend of wheat and soy adds fullness, while the phytokeratin complex strengthens and adds shine to your hair.
Keep Hair Clean With Leave-In Conditioning Cream
Oribe Cleansing Crème for Moisture & Control, $44, Amazon
If your hair tends to look dry and dull after daily washing, this Oribe Hair Care Cleansing Crème does the trick to fix that. It hydrates and cleanses with purifying oils, citrus fruit extracts, and refreshing water-mint essence to get rid of frizz, so your hair never looks unwashed. It creates shine and conditions hair outside of the shower, so you won't have to spend as much time drying strands out in that steamy water, either. Add some to your hair after toweling dry, and style as usual.
... Or Try Apple Cider Shampoo For Deep Cleaning
Fekkai Apple Cider Shampoo, $15, Amazon
Apple cider vinegar is known for keeping hair clean and shiny the natural way, so consider adding this salon-level apple cider and pear scented shampoo into your shower to reap the benefits. It's silicone-free, so it won't leave residue behind as it cleanses hair to leave it completely clean and free from build-up. Your clean hair will last much longer once all of the leftover products are washed away. One user said her hair always looked greasy, even after a next-day wash, but this shampoo allows more days between washes, as her hair "retains its bounce and clean look and feel."
Rinse With Cold Water, Then Apply Keratin To Keep Hair Shiny
CHI Keratin Silk Infusion, $12, Amazon
Rinsing your hair with cold water seals the cuticle to keep your hair looking luminous, but you can make sure it stays even shinier by applying the CHI Keratin Silk Infusion to towel-dried hair for healing and hydration. The natural keratin rebuilds your hair's cuticle, and the silk gets deep into the hair to moisturize and smooth the strand. The healthier your hair, the less oil your scalp has to produce to hydrate it — so that means more time between washes!
Get Rid of Dandruff With Rosemary, Olive, And Jojoba
JASON Natural Cosmetics Dandruff Relief Shampoo, $10, Amazon
If you tend to find flakes in your hair throughout the day, you need the JASON Natural Cosmetics Dandruff Relief Shampoo. The colloidal sulfur gets rid of the dry, itchy flakiness on your scalp and the rosemary, olive, and jojoba naturally heal your skin to prevent future flakes. Use this shampoo at your roots, and you won't be dealing with dandruff for much longer.
Hold Style For Days With Coconut Oil Style Extender
Sexy Hair Smooth Encounter Blow Dry Extender Creme, $10, Amazon
When your hair looks so good for so long, you won't have to wash it very often. This style-extending creme is perfect for making sure your look lasts for days, looking fresh and clean the whole time. It's infused with coconut oil to keep your hair nice and smooth. Plus, it's sulfate-, gluten-, and paraben-free, so you see less build-up as time goes on. Just add some to damp hair before styling, and go!
Bustle may receive a portion of sales from products purchased from this article, which was created independently from Bustle's editorial and sales departments.
Images: Fotolia (1), Amazon (9)