JoJo & Becca Deserve A 'Bachelor' Spin-off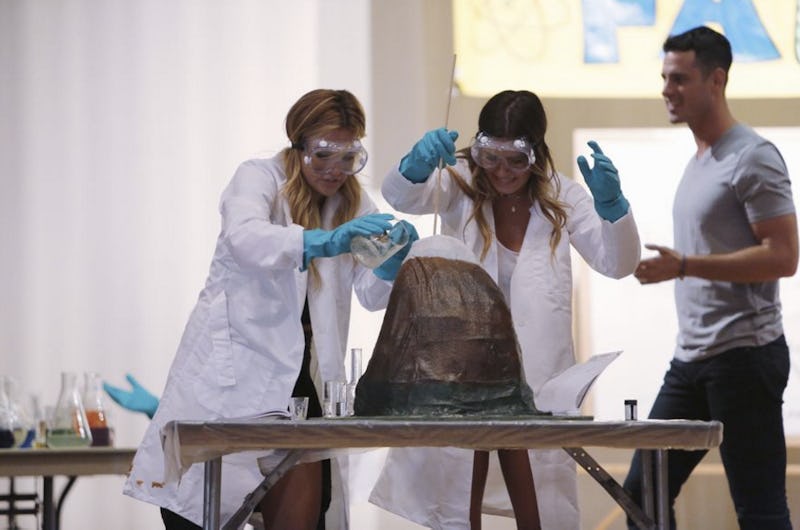 When I was watching The Bachelor's Women Tell All special, I had no idea why the hilarious clips that were aired at the end were considered "bloopers." I just didn't get why they didn't make the cut for being in actual episodes of The Bachelor! But the bloopers also made me realize something more important: JoJo Fletcher and Becca Tilley need their own spin-off series. Forget Ben Higgins, these two are the real love story of The Bachelor Season 20. They have the most entertaining relationship by far, and hilarity and cuteness follow these two wherever they go.
Instead of looking for love on TV again, it would be pretty great for JoJo and Becca to have their own travel show. I anticipate lots of laughs and quotable moments with these two getting through airport security, trying foreign foods, drinking wine, and just partying it up. It would be a runaway hit and it would not have any catty drama or excessive crying. There are so many reasons why this would be a truly enjoyable show, but I did narrow down my thoughts a little bit just to show everyone what a solid idea this is.
1. They Understand Balance
It's important to have balance in life, and clearly, these two get that.
2. They're Super Quotable
There would be a million memes and gifs if JoJo and Becca had their own show.
3. They Make Each Other Laugh
It seems like JoJo and Becca are always having a fun time together since they are always cracking up with laughter. Who wouldn't want to watch that and laugh along with the joy?
4. They Compliment Each Other
These two build each other up. You would never expect that two people competing for the same man to end up being close friends, but they really are and are always supporting one another.
5. They're Not Easily Embarrassed
I could not stop laughing when Becca and JoJo didn't know where Indiana was on a map, and I wasn't even making fun of their geography skills. Their humorous reaction to their own mistake was super endearing and I would love to see more of that on their own TV show.
6. They Love Each Other
Who needs Ben when they already have their "person"? I stand by my original statement about these two having the best relationship on this season of The Bachelor.
7. They Make The Best Out Of Any Situation
That pig swimming date was the weirdest thing ever, but these two were troopers. I would love to watch them experiencing some other strange times together. I just know that no matter what happens they will be optimistic and deliver hilarious television.
8. They Are Partners In Crime
The dude who tweeted this is right. If you think about it, JoJo and Becca were always sitting together. I feel like they tried more to be with each other than they did to be near Ben.
9. They Already Go By "JoBecca"
Every great duo has a catchy combined name.
10. They Can Admit Their Mistakes
JoJo and Becca have no issue admitting when they did something wrong and gladly apologize.
11. They Can Rely On Each Other
You don't just lend your Spanx to a casual friend! It's clear that these two have each other's backs.
12. They Make Fun Of Each Other
Yes, their friendship is a total love fest, but there is nothing boring about it. These two sprinkle in some humor from time to time and have no issue making jokes at each other's expense. Quality TV potential, if you ask me.
13. They Take Care Of Each Other
Awwww... If this doesn't make you love them I don't know what will.
14. They Will Always Provide Comic Relief
No matter what is going on these two are always low on the drama and high on the laughs. They would get into the craziest hijinks on their spin-off.
15. They Are Friendship Goals
JoBecca is friendship goals. They know it. I know it. We all know it. And it must be celebrated.
16. They'll Never Breakup
There is no better connection than a best friend bond. Unlike some of the other Bachelor relationships, I don't see these two ever breaking up.
There you have it. There so many reasons why JoJo and Becca deserve their own spin-off series. Let's just hope that this happens! JoBecca forever.
Images: ABC/Greg Zabilski (1); bachgifs.com (9)