It's A Donut! It's A Macaron! It's A Macaronut!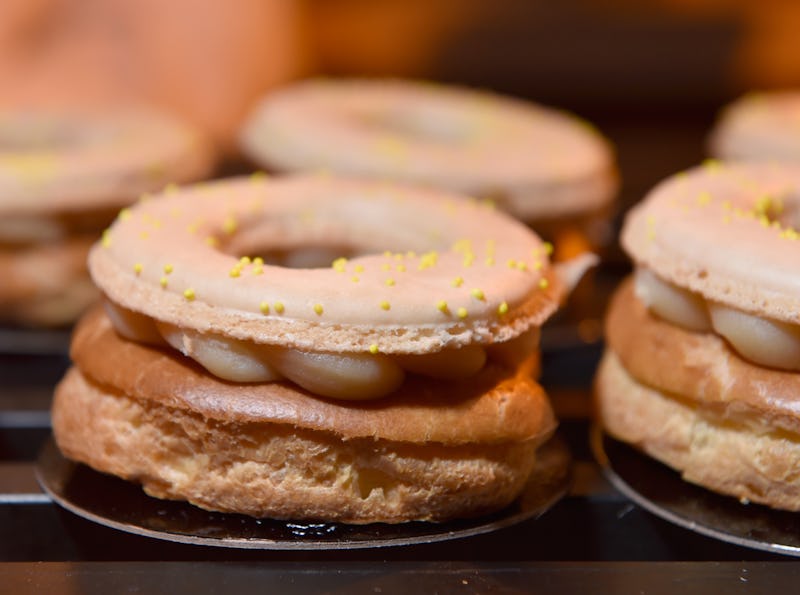 David Becker/Getty Images Entertainment/Getty Images
First there was the donut, then came the Fauxnut, followed by the Cronut, the Duffin, and Bronut. Now, the pastry gods bring us the Macaronut, the macaron donut hybrid. Because there's nothing we like more than a donut, except for a donut mixed with another pastry. Because we're both mad scientists, and pastry fanatics.
Pastry chef François Payard, creator of the Macaronut, has been baking up French-inspired goods in New York since the early '90s. Classically trained in France, Payard came to New York to expand his palate and grow his business. A few restaurant openings, awards and glowing reviews from The New York Times later, he's finding himself at the center of another frenzy.
In 2010, Payard became the organizer of National Macaron Day (yes, that's a thing, are you surprised?). On the special day, macaron lovers can go to participating bakeries to receive a free macaron. A percentage of proceeds on National Macaron Day will go to City Harvest, a charity that helps to feed the homeless. This year, Payard decided to play Pimp My 'Ron and beef up his already delicious treats with a new, larger donut shape. The hole-punched beast is filled with a bright strawberry cream and decorated with rainbow sprinkles. It's so beautiful, so cute, so colorful and so perfectly crafted that it looks like a cartoon version of itself. See the tweet here.
The new creation will debut on March 20, and you better believe there will be long lines so you might want to pull a smart phone release/Black Friday move and camp out on the street if you want to be one of the first to Instagram that sexy creation. In addition to the Payard locations (1293 3rd Ave., 116 W. Houston St., 210 Murray St. and 1775 Broadway), the following have confirmed their participation: Bouchon Bakery, Macaron Parlour, Sugar and Plumm and Maison du Chocolat. If you want to learn more about City Harvest (which you should) you can check out their website and see how easy it is to get involved.
As of right now, we don't know anything else about the ingredients or baking process of the Macaronut. Perhaps so as to not entice copy cats, Payard is keeping their creation under wraps. But fret not, March 20 will be here before you know it and if you don't have the patience to stand online, you'll certainly be able to Instagram stalk the Macaronut, a nice diversion from your ex or from the new Fifty Shades Darker set pictures of Jamie Dornan. Huh? What? OK, G2G draw hearts and stars around March 20 in my planner.
Image: David Becker/Getty Images