What's So Important About The 'Fifty Shades' Mask?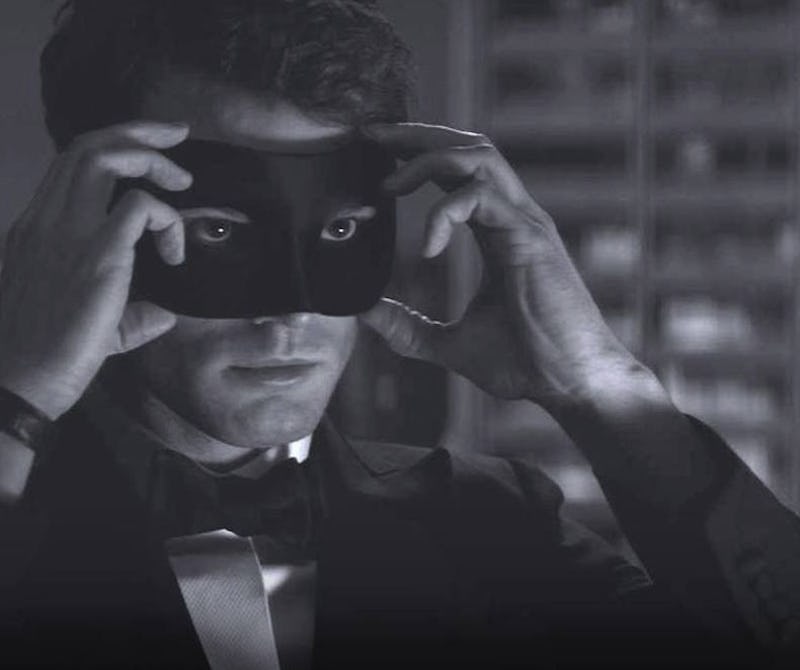 "Are you ready for something darker?" Thursday marked the release of the first teaser for Fifty Shades Darker, the sequel to the erotic romance film Fifty Shades of Grey. Though it wasn't all that, ahem, revealing, it did give us the first footage and image of Jamie Dornan reprising BDSM fanatic Christian Grey while sporting a new accessory: a black masquerade mask. What is the significance of the mask, and what does it imply being the first image from the film that we see? Get ready, because I'm about to take you down the dark, dank road on the way to spoiler-ville. I repeat, there be spoilers ahead.
For those who have read the trilogy — because, let's face it, if you've read one, you must've read them all — you already know what's coming in Fifty Shades Darker and the meaning of the mask. But, for the rest, here are some tantalizing details from the book to keep you abreast of what's going on. So, yeah, that whole break-up between Christian and Anastasia (Dakota Johnson)? That was only temporary, as if the fact that there are two more sequels didn't tip you off. In the first half of Fifty Shades Darker, the two reconnect, though Ana is still dealing with Christian's overly protective/control freak tendencies. The masquerade mask, however, is an allusion to the most important part of the sequel.
Watch the teaser, which can reportedly be seen on the Fifty Shades of Grey home release.
There will be a masquerade ball, and it's during this scene that Ana meets Elena Lincoln for the first time. Why is she important? You know her best as Mrs. Robinson. She was the one we heard so much about in Fifty Shades of Grey, the woman who served as Christian's dominant for 15 years and royally messed him up for the rest of his life. In the book, Ana finds out just how involved she is in Christian's life when it's revealed that the two co-own a salon business. Lincoln seems friendly enough, but, after Ana is auctioned off at the ball and Lincoln sees Christian bid $100,000 for the first dance with her, she realizes this relationship is more than just a dominant-submissive sex contract. And that's when she tries to put some blockades between them.
See? Sometimes a mask isn't just a mask.
Neither Universal nor author E.L. James have revealed which actress will be playing Mrs. Robinson, but the latest gossip (and by gossip, it's important to note that it's unconfirmed) suggests Mad Max: Fury Road's Charlize Theron will step into the role. We have quite some time before Fifty Shades Darker hits theaters on February 10, 2017, though we'll hopefully be hearing more about this highly anticipated bit of casting in the next few months. In addition to Dakota and Dornan, Fifty Shades Darker will also see the return of Rita Ora as Christian's sister Mia, Luke Grimes as his brother Elliot and Victor Rasuk as Ana's pal Jose Rodriguez.
In the meantime, you can pick up the Fifty Shades of Grey DVD and Blu-ray starting May 8, and you can watch the Fifty Shades Darker teaser all the live long day.
Image: Universal Pictures