15 Plus Size Swimwear Cover-Ups That Will Stun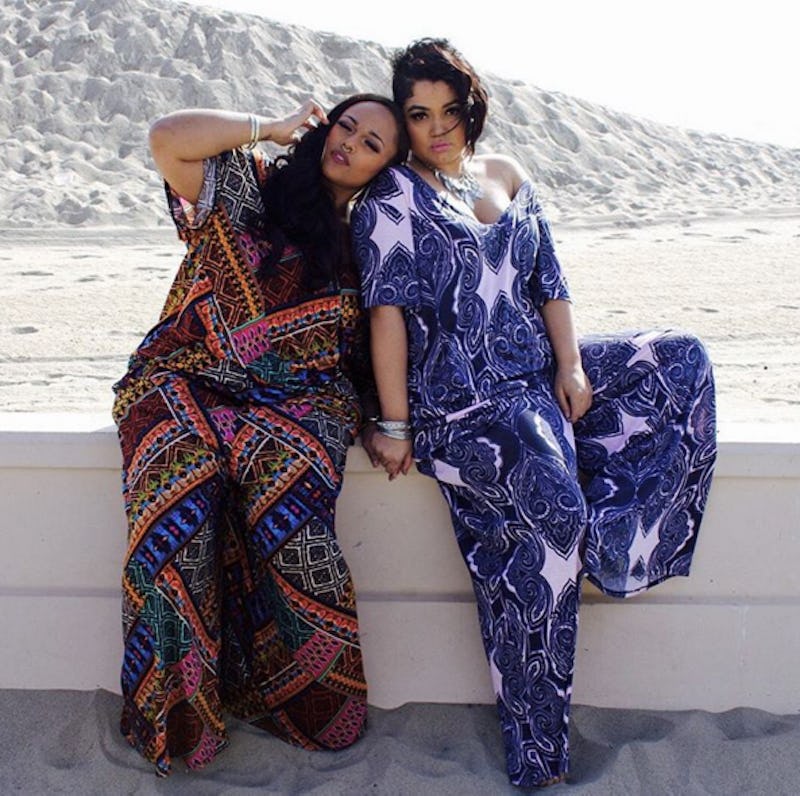 Spring break season is upon us, and plus size women in bikinis continue to prove that there's no reason to sit on the sidelines wearing a swim skirt any longer. Even though there's no reason to hide your body, there are plenty of plus size swim cover-ups that can make an additional fashion statement.
Plus size swimwear has expanded in offerings immensely over the past year, and along with that has come even more options for swim cover-ups. Like many plus size babes, I felt a lot of pressure to cover my fat body in swimwear for years. So the idea of a cover-up seems like a step back at times. However, I'm hoping to look at cover-ups through a different lens this coming season.
I'm choosing not to conceptualize plus size cover-ups as society telling me to hide, because I know I don't have to. I can and should wear whatever I want on my fat body. So this spring break, I'm looking at cover-ups as a cute swimwear accessory that I can sport while grabbing a drink at a beach cabana or as a garment that can double as a top, dress, or skirt because some of the options out there are too cute to ignore. Here are my 15 favorites.
1. Maxi Kaftan
Melissa Odabash Maxi Kaftan, $57, Simply Be
Anything maxi length might be too long for my petite plus size frame, but stay with me on the beauty of wearing one nontheless. This one's sheer, lace-up, and patterned so there's a lot of visual interest in the piece.
2. Flower Print Sarong
Hibiscus Flower Plus Size Sarong in Royal Blue, $25, 1 World Sarongs
As I embarked on a search for a traditional sarong, I was thrilled to find this one modeled by a plus model with visible back fat (a win for plus size representation)! It's also handmade from a lightweight rayon fabric, which means that this won't leave you feeling like you're wearing a ton of additional layers under the hot sun.
3. Jersey Tunic
The Most Perfect Tunic, $48, Re/Dress NYC
This isn't necessarily designed as a swim cover-up, but the super soft recycled jersey tunic seems like the perfect garment to sport with a bright and colorful bikini.
4. Sheer & White
White Chevron Ring Cover-Up, $37, Avenue
When I think of the term cover-up, this is the image that pops up in my mind — and it's good to know that there are options such as this one that go up to a size 32.
5. Beach Witch Bell Sleeves
Voile Bell Sleeves Swim Cover Up, $48, Torrid
Maintain your goth aesthetic while at the beach with this witchy bell sleeved cover-up.
6. The High Slit
GabiFresh for SwimSexy The Tsarina Slit Maxi Caftan, $54, Swimsuits For All
When blogger GabiFresh released her latest swimwear collaboration with swimsuitsforall, it was clear that the queen of the fatkini was branching out in a good way. One such way was the addition of sexy swim cover-ups like this one.
7. Waist Tie Mesh
Mesh Tunic With Adjustable Waist Tie, $62, Mazu Swim
My mom gifted me one of her old cover-ups that was mesh with a waist tie, and it became a year-round wardrobe staple for me. Mesh is a great breathable fabric to wear and the tie makes donning this open or closed a cinch to achieve.
8. Pastel Print
Sunbeam Me Up! Cover Up, $27, Mod Cloth
One way to add a little more color to your swimwear is with a patterned cover-up. The bold print and slouchy cut make this something I would also sport as a dress.
9. Draped
St. Thomas Draped Plus Size Cover Up, $68, Monif C.
Monif C. knows plus size swimwear, and this draped cover-up is glamorous yet minimalist. The draping makes it really versatile, and it's available in sizes eight to 24.
10. Rainbow Bright
Catalina Wrap Cover Up, $25, Full Beauty
I am entirely mesmerized by the vibrant pattern and colors of this cover-up. Add this to a fatkini look and you'll definitely have the beach staring.
11. Zip Up
Black Waffle Knit Zip Front Hoodie, $35, Swimsuits For All
I grew up on zip-up, hoodie-style cover-ups and I still think they offer a cute yet functional look. The waffle pattern of this fabric is an added detail that makes it a stand-out for me.
12. Palazzo Pants
"Kaleidoscope Dream" Pant, $52, Zelie For She
The Kaleidoscope Dream pants — and really the entire California collection from LA-based indie designer, Zelie For She — are truly dreamy. I can totally see myself mixing and matching these pants and the top with my swimwear.
13. Floral Kimono
Ocean Breeze Floral Kimono, $105, Proud Mary Fashion
One of the things that I love most about this kimono is its versatility. It's heavy enough that you can wear it during the winter, but cut in a way that makes it perfect as a beach cover-up as well.
14. Animal Print Kaftan
Joanna Hope Kaftan, $49, Simply Be
Is there an animal print that I would ever turn down? Likely not. This giraffe print cover-up features a draped yet fitted cut that I am really digging.
15. Oversized
Becca ETC by Rebecca Virtue Twist & Turns Tunic, $88, Everything But Water
This is actually the cover-up that made me realize there's more to this fashion item than "covering up your body." The oversized cut and the side slits make it something I would definitely wear as a dress.
Forcing myself to re-frame the way I thought of cover-ups has allowed me to see that there are a lot of varied options out there. Options that really aren't about concealing your beautiful body, but decorating it however you so please.
Want more fashion and beauty tips? Check out the playlist below, and be sure to subscribe to Bustle's YouTube page for more hacks and tricks!
Images: ZelieForShe/Instagram; Courtesy Brands