Everything You Need To Know About The Wine Workout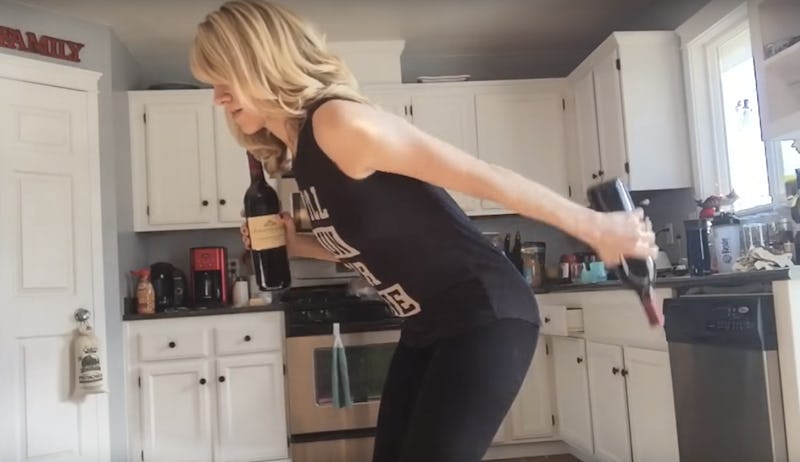 As a person who has shamelessly used Trader Joe's three buck chuck as emergency weights for at-home fitness videos, I am am downright giddy to see that these shenanigans are now becoming ~mainstream~. A few weeks ago fitness YouTuber April Storey posted a video of herself working out with wine bottles and unwittingly created a viral sensation that quickly amassed over 19 million views. In the video, not only does she use wine in place of ordinary weights (which weigh in at about 2.75 pounds each, FYI), but she actually drinks aforementioned wine in the middle of a workout — a dream I did not realize I shared until I saw her in action.
Since then Storey has been featured on The Today Show and Good Morning America among other outlets, effectively changing the workout game for 2016. It's time to dust off those New Year's resolutions we all forgot about and head to where the real sports equipment has been hiding — the wine aisle of the grocery store.
Storey wrote in an Instagram comment reacting to the video's success:
It's been a whirlwind but I'm honored to be able to show that 1. Fitness can be FUN 2. You can incorporate healthy living into your every day life with everyday items 3. Those treats we love, like wine, can still be enjoyed in moderation. I look forward to continuing this journey with you sharing my workout videos, health tips, and the occasional glass of wine.
After seeing the massive success of her first video, Storey continued on her wine workout spree by sharing a sequel, this time co-starring one of her friends. (I'll let you know how my petition to get this class in the group workout schedule at my gym goes, because YES.)
If you're #serious about your wine fitness, here's a pro-tip: you should definitely go with red wine. Although that viral study that a glass of red wine is equivalent to an hour working out is shaky at best, researchers have found that there is a compound found in red wine that enhances physical performance. The compound is called resveratrol, and in lab studies it is shown to affect heart function and muscle strength. The study suggests that drinking wine in moderation (i.e., a glass of red wine each night) might give you a bit of an edge at the gym.
So basically, it's your obligation to science to figure out if that study holds up if you're sipping wine and working out at the same time. Just don't forget to stay hydrated! (Or upload the hilarious results to the YouTube.)
Images: Giphy; YouTube