Listen Up, Tea Lovers: There's A Chocolate Teapot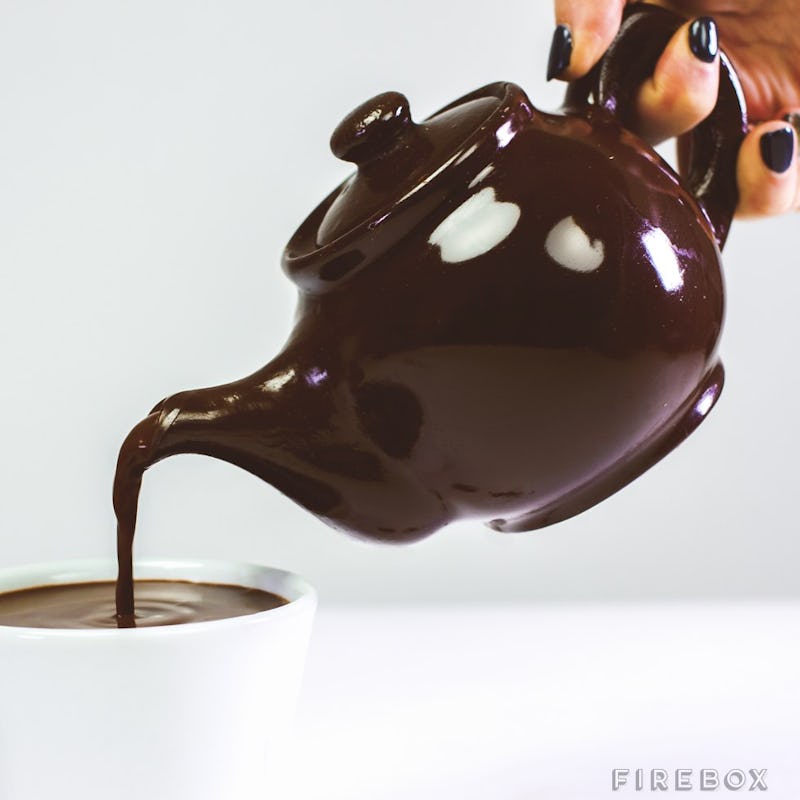 Next on the list of utterly useless things I truly shouldn't buy but devastatingly need is this working teapot made of chocolate. You can use it exactly one time, but that one time is well worth it, because I imagine the hot chocolate (or aggressively chocolate-infused tea) that you make using it will be well worth the teapot's inevitable demise. Created by Firebox, the chocolate teapot is constructed to work like the real thing and made out of quality dark chocolate to hold 600 grams of deliciousness. Now when you invite your friends over you can tea-shame the Mad Hatter for not getting NEAR ENOUGH ON YOUR LEVEL.
Its mystical properties aren't just limited to hot cocoa and other hot drinks, though. The creators also fashioned it to work as a fondue pot. Granted, the fondue pot will melt into itself into a glorious chocolate puddle, but I don't think there's a lot more you can ask for out of life than that anyway. And just in case it matters, the chocolate teapot is also gluten-free. Pretty much the only thing it won't do? ... Is survive the first time you use it. But hey, it's living in its YOLO, and who are we to judge?
The chocolate teapot is available for preorder and retails for $35.49. While you're waiting for it to reach your door, here are a few other wacky chocolate items you should have on hand just in case:
The Cumberbunnies
It's 2016, which means you can officially buy a chocolate bunny with Benedict Cumberbatch's face.
The Chocolate Smart Phone
For a passive-aggressive nudge at the workaholic in your life (or the young teen you want to mortally disappoint).
Amazon, $7.50.
Chocolate Han Solo Stuck In Carbonite
I know this one is super dorky, but I just had to smuggle it in. (Help.)
Images: Courtesy of Brands