See JoJo's Stunning 'Bachelor' Season Finale Dress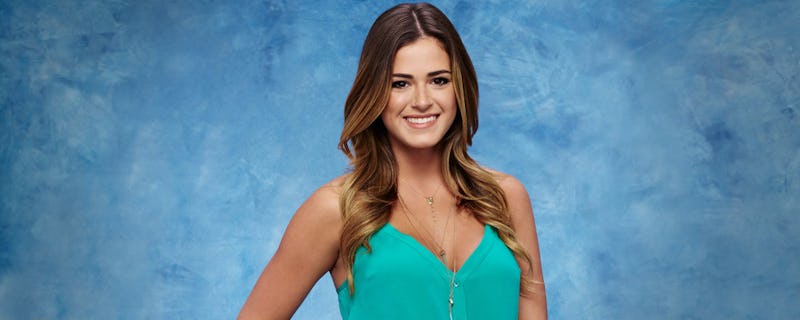 It's been a long and bumpy ride, as is always the case with The Bachelor. But, thankfully, the moment we've all been waiting for is almost here. Just to get you even more amped up for the final episode, go ahead and get a sneak peek of JoJo's Bachelor season finale dress because it's as breathtaking as she is. I've never been more excited for a Monday because Bachelor Nation is finally going to see who has Ben's heart (and get a close-up view of this gorgeous gown). Will it be JoJo or Lauren B. who winds up with Ben? I can't wait to see!
Having told both women that he's in love with them, Ben has put himself in quite a predicament. When JoJo steps out of the limo to potentially accept the final rose, she'll be wearing a light pink lace dress with a plunging neckline, which seems like the appropriate ensemble to accept Ben's proposal in, should that be in the cards for her.
Will this be the dress she gets engaged in? There's less than a week before we can know the answer for sure, but the one thing there's no denying — both JoJo and this dress are absolutely beautiful. And whether there's a ring on her finger or she's being sent home in a limo, I'm going to have a hard time focusing on anything but her sparkling evening wear.
If this dress (or the fact that Ben's in love with both women) is any indication of how this episode's going to play out, it's sure to be nothing short of amazing.
I love the movement of this dress and the fact that it even has a little bit of a train. She's just getting practice for (maybe) walking down the aisle in the future. *Squeals*
I'll chill the wine, you pop the popcorn. We're in for some quality TV-viewing here, people. And I've got a front row seat.
Images: Craig Sjodin/ABC (1); Matt Dunn/ABC (2); Giphy (1)