What Really Went Down With The Lace Morris Tattoo?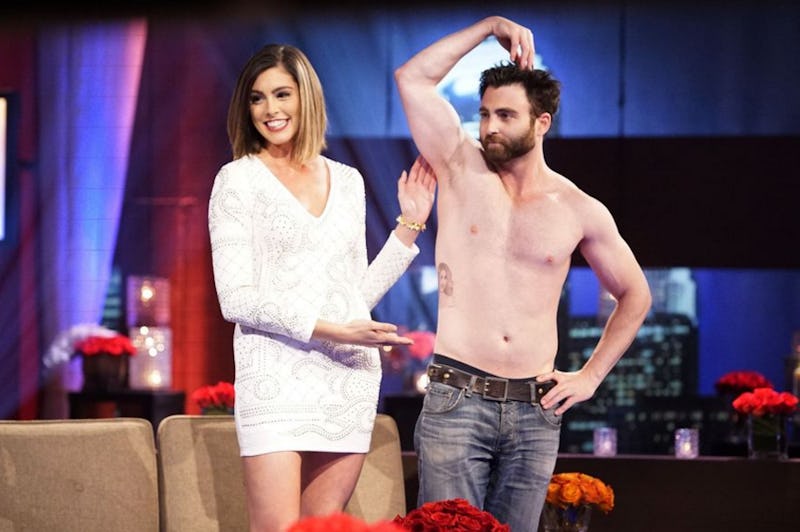 We have all been buzzing about that dude with the Lace Morris face tattoo ever since The Bachelor's Women Tell All special aired. It was just the weirdest thing ever. Who just gets a tattoo of a stranger's face on his body? The guys really took fandom to the next level — or did he? Apparently, this gesture was not exactly what it seemed. According to TMZ, the man who lifted up his shirt to reveal a Lace tattoo and profess his feelings for her was Jamie Abrams, a comedian who was a producer for the show Punk'd.
So what actually happened? Well, the tattoo is not real and apparently this guy is not even that into Morris (something I don't understand but that's another topic). But given Abrams' background, I'm not surprised he would play a prank like this on national television. According to TMZ, Abrams was the only one in on this and no one associated with The Bachelor had any prior knowledge of the stunt. And I definitely believe this based on Lace's reaction; her shock seemed pretty genuine to me.
If you're wondering how Abrams got Morris' face tattooed on his rib cage, it appears that he ordered a custom temporary tattoo from Momentary Ink. The company even posted a pic stitch with what they claim is the tattoo order form and clips from The Bachelor special on Instagram.
So, now that that's all cleared up, I still have one more question: The alleged order indicates that two Lace Morris tattoos were purchased— what happened to the second tattoo?! Did Abrams purchase another one just in case or is someone else rocking a Lace Morris tattoo on their body?
This whole story is pretty crazy and I would not be surprised if Lace Morris temporary tattoos became a trend. Anything is possible right?
For more Bachelor check out Bustle's Will You Accept This Podcast? below:
Image: ABC/Kelsey McNeal