Sebastian Stan Talks 'The Bronze' Sex Scene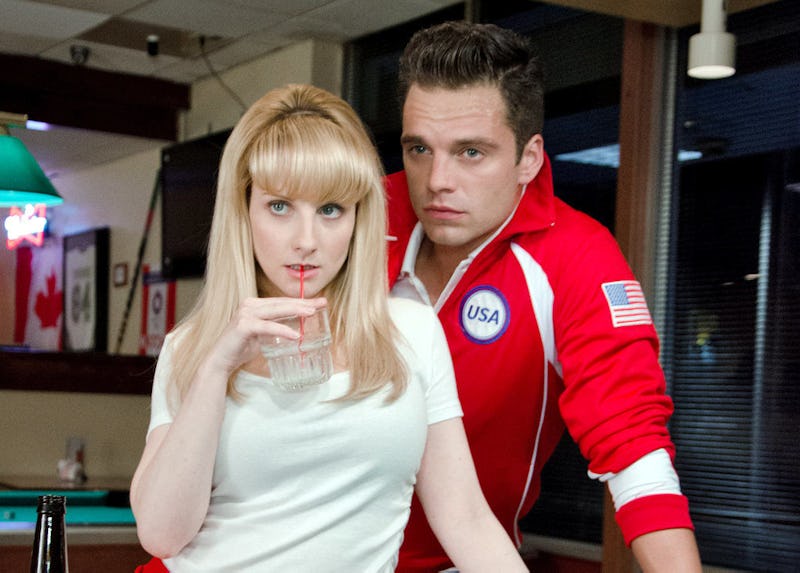 There are some cinematic moments that have stayed in my memory years after seeing them. Like when Bueller breaks the fourth wall for the first time in Ferris Bueller's Day Off. Or when Inigo Montoya gets stabbed but still defeats the six-fingered man in The Princess Bride. And of course when Rose let's go of Jack at the end of Titanic (after he repeatedly tells her to "never let go"). And after seeing 2016's The Bronze , I can guarantee that the gratuitous gymnast sex scene, featuring Melissa Rauch and Sebastian Stan, will stay in my conscious for many moons to come.
The Bronze follows Hope, a gymnast from a small town who won a bronze medal at the Olympics years ago. As she tries to hold on to her glory days, she's forced to train an up-and-coming gymnast for her own Olympic Games. Rauch, who co-wrote the film with her husband, stars as Hope, and Stan plays an Olympic coach and Hope's former lover. In an unforgettable scene, the pair rekindle their romance in an extremely graphic and oh-so impressive sex scene.
"In the script it was literally described as the most epic, insane, outrageous, fascinating, dangerous, over the top gymnastics sex scene there ever was in the world," says Stan. "That was the tag line."
The scene goes something like this: The pair barge into a hotel room, rip one another's clothing off, throw each other all over the room, and perform a bevy of impressive gymnastic stunts — while naked — and while having sex. It's something you can't tear your eyes away from. And something that will surely leave your mouth agape.
"I just wanted to see what we could get away with," Stan says. "We figured out the routine on the day of. We had two Cirque Du Soleil people, we had an Olympic winner gymnast choreographer, and we were all standing there at 8 am with coffees in bathrobes, going:: 'Can you flip this way? What if we do this? What if we do that?'"
The not-to-be-missed scene also reveals his character's Olympic-inspired (and very phallic) tattoo. "That was on there for at least a week afterwards. I was in the gym in the steam room and was like, 'Ugh, I'm that guy now,'" Stan recalls.
Stan's co-star, Thomas Middleditch, who plays Hope's other love interest, was impressed with Stan's willingness to commit to the tricky scene: "He really went for it. Another actor would be too timid or be too crass about it, but he manages to hit that sweet spot. As a result the scene is legendary," Middleditch says. "It's remarkable. The only time you've seen anything close to it is in Team America — and that's with dolls. These are real people doing the craziest and weirdest shit. It's not in a porno — it's in a comedy — and somehow it works."
"I never get sick of that scene. I wish we were shooting it today," Stan jokes.
See the scene in question — and Stan's outrageous tattoo — when The Bronze hits theaters March 18.
Sony Pictures Classics