11 Reasons To Rewatch 'Almost Famous' Right Now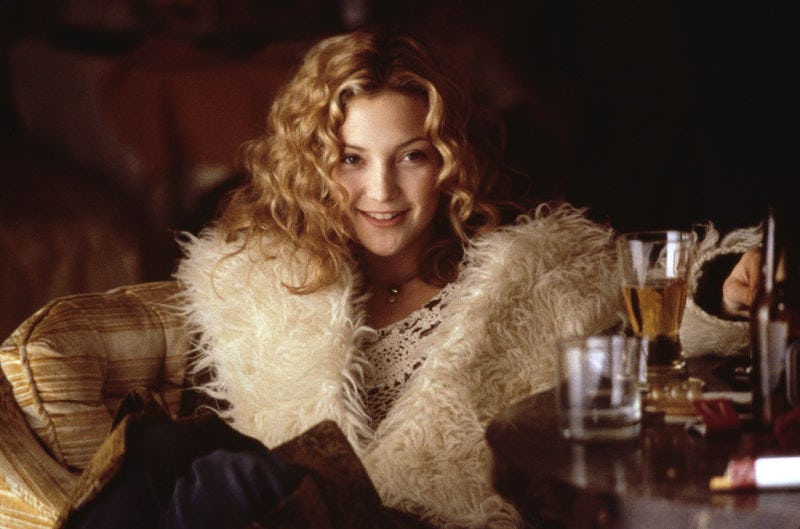 As many will remember, the 2000 movie Almost Famous is a bit of everything: it's a music movie, a period piece, a coming-of-age film, and a showcase of A-list talent. It's filled with drama, but also has plenty of humor and romance — plus a soundtrack that's an amazing compilation of classic rock tracks. With so many great qualities, it's no wonder that the movie was nominated for multiple Oscars, Grammys, and Golden Globes. For many people, including myself, Almost Famous is simply unforgettable.
As anyone who, like me, has ever pursued a career as a performer, can attest, this process of trying to "make it" is a grueling one. I find it really easy to relate to the movie's protagonist, William, a young kid who unexpectedly ends up on tour with a rock band. William has always been an outsider, but his new situation provides him with the opportunity to feel like he's one of the cool kids. His desire to belong (and uneasiness in his own skin) brings up so many memories of adolescence, and it makes it that much more exciting — if hilariously awkward — to watch his journey as he tries to fit in with the figures of the music industry. Almost Famous is a hugely memorable movie, and it's one that I, for one, could easily watch again and again. Here's why.
1. The Music Is Incredible
Like I said, the music in Almost Famous is amazing. On the soundtrack, you'll hear classics from Simon & Garfunkel, The Who, Led Zeppelin, and so many more.
2. William Losing His Virginity Is Adorably Akward
This situation isn't typical for a person's first sexual experience, but William's awkwardness around it is endearingly relatable.
3. It Features Newcomer Zooey Deschanel
One of Deschanel's first film roles was as William's rebellious but caring big sister, who uses the word "feck."
4. Frances McDormand Earns Her Oscar Nom
McDormand earned an Oscar nomination for her portrayal of a mom struggling to let her son find independence when she really just wants to keep him close. William's embarrassment after his mother screams "Don't take drugs!" to him outside a concert will strike a chord with anyone who was overprotected as a kid.
5. The Band Dynamics Are All Too Relatable
It's easy to empathize with Jason Lee's character for feeling overshadowed by Billy Crudup, especially when he gets left behind by the tour bus.
6. The Quote "I Am A Golden God" Is Iconic
As is the pool that Billy Crudup jumps into after saying this.
7. It Gets Into The Intracies Of Fandom
Penny Lane doesn't see herself as a groupie; in fact, the "Band Aids" pride themselves on their devotion to the music of the bands they travel with, not the members. But Penny also has undeniable feelings for Russell, making things get messy in a way that many fans have experienced.
8. The "Tiny Dancer" Scene Is A Reminder Of What Matters
A tense bus ride turns into a musical trip when everyone starts singing along to "Tiny Dancer." It's the first time that William really feels like he belongs, serving as a reminder that sometimes the most special moments in our lives are the tiny ones.
9. It's Full Of Great Throwbacks To Hippie Culture
This movie will make you nostalgic for an era that you probably never lived in. Between the costumes, cultural references, and lines like "Your aura is purple!," the movie is an immersive look at the early '70s.
10. Lester's Advice To William Is Spot-On
The late Philip Seymour Hoffman is amazing as music critic Lester Bangs. He gives William some memorable words of wisdom about the music industry, including the gem, "You're coming along at a very dangerous time for rock and roll."
11. William And Penny's Confrontation Is Perfectly Painful
This interaction is all too real for anyone who's ever been in a one-sided infatuation. William reveals to Penny that Russell sold her to another band for 50 bucks and a case of beer, and she responds, "What kind of beer?" It's a joke to cover up the fact that she's hurt, but it's also her last attempt to find out just how little she meant to him. It gets me every time.
Almost Famous is undoubtedly an amazing music movie, but it's also so much more. For me, the film is a conglomeration of very human moments that show how sometimes the most meaningful parts of life are unexpected. It's not about success, but about the experiences you have and the people you meet along the way. It's a reminder to disregard what you think you should be and figure out who you really are. And it's those elements that give Almost Famous the same timeless quality as the music it features.
Images: DreamWorks, Giphy (7)