Spider-Man Swings Into The 'Civil War' Trailer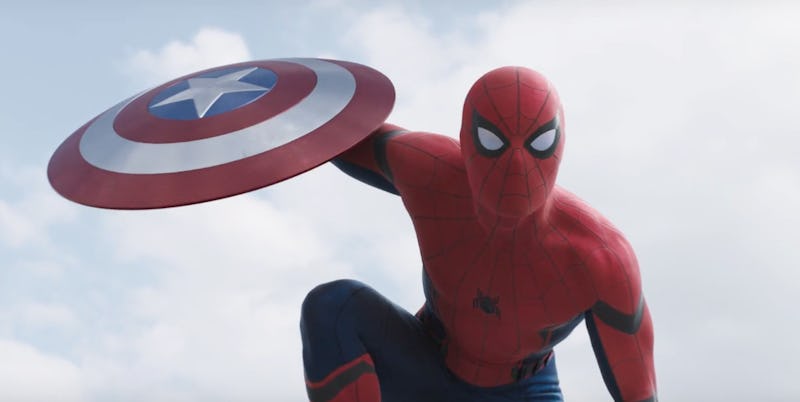 The Marvel neighborhood just got a whole lot friendlier. That's right. Your friendly neighborhood Spider-Man is officially back on the big-screen, and this time he's swinging into theaters alongside the Avengers in the new Captain American: Civil War trailer. And, while we already know that Civil War will tear our favorite team of heroes apart (there's some serious Iron Man vs. Captain America feuding going on), it's also adding in the one superhero that has long been separated from the rest of the crew. And now it's all official, because the best superhero of them all has finally made an appearance. (OK, I'll admit. I'm totally biased.) The introduction of Spider-Man in the latest trailer for Captain America: Civil War is a level of unprecedented awesome for the overall Marvel franchise. Sorry Andrew Garfield and Toby McGuire, but Tom Holland is the one rocking the spandex suit this time, and boy does he rock it well.
On Thursday, the second official full-length trailer for the third installment of the Captain America series was released. The trailer spends most of its time going through the healthy banter and totally un-OK turmoil brewing between Cap and Iron Man. Until we reach the very end and — at the 2:15 mark — the well-known web sound fills our ears. Then, Spider-Man single-handedly defeats Captain America by stealing his shield and tying up his hands with a web. Fans then hear Tom Holland's first words as the character, in which he simply says, "Hey everyone," from beneath the suit.
I'm just totally fangirling at thos point. Watch it for yourself and you'll understand what I'm talking about.
As revealed, Spider-Man is definitely coming back to theaters as of the May 6, 2016 release date of Captain America: Civil War, and he's everything we could have dreamed. With Tom Holland soon starting his press rounds as the web-slinging hero, we will hopefully get some feedback on how he compares to Sony's two other previous portrayals of the character. Basically, the third Spider-Man whirlwind has just begun. And there is no stopping it now that fans have gotten their first taste.
Images: Marvel Entertainment/YouTube