David Sullivan Found Success Before 'Flaked'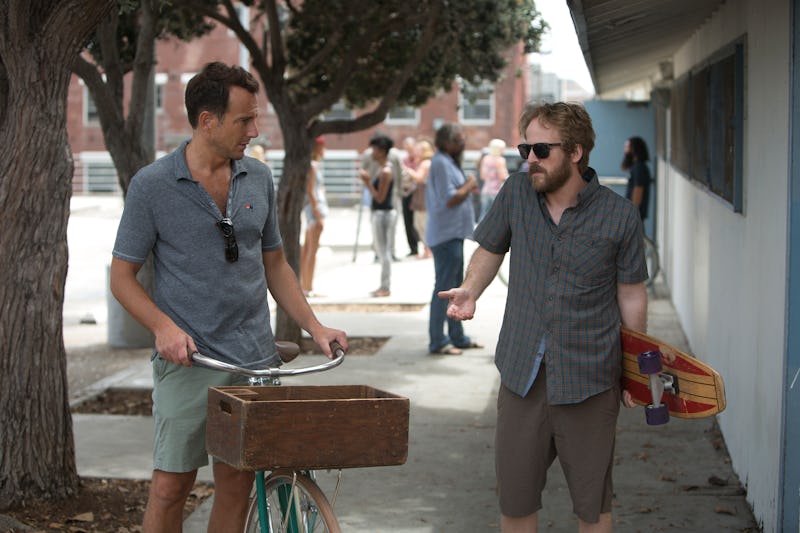 Will Arnett's new Los Angeles-based, coming of middle age Netflix series Flaked — not to be confused with his similarly summarized, animated series BoJack Horseman — will be available for streaming on Friday, March 11. While the location and growing pains are familiar, it seems that BoJack Horseman and Flaked's similarities end there. For starters, Flaked has an impressive live action cast, including David Sullivan, who plays Dennis.
Not only does Arnett portray the series' protagonist, Chip, he is also an executive producer (with Mitchell Hurwitz), co-writer of the series (with Mark Chappell), and co-creator of the show (also with Chappell). The eight-episode arc will follow Chip as he falls for a woman his best friend, Sullivan's Dennis, is vying after. The show has been described as a serio-comedy, aka a comedy with an edge, which is unsurprising for Netflix considering its other original series like BoJack Horseman and Judd Apatow's Love. That means everyone in the cast will need to pull off both dramatic scenes and comedic moments, but that probably won't be a problem for Sullivan. Here's what you should know about the actor, including notable roles, before he shares the spotlight in Flaked.
New Girl
Sullivan had a bit a bit part on New Girl as a guest at Jess's dead date's funeral.
Primer
Sullivan's first acting credit is for the 2004 cult classic Primer, in which he played Abe.
Argo
You may also recognize him from his role as Jon Titterton in Argo, which won Best Picture at the 2013 Oscars.
He's Got Serious Moves
Maybe he'll get to break a few out on Flaked.
He Played Football For Baylor
Just a casual #TBT.
There Was A Port O Potty Incident
Not sure if this nightmare is real, but it was posted to his Instagram while filming Flaked.
He's A Dad
And his kid is pretty cute.
He Even Coaches Soccer
It seems Sullivan's sports career didn't end after he finished college.
Even though they didn't appear to have much in common, now that I know more about Sullivan, we can't wait to meet Dennis on Flaked
Image: Adam Rose/Netflix