The Single Best Workout To Do Before Work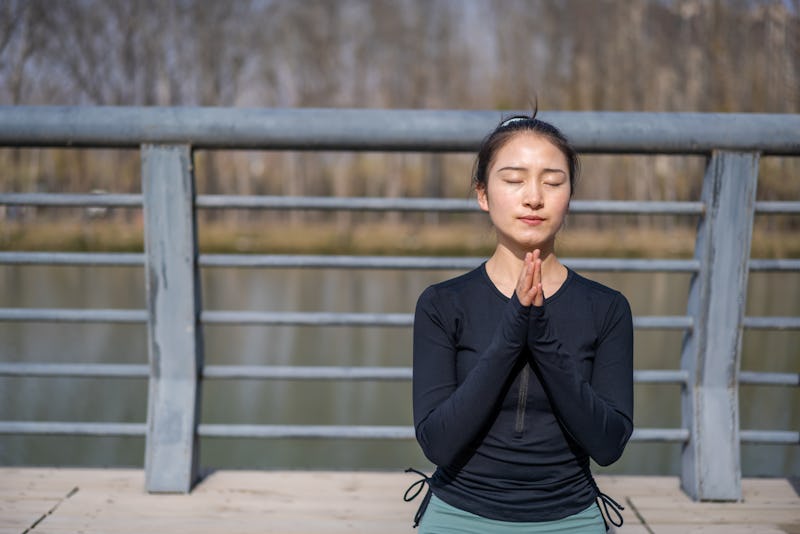 Fei Yang/Moment/Getty Images
There are two types of people in the world — people who embrace mornings, and people who abuse their sleep alarm to a disturbing degree. For the people in the latter group (and that includes me), it can often be hard to find the motivation to get moving and get a healthy start to the day. The good news is, if you do just one morning workout before work, you'll feel much better about the workload ahead of you.
What's that magical exercise, you might wonder? You've probably heard of it. In fact, you might already have views on it. I'll cut to the chase — it's yoga.
There are plenty of benefits regarding yoga, but doing it in the morning, right before work, is almost essential. Just like your morning cup of coffee, yoga can help make you more aware and alert, and obviously stretching your muscles helps prevent injury (which is super important if you find yourself running like a mad woman to take the local bus for your work commute). Plus, if you're a tosser and a turner, realigning everything with some morning yoga will help prevent muscle strain, and improve flexibility and posture.
If you're still on the fence about adding yoga to your morning routine, here are a few additional reasons why a small yoga session would be beneficial for your body, mind, and pre-work mood.
1. Yoga will help with stress management
Even the most fun, easygoing job environments include the occasional bouts of stress. If you're prone to having poor sleep due to your mind racing regarding things that need to be done, yoga in the morning will help you reach a moment of clarity and focus. FinerMinds actually goes so far to say that yoga serves as a complete mental cleanse, saying that the "mental pollution" you face on a daily basis is a hindrance to your own sense of well-being. (Man, even typing that sentence makes me want to dive into some yoga poses. Viewing negative thoughts as literal garbage is pretty inspiring.)
2. You won't get super sweaty with yoga
Nobody wants to take a shower and then hit the elliptical before work. Remember how I mentioned cleanliness? Those who are completely involved with yoga actually suggest bathing before working on poses for a few reasons — for one, hot and cold water might mess with your hormones after a workout. Who knew, right?
3. It'll help you have good posture, especially if you work a desk job
US News reports that around 86 percnet of American workers sit all day at their jobs. With extreme sitting comes extreme posture changes. It's just hard to sit up straight when you're in the midst of a bunch of different work tasks. A morning yoga session will help you realign yourself, and learn how to naturally improve your slouch. The Mountain Pose, The Tree Pose, and the Downward Facing Dog are three excellent poses that are easy to learn, and useful to help fix the issue. It's also an excellent solution if you suffer from lower back pain.
4. All you need is 10 minutes per day
It takes you 10 minutes to finally achieve your ideal ponytail — 10 minutes is nothing. A 10-year study that focused on the yoga habits of 700 participants proved that a quick yoga workout was extremely helpful for strengthening bones. There are a billion ways to add a 10 minute routine to your morning.
Obviously the more time you dedicate to yoga the better, but realistically, I know we often feel a little pressed for time as is. Whatever you can manage is way better than nothing at all.
5. It'll boost your self-esteem
Most exercise does, but morning yoga can just make you feel confident and strong. As our physical strength improves, our ability to do more challenging poses accelerates. Warrior II and Warrior III are just a few of the poses that'll help you feel on top of the world.
While yoga classes definitely exist, having a small space in your room to work out post-shower will help you navigate the world of yoga without feeling embarrassed or judged. What's holding you back?
Images: Fei Yang/Moment/Getty Images; Giphy (5)