18 Best Baby Shower Gifts at Every Price Point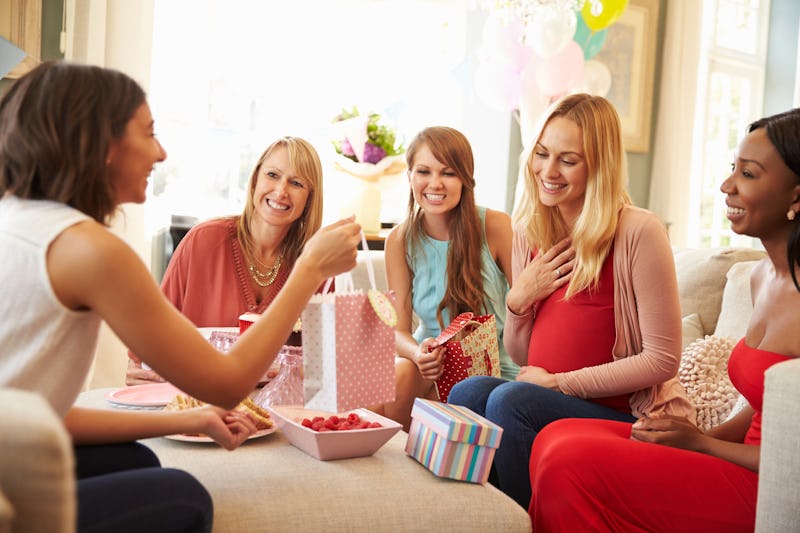 Whether you've just received your first baby shower invite, or this invite's joining about 37 others in your calendar, picking out cool baby shower gifts on a budget can be a challenge (particularly if you fall in the latter camp). What exactly does a family with a newborn need, anyway? And what if you're fresh out of ideas for presents that still fall into your very responsibly allotted price range?
You might need to find a thoughtful baby gift for a coworker, an above-average shower present for a close friend, or maybe you need to deliver some quality items for your very own flesh and blood (or all three). Everything from the best-looking burping cloths (yes, that's actually possible) to the coolest toothbrush to a memory book full of beautiful illustrations can make your friend's life with a newborn that much easier. There are absolutely enough baby goods and gadgets to find something at every price point no matter who's expecting a little one.
Whether you just got paid, or you're scraping together would-be happy hour change, there's definitely something here for you. The baby shower gift game is about to level up, courtesy of you.
For The $30 & Under Budget:
Humor The 'Star Wars'-Loving Family
Texas Tees Storm Pooper Shirt, $15, Amazon
Friends with parents who indulge in Star Wars marathons on the reg? This funny onesie has easy snaps for quick diaper changes, and the neckline features double-stitched hems in a stretchy, comfortable material. One user said that after a toss in the wash, the design still looked great.
Give The Bib With A Stylish Twist
Kaydee Baby Bandana Dribble Bibs (Set of 4) , $23, Amazon
Protect the baby's clothes from food and other spills with the bib that could double as a stylish accessory. Choose from 11 different sets of four, all of which feature a soft fleece back and ultra-absorbent fabric. Users say these are great for burping and fasten securely with snap buttons instead of Velcro.
Try Sneakers That Make For Easy On & Off
Orgrimmar First Walkers Baby Shoes (Sizes 6-24 Months) , $20, Amazon
These genuine leather shoes are easy to get on and off because of their Velcro fastening, and users say the material is soft and flexible. Rubber treading on the bottom adds some extra grip, and the shoelace detail is actually elastic — so no need to worry about tying and untying.
Burp With Super-Soft Flannel Cloths
Gerber Unisex Burp Cloths (Pack of 4) , $11, Amazon
Burping can get a little messy, so get some preventative (and cutely patterned) protection with these 100 percent cotton cloths. Fans say they wash without fraying and are wide enough to cover their neck and shoulders. They're also super-absorbent — one user said that just one cloth can last all day long.
Catch Fallen Bites In An Easy-To-Clean Bib
OXO Tot 2 Piece Roll Up Bib, $20, Amazon
This comfortable fabric and silicone duo makes for mess-free meals. Wipe away excess crumbs or toss in the wash, and adjust the flexible neck to whatever the preferred size may be. Users say the fabric is coated, so it rests comfortably on the neck and won't soak through with spillage.
Buy Soft Cotton & Chiffon Floral Kicks For Summer
Estamico Infant Girls (Size 0-6 Months), $12, Amazon
Ideal for the baby who's not quite on her feet yet, these casual kicks have a roomier fit, which means plenty of room for cozy socks underneath. A big chiffon flower on the toe steps up these soft cotton and leather shoes, and one fan said they were a pretty pick for summertime wear.
Brush With The Bendable Banana Toothbrush
Baby Banana Bendable Toothbrush , $8, Amazon
The No. 1, best-selling manual toothbrush, this flexible teething tool is a step-up from the run-of-the mill brush. It's made with dishwasher-safe silicon bristles that massage teeth and has two peel handles for easy gripping.
For The $30-$75 Budget:
Sit & Play With A Fold-Up Activity Gym
Infantino Twist & Fold Activity Gym , $30, Amazon
This easily packed activity gym has four linkable toys, a reflective mirror, and even a cushy pillow to rest on while exploring the toys above. The arms are removable, too, so a baby can play on the mat sitting up, and fans say the easy twist-up top makes it possible to fold up the set quickly.
Record All The First-Year Moments
Lucy Darling Baby's First Memory Book , $35, Amazon
Help parents document all the essentials (from ultrasounds to the baby's first scribble), all while thumbing through artfully illustrated designs with blank pages in back for additional notes. Users say it's the perfect blend of thoroughness, and one fan remarked, "Start to finish, this book is precious!"
Snuggle Up In Cotton Onesies That Prevent Scratching
Rosie Pope 2-Pack Adventure Into the Wild Coveralls, $32, Amazon
This set of 100 percent cotton onesies have covered hands to prevent little ones from scraping and scratching. Front snap closures make for easy ins and outs, and machine-washable fabric means fewer headaches and more free time for parents.
Entertain With A Safari-Themed Rocker
Fisher-Price Infant-to-Toddler Rocker, $40, Amazon
This reclining seat features bat-at toys and a musical elephant to entertain the baby, and the seat can double as a spot for feeding and holding. The seat accommodates up to 40 pounds, so toddlers can use the plush seat for reading and play time.
Bring A Familiar Changing Area Anywhere
Graco Pack N Play Playard, $63, Amazon
This bassinet features fold-up wheels and feet to create a compact, portable changing and play area for the baby. Its changing pad has built-in pockets, too, where you can store changing materials and other needed items.
For $75-100 Budgets:
Choose A Stylish & Functional Tote...
Skip Hop Grand Central Diaper Bag, $76, Amazon
This diaper bag has three separate interior sections and 11 pockets total, including two exterior zip pockets for storage. Tightly hide away everything that you need to, all the while looking sharp and clean. Users say the bag stands up on its own, has two bottle pockets inside, and is light while empty for as little baggage as possible.
...Or Store Diaper Goods In Streamlined Backpack
DadGear Backpack Diaper Bag , $100, Amazon
This convenient pack might be marketed at dads, but it works for anyone favoring a hands-free way to tote baby gear while out and about. An outer zipper features a pocket for easy-access wet wipes, while a specially designed inner shelf at the top houses fresh diapers in an easy-to-reach spot. Plus, there's a changing pad included!
Contain Dirty Diapers & Odor
Ubbi Steel Diaper Pail, $77, Amazon
This rubber-sealed diaper pail uses a powder-coated steel rim to keep smells inside, while the specially designed sliding lid also prevents odor from escaping into the room. Plus, this one has a childproof lock for safety and holds up to 50 diapers.
For Over-$100 Budgets:
Carry Your Baby In Five Positions
ERGObaby Organic Baby Carrier, $112, Amazon
This stylish baby carrier is designed to secure a baby in a natural seated position and distribute his or her weight throughout the carrier's hips and shoulders. Not only is the piece machine-washable (on the gentle cycle), but users say it's supremely comfortable and easy to adjust between the different fitting options.
Ride Securely With A Front- or Back-Facing Seat
Graco My Ride Car Seat, $107, Amazon
This best-selling convertible seat secures into the car facing forwards or backwards, and the energy-absorbent foam works to minimize impact. The cover is machine-washable, too, and the five-point strap-in harness keeps its rider safely held in place.
Safely Stroll With Secure Harness & Extra Storage
Summer Infant Convenience Stroller, $100, Amazon
This stroller is the best of both worlds: safe and secure with a five-point harness and stylishly designed with a bright yellow canopy that's actually removable. Anti-shock wheels with swiveling capabilities make for a smooth ride, and the simple foot-lever push collapsible feature makes it easy to store on-the-go.
Bustle may receive a portion of sales from products purchased from this article, which was created independently from Bustle's editorial and sales departments.
Images: Fotolia (1); Amazon (18)