Reformation's New Linen Collection Is Divine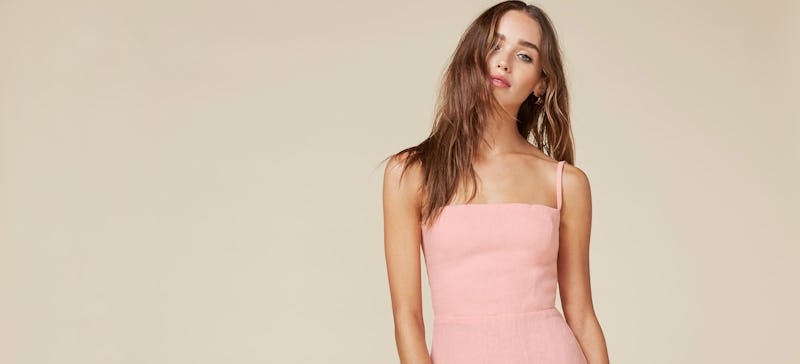 Reformation has quickly become one of my favorite brands, mainly because of their simplicity and understated sexiness. They get every single piece right, and Reformation's new linen collection is no exception. The brand just keeps tackling more and more collections, and each time, my wallet comes out empty handed. But my heart is so full with joy.
If you're not familiar with the brand, Reformation is located in downtown LA, where they manufacture (most) of their products in their own factories. Pretty cool, right? The brand also uses sustainable fabrics and vintage garments, according to their website. Basically, it's a super cool brand of clothing that tries its best to stay as sustainable as possible. And when fashion and sustainability marry, it's a beautiful thing.
Browse through their store or online, you'll find cute little slip dresses, plunging bodysuits, and to-die-for dresses. The brand's collections include "The Outdoor Lingerie Collection," Spring Wedding Collection," "That Feeling," and more. They've even done a petite collection in the past, which was a win for super petite gals. And now, Reformation's newest collection, spring linens, is about to take up a whole lot of my closet space.
I can't praise linen enough. It was huge during Spring 2016 NYFW, and for good reason — It's easy, it's breezy, and it's structured, while still looking relaxed. In other words, if you want to look chic, throw on some linen. From matching crop top and skirt, to dresses, to your classic linen top, Reformation got it all right. Shop some of the looks, below.
1. The Two Piece
Reformation Augie Two Piece, $198, thereformation.com
Why have one, when you can have two? That's always my philosophy.
2. The Cut-Out Dress
Reformation Manon Dress, $198, thereformation.com
I've actually fallen in love with an inanimate object. And it's this beautiful dress.
3. The Jumpsuit
Reformation Lunna Jumpsuit, $198, thereformation.com
Nothing is more fun than a playsuit, and in this pretty beige color, it's perfect for every summer adventure.
4. The Classic Top
Reformation Lina Top, $98, thereformation.com
Your go-to button up gets a luxe update with the linen fabric. With denim like this? Obsessed.
5. The Mini
Reformation Auden Dress, $178, thereformation.com
This little pink number is perfection.
The good news? These pieces all come in multiple colors, meaning more beautiful pieces to covet. With the temperature hitting the 70s already in March, I think we're in for a scorching summer. Get your linen on, before it's too late!
Want more fashion and beauty tips? Check out the video below and subscribe to Bustle on YouTube!