11 Spring Jackets That Aren't Trench Coats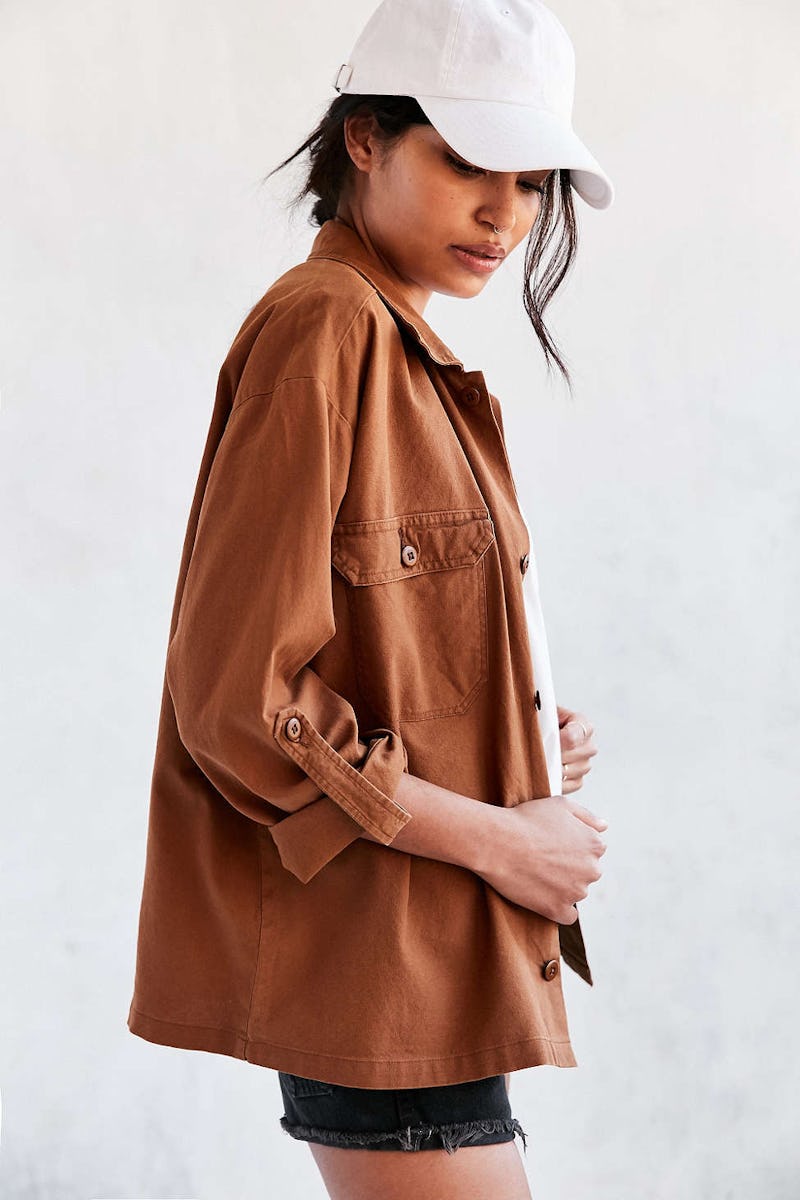 Spring has (not officially) sprung, but it's definitely coming, which means one thing: Building your spring wardrobe. In my opinion, no other piece of clothing says April showers and May flowers like the spring coat, because there's nothing like putting your winter parka away for the rest of the year and being able to get away with a lighter coat.
If it wasn't clear by now, I'm not winter's biggest fan. Snow is pretty, but being cold? Not so much. So when the seasons finally begin to change, I feel like I come alive again. I can actually wear my favorite pieces, rather than wearing my super long parka, snow boots, and the same pair of thick jeans everyday. Basically, I get rid of all the "blah" in my wardrobe. And I'm sure you feel the same relief when you can actually leave work and still catch the sunset. Bliss.
Transitional dressing is always tricky: On one hand, I thank the style gods for lighter jackets and ditching my winter gloves, but at the same time, the weather is so fickle, that one moment, a piece may be too warm, and the next, you're frigid in it. But the trick to nailing the in-between warm and cold is the perfect spring jacket, which will keep you safe from rain and chill, but is light enough to tote around in case you need to take it off.
While the trench coat is always a timeless classic, it can be just that sometimes — a little flat. While it always polishes off a look, sometimes, I want a little playfulness. So, in honor of the forgotten spring jackets, I'm here to give them some love.
1. The Varsity
Mango Outlet Cotton Varsity Jacket, $60, Mango
A varsity jacket always looks so badass with classic denim and a tank.
2. The Anorak
Blanc Noir Hooded Anorak Jacket, $149, Revolve
Read: Hooded. Meaning you'll never ruin your hair with the rain again.
3. The Chambray
Boohoo Plus Sleeveless Denim Chambray Jacket, $59, ASOS
This is the perfect layering piece. Wear with a long sleeve on chillier days, or wear with a tee like this model on warmer ones.
4. The Streamline
Coupe Olive Jacket, $89, Shoptiques
This is the super streamlined look that pairs perfectly with every outfit.
5. The Cool Tie
Wilfred Nogent Jacket, $245, Aritzia
Why go with buttons and zippers when you can have a tie?
6. The Utility
Forever21 Plus Size Classic Hooded Utility Jacket, $30, Forever 21
Light, yet protective, this utility jacket won't disappoint.
7. The Suede
Reformation Granite Jacket, $458, The Reformation
Hi, pretty. This suede jacket won't stand the rain, but it will sure gain major style points.
8. The Bomber
Nasty Gal Satin Lover Bomber Jacket, $78, Nasty Gal
For the ultimate, don't-care-at-all look, the bomber jacket plus a white tee totally does it.
9. The Embroidery
Violeta Cotton Embroidered Jacket, $120, Mango
Who says outerwear has to be boring? Definitely not this jacket.
10. The Canvas Shirt Jacket
BDG Muddy Canvas Shirt Jacket, $89, Urban Outfitters
Is it a shirt? Is it a jacket? *Gasp* It's both.
11. The Raincoat
Penfield Kingman Jacket, $155, Madewell
You'll definitely be invincible to rain in this one.
Spring, I'm coming for you, and I couldn't be more excited about it. Be kind to us with the showers, OK?
Want more fashion and beauty tips? Check out the video below and subscribe to Bustle on YouTube!