What's Different About Too Faced Melted Mattes?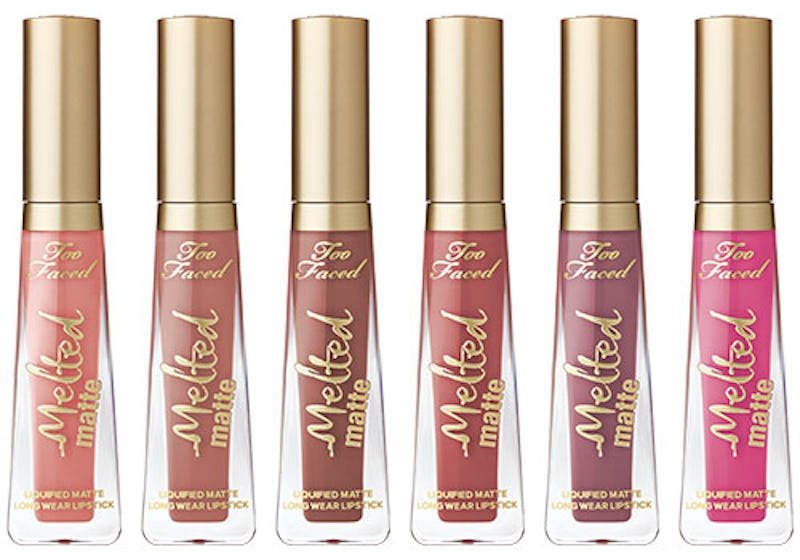 Oh, Too Faced! It is seriously tryna be my favorite makeup brand of 2016, thanks to the sure-to-be-perfect and shrouded-in-mystery Kat Von D collaboration and the waterproof version of the popular Better Than Sex mascara, the latter of which is out next week. Then I got wind of Too Faced's Melted Matte Lipstick collection, which is due to land on April 5 and will be sold via Sephora and I just about lost my you-know-what. The Too Faced Melted Matte lipsticks are luxe but affordable, weighing it at $21 a piece.
The Melted Mattes are totally on trend, as matte lips are everything and everywhere right now. Hi, Kylie Jenner and your Lip Kits. Too Faced Melted Mattes fall under the brand's overall Melted Liquified Long Wear Lipstick range, which is famous for its rich, mega opaque, and decadent color, and normally comes in sponge-tipped squeeze tubes that serve as a self-contained applicator.
There are several key changes to this new Melted version, including the packaging and formula. And just how many color options are there?
There will be a whopping 18 shades. So whatever your mood, style, or whim, you can achieve it with a few swipes of a Melted Matte. There are nudes, neutrals, berries, and deep, dark shades.
Let's have a look at the Melted Mattes.
The Too Faced Melted Matte lipsticks will offer maaaaj color payoff and come in lip gloss-like tubes with wands.
If you want to go with a dark, deeply, and ultimately gothic lip, you have many options.
Or you can rock neutrals, nudes, and pinks!
Or bold 'n' bright berries!
This is the traditional Melted packaging — a squeeze tube with a sponge tip. The Melted Matte lipsticks live beautifully what looks like a non-squeeze tube with a spongy wand. A wand tip allows for better, more defined application. Matte lips are designed to be super precise and imperfections don't really... you know... work with a matte lip. So the wand feels necessary with this formulation, since it lets you have more control when you are going for suede-like, precision-look lips.
Allure reports that the the formula is more saturated than other versions of the Melted collection. It's mega moisturizing, since it's infused with avocado oil, vitamin E, and hyaluronic filling spheres. The latter offers smoothness and hydration. There's also a special ingredient dubbed "Vollulip," which plumps minus the sting.
Alright, I'm in, Jerrod Blandino and co. Melted Mattes look like pout perfection. Matte lipsticks can be super drying but it appears that won't be the case here. Plus, if you have had a hard time nabbing a Kylie Lip Kit, the Melted Mattes look like much more than a consolation prize. Once I try a Melted Matte, I predict it will be on par with a KLK, which are superior to so many other matte lippies.
Too Faced revolutionized the liquid lipstick category when it launched Melted, which offered long-wear lipstick in a squeeze tube and in liquified form. The brand added the Melted Metal and Melted Chocolate collections to the overall range. Now we have Melted Mattes, which offer a new formula and package.
Bustle reached out to Too Faced for further information on the Melted Matte range.
Image: Jerrod Blandino/Instagram (1); Courtesy Too Faced (6)