19 Books To Read Before 'The Dark Tower' Movie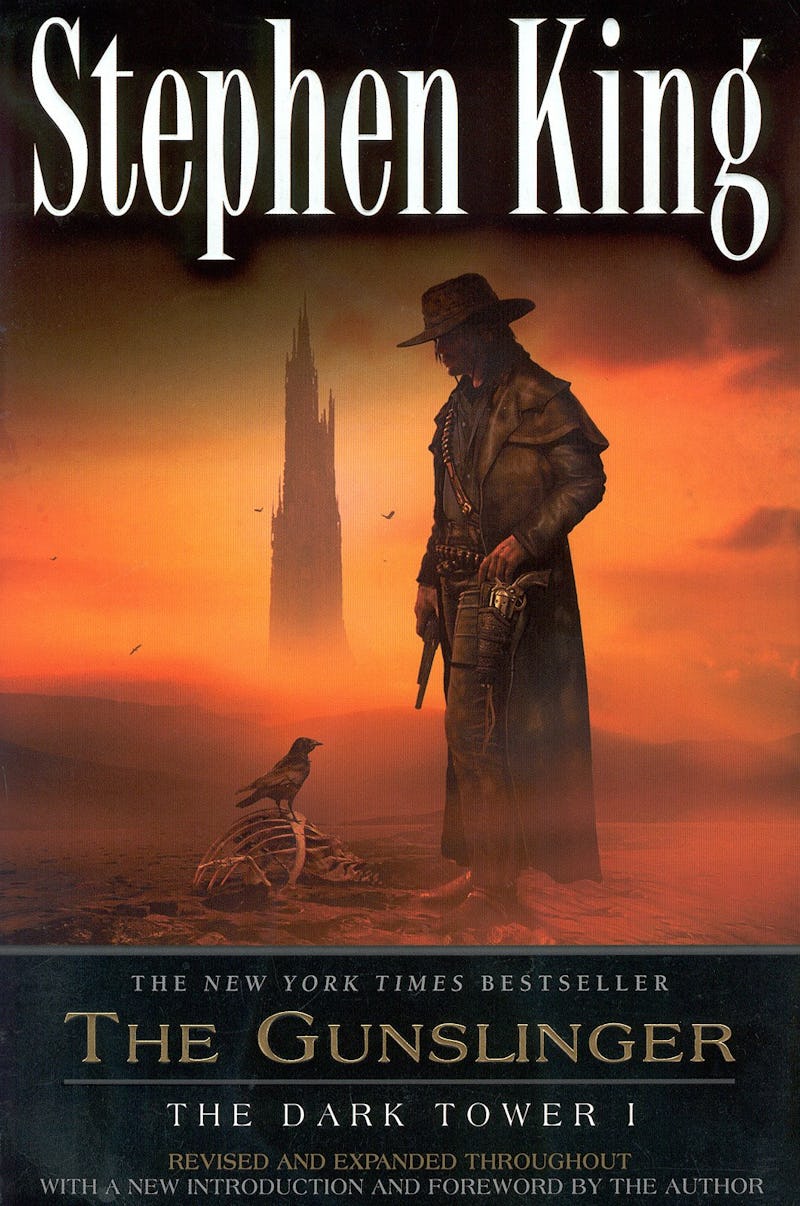 With the film adaptation of Stephen King's Dark Tower series well underway, readers who completed Roland Deschain's journey with him are clamoring for more information. I'm sure many have dusted off their copies of The Gunslinger to begin the quest anew, but what other books should you read before the Dark Tower movie comes out?
King's epic series blends the western, science-fiction, and fantasy genres to create something that's as inventive as it is un-imitable. It's nigh impossible to find a book that hits on all the same notes as the Dark Tower. But, whether you love Roland's post-apocalyptic, ronin-gunman escapades or King's pastiche of big names in fiction, there are plenty of titles out there that give off serious Dark Tower vibes.
Obviously, this list assumes you've already made your way through the Dark Tower series. I'm also guessing that you've read King's more prominent connecting novels, such as The Stand, 'Salem's Lot, The Eyes of the Dragon, and It. If you haven't, I highly recommend starting with one of those.
As always, this list is not exhaustive. Be sure to share your favorite Dark Tower-esque reads with me on Twitter. I'm always open to a good reading recommendation, say thankya.
1. Dreamsnake by Vonda N. McIntyre
Snake is a healer who travels a bleak, blasted landscape with her dreamsnake familiar. But when ignorance kills her rarest of pets, Snake heads out on a quest to find another.
2. Pretty Deadly by Kelly Sue DeConnick, Emma Rios, and Jordie Bellaire
A pair of desert bards accidentally raise the vengeful spirit of Death's daughter in this magical-realist western.
Former convict Shadow has lost everything before he meets the mysterious Wednesday, who claims to be king of America. The two men team up for a cross-country trip to recruit the gods who walk among us for a coming war.
One man's regret over the deaths of innocents leads to an epic adventure, 400 years later, as Jill, her father, and their companions struggle to set old wrongs right.
Anyone who saw Disney's The Sword and the Stone will be vaguely familiar with T.H. White's version of the Arthurian legends. The Once and Future King follows Arthur from his years as a lowly squire to the days of Mordred's rebellion.
After a nuclear winter consumes the Earth, humanity boards the Snowpiercer: a self-propelling train that runs an endless loop around the world. This new, close-quarters society operates on a class-based system, but the impoverished men and women who live in squalor at the back of the train are about to stage a coup...
Civilization collapses, an ecological event threatens to kill the planet, and a woman's family is torn apart — all in the same day. So begins N.K. Jemisin's The Fifth Season, in which protagonist Essun sets off across a harsh landscape in pursuit of her husband and the child he has taken from her.
After a superflu destroys the U.S. and Canada, a band of Shakespearean actors travels a Great Lakes circuit, through camps where society lives on, false prophets rise, and people wonder if the Internet still exists.
This steampunk adventure centers on two orphans pursued by powerful forces after their caregivers are murdered. Stephen Hunt's world-building talents are not to be missed.
When the dangers of the outside world break into her walled community, Lauren finds herself forced out into the deadly remains of the U.S. After she discovers a hidden talent, the young woman's fight for survival turns into a mission to save her society.
11. Vermilion by Molly Tanzer
Lou is the gun-toting protector of San Francisco, responsible for keeping the dead dead. When Chinatown's boys start to go missing, she makes it her mission to bring them home in this weird, alt-history Western.
A recovering drug addict goes on a bender in Edinburgh and awakens with the ability to see the fey in this spirited tale from musician Adam Stemple.
Is the Lady our protector from evil, or is she evil incarnate? A group of mercenaries known as the Black Company are in her employ, but alliances will be tested when news of the White Rose's rebirth spreads across the land.
Westie has a mechanical arm, but that doesn't make up for the one she lost to cannibals. She has a new family, but they can't replace the one murdered on the wagon trail. Now she's 17, and she's out for revenge.
In the 130th century, humanity has endured millennia of domination by vampires and their pet demons and werewolves. In this new Wild West, a bitten woman hires a travelling hunter named D to kill the creature that attacked her before she succumbs to vampirism.
After her father is killed for a treasure map, 18-year-old Kate fashions herself as a man and rides out for revenge in this gritty tale from Erin Bowman.
After the king was murdered on their watch, the Black Wolves disbanded. More than two decades later, the late king's sister seeks out Kellas, the Black Wolves' captain, to ask for his help in protecting her nephew from his father's fate.
On a mission to track down his wife, Kingsway Law meets up with a magic-sword-wielding damsel in this imaginative Western from Greg Pak.
When their warren is threatened by humanity's march across the landscape, a resourceful pair of rabbits lead their family in the search for a new home. But there's dissent in the ranks, and some of the bunnies may be more than what they seem...