11 Easy Easter Party Ideas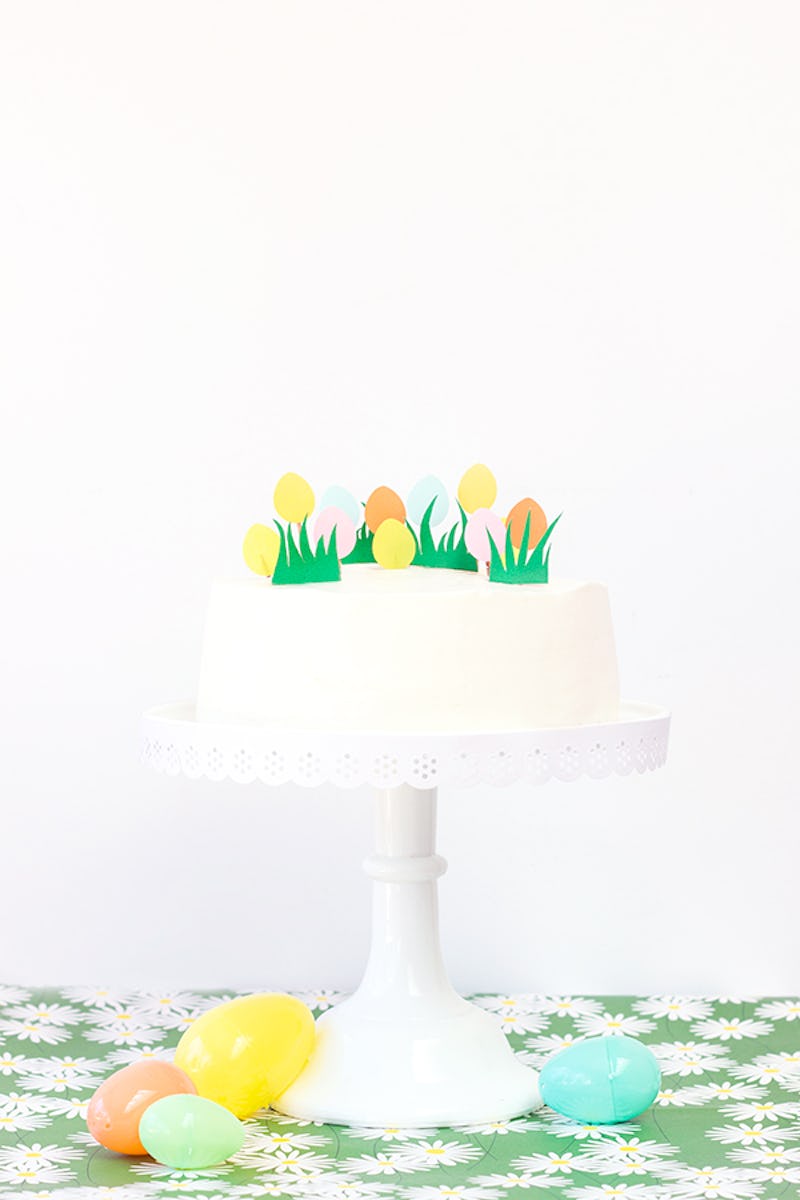 Easter has snuck up on all of us this year, but even though it is right around the corner there is still time to prep for the celebration. Before your party décor falls back on Peeps and hidden eggs, remember there are plenty of Easter party ideas that are a bit more creative, and still super easy.
Easter is a tricky holiday to throw a unique party for. With the exception of any religious symbols, eggs and bunnies are pretty much Easter's only trademarks. So how do you throw a party that still feels fresh and fun, while still incorporating the holiday's most iconic symbols? Well, there are a few ways. I recommend starting at the dinner table by making a simple centerpiece for your guests. This can include fresh flowers, painted eggs, or really anything giving off spring vibes. You can also try your hand at decorating various desserts with Easter-themed cake toppers. And, even if DIY stuff isn't your thing, but you are still looking to be the hostess with the mostess, this is still a list for you. There are a couple easy printables below to keep your party in the Easter theme. Here are some of my favorite Easter party ideas to get you started!
1. Simple Easter Centerpiece
Hosting a dinner? These simple centerpieces from The Merry Thought perfectly incorporate all of Easter's prettiest colors and symbols.
2. Honeycomb Easter Garland
Oh Happy Day's fun garland is sure to please a crowd. Plus you can always make them with the kids if you need some help, or an activity to keep them busy.
3. Easter Egg Hunt Cake
Make dessert even more fun with this adorable cake topper DIY from StudioDIY. Something tells me these eggs will be easier to find than the ones outside.
4. Chocolate Mousse Eggs
If you are looking for a dessert that is sure to impress, look no further than these chocolate mousse-filled eggs from Now That's Pretty. Pretty on the outside, delicious on the inside, what more could you want?
5. Easter Egg Crispy Treats
These simple desserts from The Merry Thought are tasty and fun to make. Try making a couple blank white treats for the kids to decorate after dinner.
6. Easter Egg Display
This super simple egg display from A Beautiful Mess could serve as decoration, a centerpiece, or just as a way to show off the cool eggs you painted.
7. Wooden Rabbit Drink Stirrers
Try these adorable drink stirrers from The Merry Thought for a fun way to add some seasonal touches to the party.
8. Easter Egg Hunt Banner
Look no further than this free printable banner from StudioDIY for all your egg hunt needs.
9. DIY Eggshell Place Card Holders
No longer will your guests wander your home wondering where they belong. These adorable place cards from The Merry Thought solve all your seating problems.
10. Easter Wine Labels
Who can say no to a little Easter wine? Print one of these labels out and give to your host to say thanks.
Easter Wine Labels, $12, etsy.com
11. Rabbit Wraps
Hosting an Easter lunch? Try these cute rabbit wraps for some fun snacking.
Images: The Merry Thought (4), Oh Happy Day, StudioDIY, Now That's Pretty, A Beautiful Mess