9 Clever Things To Do With Peeps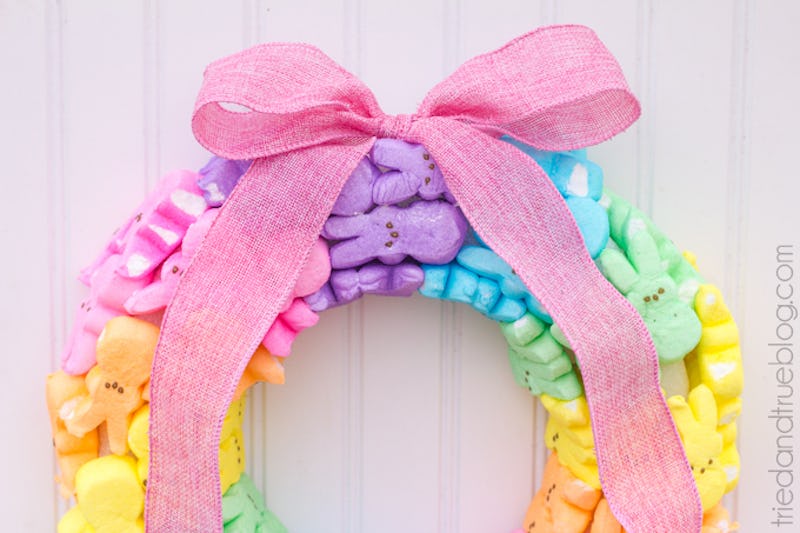 Peeps are like the unofficial mascots of Easter. Fortunately, even if you're not a fan, there are still ways to use Peeps besides eating them. Most of these ideas involve decorating your space and sprucing up your Easter table. It just goes to show that a little innovation and imagination can go a long way.
And if you do like these adorable globs of marshmallow goodness, you're in luck. All of these creative ideas that don't involve eating Peeps will give you another reason to stock up. While you're at it, don't forget to make a batch of Peeps s'mores. Pour a glass of Peep-flavored milk, and you're good to go. Well, maybe that's a lot of sugar for one sitting. But hey, it's basically another reason to take on one of these crafty ideas. They're the perfect way to give your stomach a break from the inevitable sticky sugar overload.
Using Peeps in non-traditional ways is also ideal for decorating in a jiffy. Because they're inexpensive and easy to find around this time of the year, you won't have to go crazy trying to get your home Easter-ready. Here are a few of my favorite ideas to get you started!
1. Make a wreath
Spring wreaths are awesome for spicing up a plain jane door. Instead of scarfing down all the Peeps, save a few boxes for this darling wreath by Eclectically Vintage. Don't forget to top it off with a coordinating bow.
2. Create a rainbow version
Looking for a more colorful alternative? Take a tip from Tried and True. This one features a medley of different colored Peeps, making it totally spring friendly.
3. Set up candles
Thanks to this easy idea by Confessions of Plate Addict, you can get warm and cozy with your Peeps. There's a good chance you already have all of the materials, too. What's up, last-minute decor?
4. Form a topiary
When it comes to spring decor, a cheerful topiary is perfect for sprucing up your space. This Easter, whip up a Peep-themed version with How Does She's tutorial. I'm loving the idea of creating a flower shape.
5. Organize a basket
Why buy a basket when you can make one out of Peeps? It's the best way to make sure the recipient gets awesome use out of each and every part of the basket. Head to Crafty Morning to learn how to make it.
6. String a garland
Get your space Easter ready with this easy Peeps garland by Dukes and Duchesses. Hang it on the wall, porch, or mantel. This one makes a fun holiday activity, too.
7. Design a necklace
Top off that Easter dress with a Peeps statement necklace by Jenny on the Spot. Be prepared to get some marshmallow and sugar on your person, though!
Want to sticky-proof yourself? Try spraying the Peeps with a clear acrylic sealer in a well-ventilated area after you make the necklace.
8. Whip up edible playdough
OK, so maybe you can still eat this project. But until then, you can make the absolute coolest DIY: edible Peeps playdough by The Sits Girls. It's one of those ideas that will keep the little ones occupied all day.
9. Decorate straws
Dress up your Sunday brunch mimosas with these clever Peeps straws by Uncommon Designs. It's a simple way to make functional and fun party supplies.
For more DIY inspiration, check out Bustle on YouTube.
Images: Eclectically Vintage; Tried and True; Confessions of Plate Addict; How Does She; Crafty Morning; Dukes and Duchesses; Jenny on the Spot; The Sits Girls; Uncommon Designs