Can You Buys Glossier Makeup Items Separately?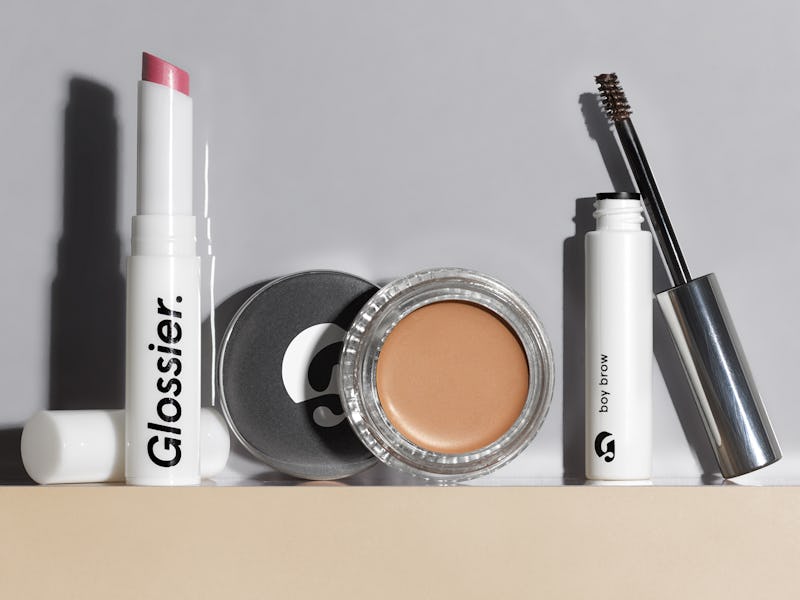 Glossier's motto is "Skin first. Makeup second" and the brand is serious about its makeup minimalism mantra. But it's not merely about caring for skin as a primary activity and then beautifying it with products secondarily. Glossier's new Phase 2 Set of makeup is meant to enhance natural beauty, not cover it up. Essentially, the Phase 2 products, comprised of trio of makeup basics, are meant to live and work "with" you, as opposed to "on" you. Phase 2 consists of revolutionary and buildable concealer, sheer lipstick, and brow pomade, and comes with a $50 price tag as a set. But can you buy the products separately?
You can purchase any of the three items, which come in many shades, in the Phase 2 set on their own. But I think they are better together, to borrow a phrase from Jerrod Blandino of Too Faced.
Glossier Phase 2 is sold exclusively via the brand's site and it certainly advances the pared down, skin-first, almost naked look that Glossier is all about. I am a devotee of Glossier's Milky Jelly cleanser and used MJ to wash off the Phase 2 makeup products and my skin felt wonderful before, during, and after.
The Stretch Concealer lives in a pot, is $18, and it's pretty genius since it's made of elasticized, micro waxes and nourishing oils. The result is a product that moves like skin and offers a dewy finish. I dabbed with my finger on discoloration under my eyes, which promptly went buh-bye. It's also brilliant because it's buildable. If you want more coverage, you add more product and you're dunzo.
The Generation G lipstick comes in four shades that offer a wash of color. These lippies are sheer and matte. They are also meant to be applied sans liner. It's an easy, grab 'n' go product that offers a sheer stain of color with the moistness of a balm. They are also $18.
I rocked Cake, a peachy pink, while out and about on Sunday morning when I wanted a little somethin' somethin' to wake up my face without needing a defined, precise lip. I am going to live in these lippies all summer long, BTW. I am taking Cake with me to SXSW this week, for sure. Since I will be on the go nonstop for three days, it's an easy way to brighten my face and feel glam with little effort and without needing a mirror or giving up precious real estate in my TSA-approved baggie of products.
Love you Glossier and Cake!
Lastly, the Boy Brow, which was introduced in 2015 and that I used until the tube was totally empty, is $16. It's a colored pomade that grooms brows with one swoop. It keeps brows fully tamed.
You can buy the products a la carte, but I think the set is your best bet.
Images: Courtesy of Glossier (4); Amy Sciarretto (2)