An Expert Talks About Using Toothpaste On Pimples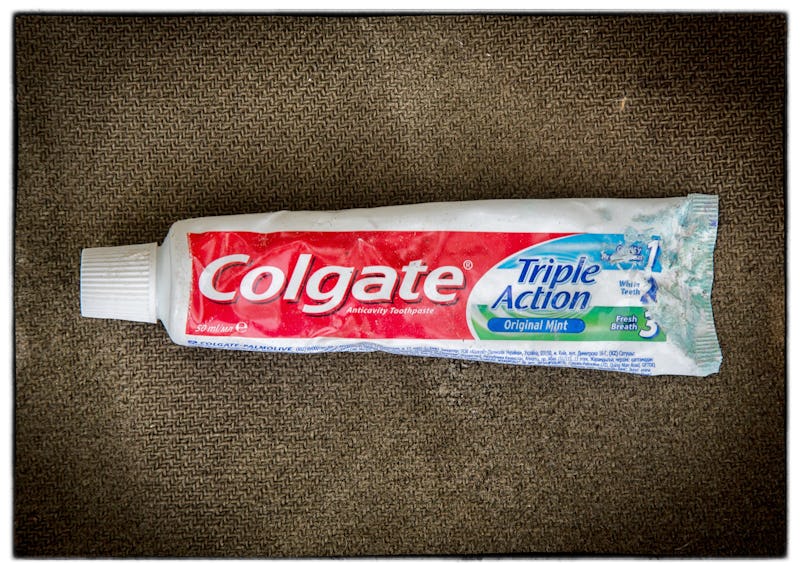 Matt Cardy/Getty Images News/Getty Images
I can't even tell you all of the concoctions I've slathered on monster pimples, and toothpaste has definitely been one of them. But since it's not exactly designed to be put on skin, is toothpaste safe on pimples in the first place? I reached out to a dermatologist to get the official answer.
According to Dr. David E. Bank at The Center for Dermatology in Westchester, NY, the verdict for toothpaste on pimples is a no because the ingredients are, well, a bit too much of a good thing. He shares, "Although toothpaste has ingredients like baking soda, alcohol, hydrogen peroxide and triclosan, which can help kill the bacteria, this specific mixture can also dry the skin out severely and cause irritation. Toothpaste can be extremely drying." If you have been using toothpaste for pimples and struggling with dryness, consider checking out all the ways to get rid of dry skin!
Fortunately, just because toothpaste isn't the best option doesn't mean there aren't obviously tons of others out there. Bank tells me, "It is best to use products with ingredients like benzoyl peroxide or salicylic acid [paired with] an oil and fragrance-free facial moisturizer to treat any acne flare-ups and keep the skin healthy and nourished."
I've rounded up a few of my top pimple treatment and moisturizing picks so you can be well on your way to safely clear skin.
1. Natural Acne Spot Treatment
Natural Acne Spot Treatment, $8, Neutrogena
Featuring salicylic acid, this spot treatment will not only zap zits, but it's also free of harsh chemical sulfates, parabens, petrochemicals, dyes, and phthalates.
2. On-The-Spot Acne Treatment
On-The-Spot Acne Treatment, $6, Neutrogena
This one has benzoyl peroxide, and from personal experience, works best for my skin!
3. Advantage Acne Spot Treatment
Acne Spot Treatment, $6, Clean And Clear
This salicylic acid gel formula dries fast and works great under makeup.
4. Sensitive Facial Cream
Sensitive Facial Cream, $15, Acure Organics
If you're looking for a safer, organic alternative that's made for those with sensitive skin, you're in luck.
5. Cetaphil DermaControl Moisturizer SPF 30
Safe for the most sensitive skin, Cetaphil's moisturizer also includes SPF so you can have fun in the sun.
Want more fashion and beauty tips? Check out the video below and subscribe to Bustle on YouTube!
Images: Matt Cardy/Getty Images; Courtesy of Brands