A Kid's Book Explains Frank's 'Daredevil' Mission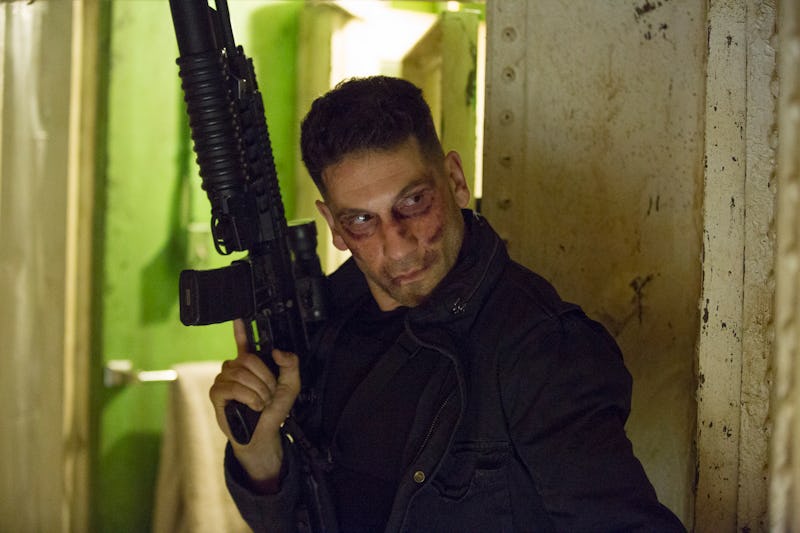 Patrick Harbron/Netflix
The first trailer for Season 2 of Daredevil started with Jon Bernthal's Frank Castle, aka The Punisher, quoting a nursery rhyme over children's voices singing as he observes a lonely carousel. The creepy imagery and child-friendly words turned sinister are a reference to the book One Batch, Two Batch shown in Daredevil Season 2 to help explain The Punisher's backstory. Considering how perfectly it fits into Frank's story, it may not come as a surprise that One Batch, Two Batch is not a real children's book. As a quick Amazon search will show you, the book owned by the Castle family was created just for Daredevil.
In Season 2 of the Netflix series, Frank Castle takes Matt Murdock's mission of ridding Hell's Kitchen of bad guys one step further by brutally and effectively killing said bad guys. And a man doesn't become The Punisher without a traumatic backstory. Castle's family, which included his wife, son, and daughter, were murdered right by that spooky carousel when they got caught between rival gangs battling. In Episode 4, "Penny and Dime," Frank tells Daredevil that his daughter's favorite book when she was alive was One Batch, Two Batch. Thus the reason for The Punisher quoting the book ("One batch, two batch, penny and dime") before he murders people — it serves as a reminder for why he became a vigilante.
As he told Daredevil, Frank used to read One Batch, Two Batch to his daughter every night before he fought overseas as a marine. When he returned home, his daughter pleaded for him to still read her the book. He was too tired and promised he'd do it the next night, but the next day was when his family was murdered, and he never got to read her the book again.
When I searched for the book to see if it was something you could actually buy, my suspicion that it was created specifically for Daredevil was confirmed by websites like Hypable. While that may be depressing if you had visions of reading One Batch, Two Batch to your own little one, you can take solace in the fact that it's not nearly depressing as Frank Castle's family history.