Why Oval Brushes Might Be Your New Favorite Tool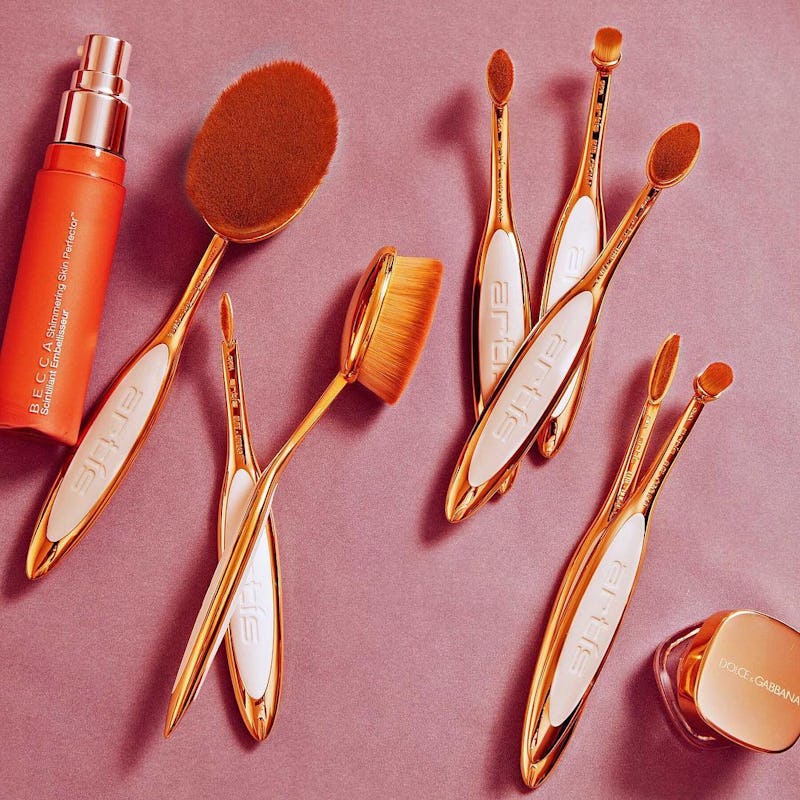 It seems like there's a new beauty tool to try every single day. From gadgets and sponges to the now gorgeous, hairbrush-looking oval brush, it's never been more fun to apply makeup. But are oval brushes better than sponges and all the other makeup tools out there? Here's the rundown on the unusually-shaped tool and how you should use them.
In my opinion, oval brushes are the tools of the future, even though they look like a Victorian-era hairbrush. The original design was the brainchild of former senior vice president of MAC Cosmetics, Matthew Whitesmith. If you haven't seen it before, the Artis Oval Brush is, in fact, oval with a mirror back and it's made from hundreds of thousands of CosmeFibre, a patented man-made bristle. It also features a unique, curved handle, which is designed for self-application, unlike your typical brushes which are made for makeup artists to apply on clients.
YouTube beauty vloggers are loving it, but they're not the only ones. Celebrities like Kim Kardashian and Kylie Jenner are singing the Artis' brush's praises. Fans say the brush helps less product go further, saving you money in the long run. It also applies the makeup quickly, yet flawlessly. What could be better than that?
So, it worth the money? Are oval brushes better than traditional makeup brushes or sponges? Here's some things to consider before buying an oval brush.
Artis Oval 7 Brush, $60.00, A rtis Brush
The average brush or sponge usually has to be replaced every three months, but that window of use grows with the quality of the brushes you buy. Have you ever picked up a cheap brush only to have hairs fall all over your face? That definitely isn't the case with this brush. It has hundreds of thousands of fibers and comes with a weight-balanced handle so it's more durable in the long run.
Artis Oval 10 Brush Set, $495, Net-A-Porter
Unlike your standard makeup brush, the oval brush is large and sturdy enough for multi-functional use. You can use it to apply moisturizer everywhere, self-tanner, and foundation. The handle is especially helpful for applying foundation and self-tanner easily (especially in those hard-to-reach places).
Artis Oval 3, $40, Saks Fifth Avenue
We've all been there: You step out into the sunlight and see streaks in your foundation, or a horribly blended contour. Eek! The oval brush shares a specific benefit with the sponges — they blend far better than any traditional makeup brush. With sponges, this is because you're pressing the product into the skin instead of smearing it on top of the skin. With the oval brush, the size and texture of the fiber brush head is much larger, which sheers out your foundation, contour, or tanner evenly over the skin. If you have fine lines or textured skin, you'll love this feature.
Want more fashion and beauty tips? Check out the video below and subscribe to Bustle on YouTube!
Images: @Artisbrush/Instagram; Artis