BTS Details From 'Supergirl's Crossover Ep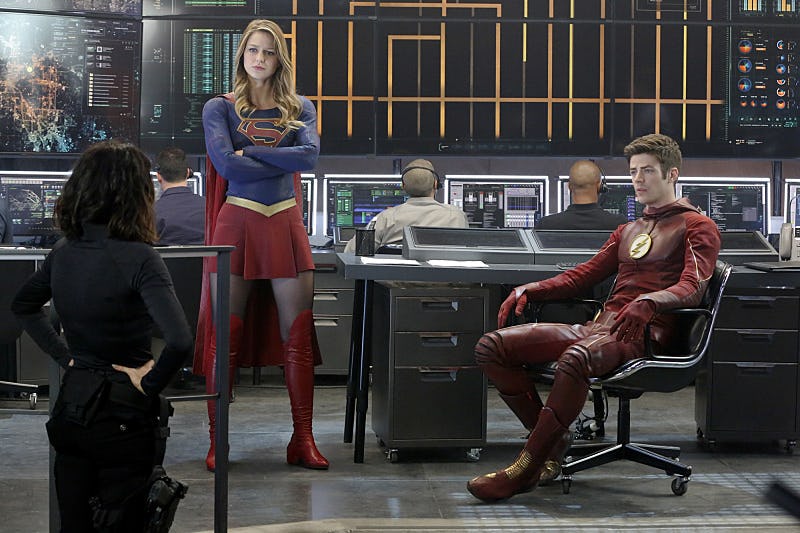 On March 25, Batman V. Superman will pit the two biggest superheroes ever against each other, and luckily for Supergirl fans, when the CBS series brings Supergirl and The Flash together, the result will be much more harmonious. The long-awaited episode of Supergirl that features Grant Gustin as Barry Allen/The Flash joining forces with Kara is called "Worlds Finest," and on the red carpet for Supergirl's PaleyFest panel on Sunday night, Supergirl herself, Melissa Benoist, told reporters just how much Kara Zor-El and Barry Allen have in common.
"I think what's so wonderful about those two characters is how much joy they both have for their abilities and the fact that they get to help people and save people and do good," Benoist says. "So, I think that's what makes them the world's finest and I think it's pretty applicable in this specific episode too."
Supergirl producer Ali Adler also confirmed that Benoist and Gustin had a good time filming together. The actors have history (both played significant roles on Fox's Glee) and from Adler's description, it seems their attitude was infectious on the whole set.
"Well, they know each other, Grant and Melissa, from Glee so they had a natural kinship that was really fun. There was a lot of singing, a lot of singing on set because Jeremy [Jordan] and Mehcad [Brooks] sing. [Laura] Benanti's back on Broadway. Their kinship was really beautiful to watch," she says.
Of course, comic book fans will recognize the title "Worlds Finest." World's Finest was a DC Comics series that included the original Batman vs. Superman story. Producer Greg Berlanti was quick to point out the removal of the apostrophe in the episode title since The Flash and Supergirl come from two different worlds.
"I just think in that it was a classic team-up title," Berlanti says. "We've done them on The Flash and Arrow before too. We did 'Brave and the Bold.' The world part of it was applicable because he comes from another world. So it's worlds finest, but it's multiple worlds."
For the first half of Supergirl's season, it wasn't even known if a crossover would be possible with other DC shows, even though Berlanti produces The Flash and Arrow too. Ultimately, it was necessary to establish that The Flash comes from a different universe entirely. The story of The Flash includes alternate universes, so they decided that Supergirl lives a different one, mainly because of her famous cousin.
"It was the only way I think that we could have done it given the rules of what we established," Berlanti says. "Superman's a big deal. We would've heard about him on Arrow. Someone somewhere would've said something, so we never created that. Really, in our minds, the only way to connect the two was to do it using Flash as the door, so to speak."
"Worlds Finest" requires Supergirl and The Flash to team up against two villains: Livewire, who we met in Episode 4, and Silver Banshee, who aggressive office assistant Siobhan (Italia Ricci) will eventually become. The whole theme of Supergirl has been teamwork, so adding The Flash to the team only reinforces that, says Adler.
"All season we've long maintained 'stronger together,'" Adler says. "I think we all learned how to speak Kryptonese in order to do that, but I think that even when you team up with the most amazing DEO or your sister, who happens to be almost super herself, you sometimes need the power of a fellow superhero. That was very exciting I think emotionally for Kara, as well as physically."
Meanwhile, back at the office, James Olsen (Mehcad Brooks) is just starting to realize he has feelings for Kara. Another superhero may be more competition than he likes. "It's funny because when Barry comes along, he's a little jealous because Barry's a superhero and Kara and Barry have that in common," Brooks says.
Perhaps, Batman and Superman may not have the most explosive crossover of the spring, after all.
Images: Robert Voets/Warner Bros. Entertainment Inc. © 2016 WBEI (3)