Starbucks Has A Sweet New Way To Celebrate Spring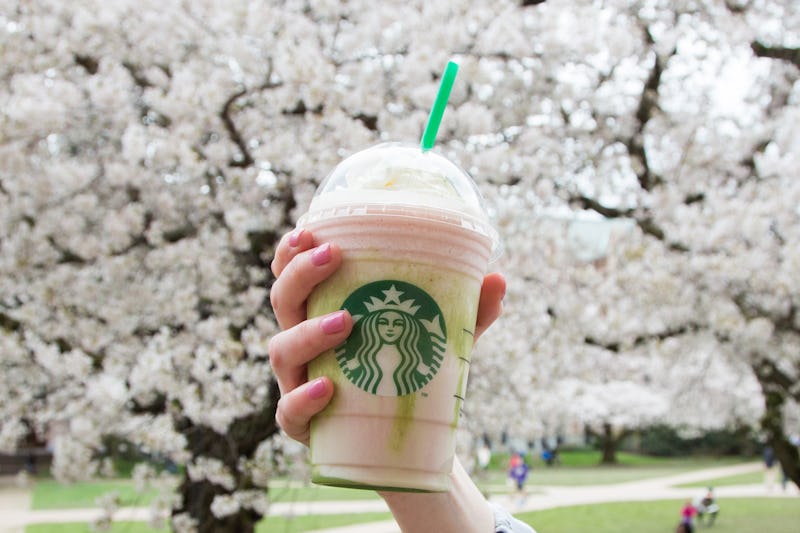 Spring has already sprung in all but name for quite a while, but with the approach of the official first day of the season on March 20, we're still in need of a festive way to mark the occasion, right? Well, good news: The Starbucks Cherry Blossom Frappuccino will be available at participating locations for a limited time. The drink is described as "spring in a cup," so what better way to celebrate?
According to Starbucks, the Cherry Blossom Frappuccino is a "delicious blend of sweet strawberries and cream, striped with white chocolate sauce and matcha drizzle and topped with whipped cream and a sprinkle of matcha." Personally, I am of the opinion that matcha makes everything better, so this whole concoction sounds magnificent to me. I'm not kidding when I say it's limited edition, though; it's only available from March 15 (that's today, y'all) through the first day of spring on March 20. Bottom line: Get 'em while you can.
Cherry blossoms, or sakura, are a symbolic flower of spring in Japan. They bloom for an incredibly brief period of time — just about two weeks — before the trees begin to shed their blossoms. Even if you're not familiar with their name, though, odds are you've spotted them at some point in your life: They're those trees with the gorgeous pale pink petals that bloom right at the beginning of springtime every year. In Washington, DC — known for its Cherry Blossom Festival — the peak bloom prediction dates are March 18 through March 23, which is a little earlier than usual; typically we don't hit peak bloom until around April 4. Given the unseasonably warm weather we've been experiencing this year, though, it's probably to be expected. Remember when all those flowers started blooming in the middle of winter? Good times.
Although this is the first time a cherry blossom-inspired Starbucks drink has arrived in the United States, it isn't the first time the coffee chain has ventured into cherry blossom territory all together. In Japan, the chain has offered a Sakura Blossom and Strawberry Frappuccino since 2010; this year, both the Frapp and an accompanying Sakura Blossom and Strawberry Latte are on the menu. According to Rocket News, the Sakura Blossom and Strawberry Frapp starts with a crème base, includes cherry blossom petals and salt-preserved sakura tree leaves, and finishes off with a dusting of strawberry-flavored chocolate shavings; meanwhile, the Sakura Blossom and Strawberry Latte has a similar flavor profile with "a smoother, milkier taste than that of its slushy counterpart."
Want to try one for yourself? Head on over to your friendly neighborhood Starbucks and see if they've got this tasty treat available. Spring has never been sweeter!
Images: Starbucks; Giphy