Is ABC Redefining Its Network with Primetime Soaps?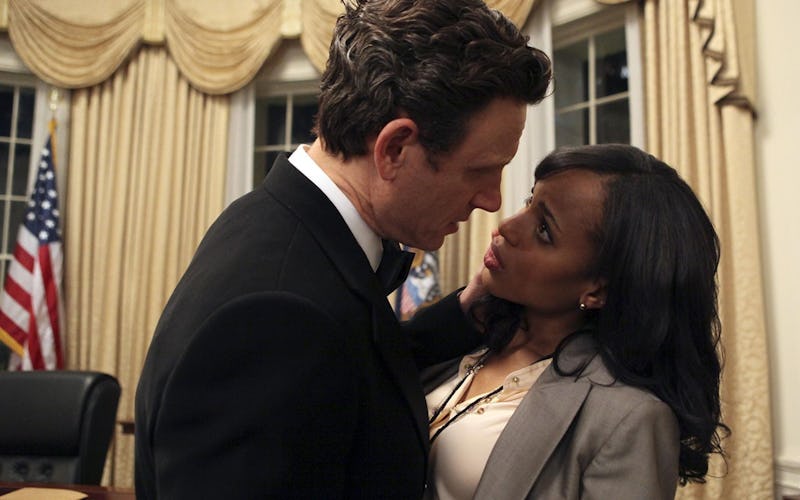 It's no secret that the major TV networks are going through some rough times — to put it lightly. But networks have enjoyed a few success stories grouped into one loosely defined category: female-driven primetime soaps. As the networks collectively bleed viewers, ABC has settled into the genre, realizing how they've hooked the sought-after 18-49 year-old demographic with shows like Revenge, Scandal, and most recently, Nashville.
While Nashville hasn't reached the impressive ratings threshold held by Scandal, which reaches an average of eight million viewers each week and is TV's highest rated 10 PM show, its first season has been well-received by critics and has reached a large enough audience to earn a second season renewal. And ABC has proven its faith in these shows by adding even more to its schedule. Mistresses, about the relationship drama and sex scandals in four women's lived premiered this week, and this fall will see the debut of Betrayal, a drama about a married photographer who falls in love with someone else. Here's why ABC has found success with primetime soaps:
The Ladies
Something that binds these shows together? The fact that they feature strong female characters played by even stronger actresses. Just watch Connie Britton's Rayna James battle with Hayden Panettiere's Juliette Barnes on Nashville or Kerry Washington's Olivia Pope march down the halls of the White House in six-inch heels and you'll understand.
Balanced Drama
Love triangles, betrayals, accidents, attempted murder, affairs — what's not to love about these shows? But there's a fine line between just enough and too much. Revenge was a fan favorite in its first season, but the second was criticized for having too many twists as it tried to top itself. Meanwhile, Nashville and Scandal were praised for raising the drama level in their later episodes. The lesson to be learned? There's a narrow range of drama and suspense, but hit that perfect amount and viewers will be glued to the screen.
Disappearing Daytime
The traditional soap operas, you know, the ones your grandma planned her entire day around, are basically gone. ABC's two biggest soaps, All My Children and One Life to Live, were cancelled by the network in 2011 and 2012, respectively, and new episodes can only now be found on Hulu. General Hospital still airs on TV, but there's not a real audience for these more traditional soaps anymore. More people work during the day, and while these may be available any time now, today's generation never really got into them. Primetime is when most people are watching TV, and now it's the place to get all of that over-the-top drama.
That Extra Something
Each of the three shows have some unique element that sets them apart from other shows on TV and each other. Revenge was the show started the whole trend in 2011, and is set in the Hamptons, a visually gorgeous backdrop that becomes its own world within the show. Nashville has the musical element — sometimes the performances are the best part of an episode. And Scandal has the most impressive and exciting achievement. It is the first network drama in almost 40 years to feature a black female lead character. Hopefully, that will be network TV's next trend.
What's Next?
Following a highly rated — and much-buzzed about — first season of Revenge, ABC began to settle into a comfort zone. Much like cable networks have found success carving out a niche for themselves — USA features quirky characters, TBS features comedy, AMC features moody dramas — ABC is quickly learning that, when it comes to TV, broad isn't necessarily better. Why not transform itself into the nighttime soap network? Not only did ABC give Mistresses a try this summer (too bad no one was intrigued), but they're putting stock in Betrayal, which will air following (of course) Revenge.