It's The Right Time For 'Princess Diaries 3'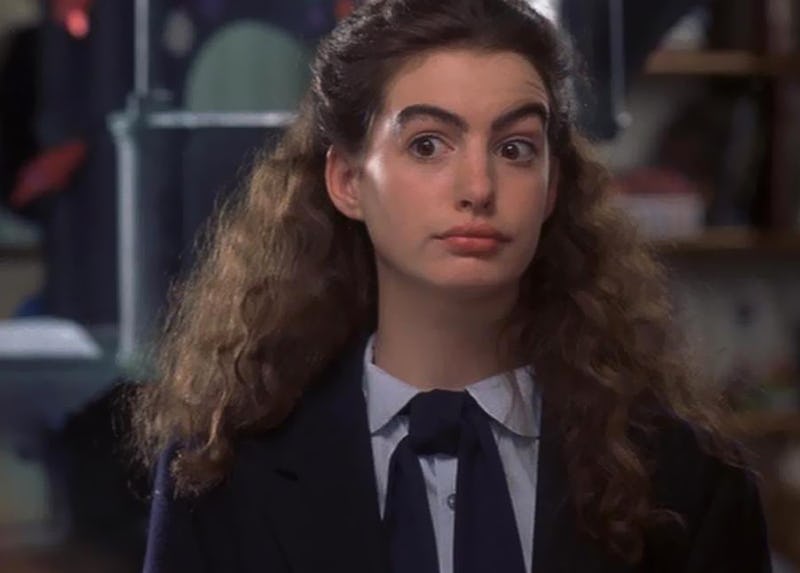 Director Garry Marshall officially announced that he plans to work on another installment of The Princess Diaries, which wouldn't necessarily be big news if Marshall didn't also announce that Anne Hathaway wants to do Princess Diaries 3, too. "I was with Anne Hathaway a couple weeks ago, it looks like we want to do Princess Diaries 3 in Manhattan," Marshall revealed to People. "Anne Hathaway is very pregnant, so we have to wait until she has the baby and then I think we're going to do it." While this is good news for anyone who's been dying to see Hathaway return as Princess Mia Thermopolis to the big screen, others may be wondering why an Oscar winner would return to a film series that she first appeared in 15 years ago as a teenager? The answer may have a little something to do with that future baby of hers.
When Hathaway first appeared in The Princess Diaries way back in 2001, she was just an 18-year-old trying to become an actress, and, as she told the Huffington Post in 2015 that movie was "a great first job." But the teen film also made it easy for her to be typecast as the nice girl or the good girl. "It was a big hit — but at the same time, it was a hard thing to be like, 'Robert Rodriguez, I swear I can do one of your movies!'" Hathaway said. "It was hard to get into rooms to be taken seriously for roles that weren't princesses, so I think partially that was why I've tried to have as big a range as I have."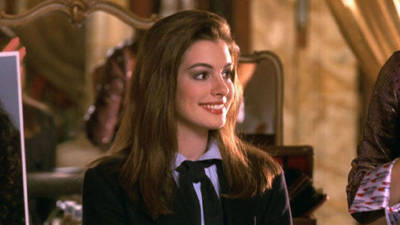 Hathaway has certainly shown her range, playing a stressed out fashion magazine lackey, Batman's nemesis, a recovering drug addict, Jane Austen and a 19th century prostitute, which won her the Academy Award for Best Supporting Actress. Hathaway has worked hard to keep that promise she made to herself way back when that with every new role she would look for the opposite of what she did last. She's kept her resumé interesting by working with directors like Christopher Nolan, Tom Hooper and Nancy Meyers who may not have planned to hire the girl from The Princess Diaries for such serious roles.
Re-joining the cast for a third installment would certainly be another interesting role, not only because it has her returning to a character she has played twice before — most recently in 2004 to rather bad reviews (The Princess Diaries 2: Royal Engagement got a 25 percent on Rotten Tomatoes) — but because it could be the first movie she films after having her first child. Hathaway has yet to comment on Marshall's announcement that she's interested in making Princes Diaries 3, but there's something noteworthy in even thinking that she would choose to return to her past after officially starting a new future as a mom. But maybe that's the whole point.
The original movie and its sequel set her on a journey to prove to herself and to others that she was more than a princess. She wanted to prove she was a real actress. It's something she's easily done, but maybe she still needs closure, to say goodbye to this character, which made her a household name all those years ago when she was just a kid.
Hathaway, who often jokes about her younger years by posting #tbt photos on her Instagram, has also experienced a transformation since the movie. She's not the little girl who arrived on set back in 2001, but an accomplished adult. Like Mia, Hathaway's story is almost too good to be true. That is, except the actress' story is real and more of a reverse fairy tale than Mia's. Hathaway's gone from being a princess to being something even better: an accomplished woman who anyone would be proud to call their mom. It's something worth celebrating — perhaps by taking a trip back to Genovia.
Image: Walt Disney Pictures