Sochi Olympics' Meryl Davis Looks Like Jasmine, and 6 Other Figure Skaters With Disney Doppelgangers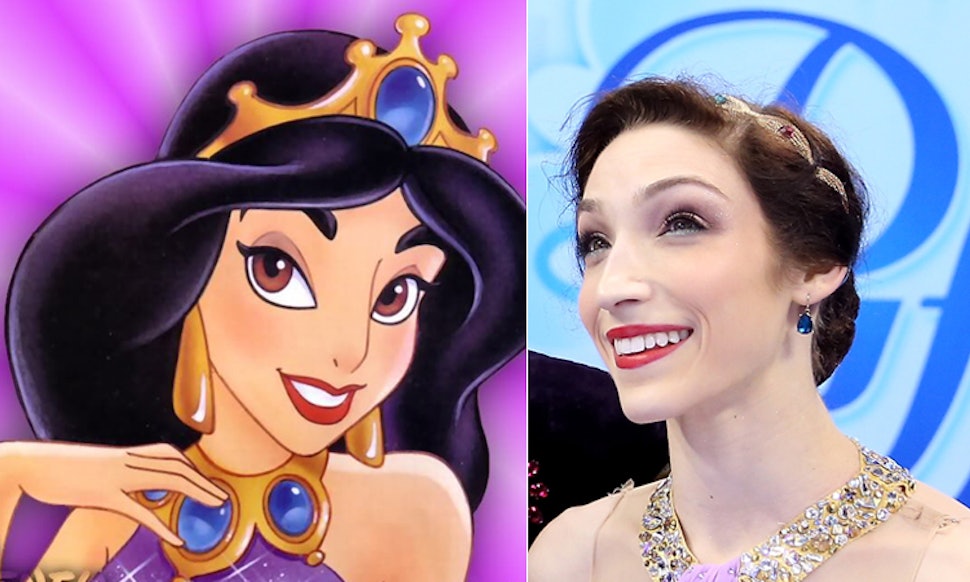 Mirror, mirror, on the wall, which Olympic sport is the most awesome of all? Figure skating, of course, what with a history that's as scandalous as the sport is beautiful. And, just days ahead of 2014's Sochi Olympics, we're watching the frontrunners, which includes Meryl Davis, the Team USA ice dancer who, along with her partner Charlie White, is favored for gold after taking home a silver medal in 2010. But it's not just her enviable skills on the ice that caught our eye — it's also her stunning resemblance to a certain Disney character. But which princess does this ice princess look like? Well, only the squeeze of a certain Prince Ali. But who does the rest of Team U.S.A. look like? Click on to see the 2014 Olympic figure skaters' Disney doppelgängers!
Images: Disney
Meryl Davis
This ice princess will see a whole new world when she heads to Sochi.
Her Disney Doppelganger Is... Jasmine!
With her heart-shaped face and gorgeous brows, Meryl looks just like Aladdin's favorite princess.
Ashley Wagner
With big blue eyes and blond hair, this 22-year-old Olympic figure skater bears a striking resemblance to a rags-to-riches Disney princess.
Her Disney Doppelganger is... Cinderella!
Like Cinderella, let's hope that Ashley Wagner gets her own fairytale ending — by kicking ass at the Olympics this year.
Caydee Denney
This Floridian reminds us of a certain Disney character hovering nearby in Orlando…
Her Disney Doppelganger is... Tinkerbell!
She may not have wings like this pixie, but when she's on skates, it sure looks like she can fly.
Gracie Gold
Her big, beautiful eyes and adorable hairdo remind us of a new beloved Disney character.
Her Disney Doppelganger Is... Elsa!
This Frozen character is a fan of sweet updos, too! Plus, there's the most obvious similarity — their connection to winter and ice.
Maia Shibutani
This four-time U.S. national medalist began skating at the age of four and fell in love with ice dancing when she and her brother, Alex Shibutani, went to see the 2003 World Championships. Now they will both be competing together on Team USA.
Her Disney Doppelganger Is... Snow White
Both beauties can really rock a red lip! Snow White was the fairest of them all, so let's hope that Maia also comes out on top in the 2014 Olympics.
Madison Chock
The California native began ice dancing at the age of 12 and fell in love with the sport.
Her Disney Doppelganger is... Mulan!
Like Mulan, Madison is driven to succeed — and can fly like the warrior.
Marissa Castelli
The 23-year-old Rhode Islander could easily pass for this Greek beauty queen.
Her Disney Doppelganger Is... Megara!
You have to be strong-willed to get to the Olympics, which is something that both Marissa and Meg definitely share.