We Know The Perfect Song To Boost Your Self-Esteem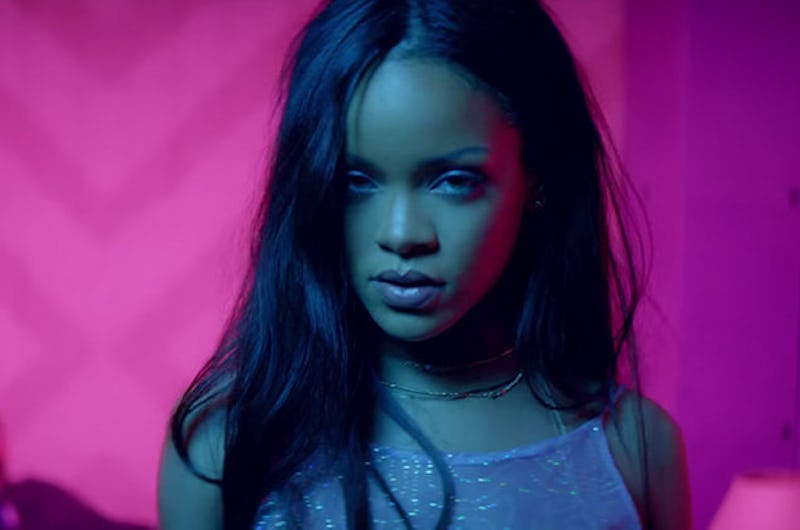 When you're feeling down on yourself, like you need a self-esteem boost, music can definitely help get you back in the swing of things. Heck, there's a whole genre of amazing female empowerment anthems that are created just to help you feel better about yourself on an especially dark day. But sometimes, any old empowerment anthem won't do. What you need is a song that speaks directly to you, like self-esteem boosting anthem based on your Zodiac sign. These are songs that speak directly to your astrological self. You know, the part of you that believes your horoscope will come true — especially when it's a good one — and that your best traits are the ones that are defined by whether you're an air, water, earth or fire sign.
This list is filled with new songs that can spruce up any old empowerment playlist you may be using way past its prime. We're talking tracks that are currently on the Billboard Hot 100 and are trending so high that they'll undoubtedly be there soon enough. You're definitely very of the moment with this playlist, don't worry. So find your sign, grab your headphones, and get ready to boost that self-esteem of yours with songs that send an empowering message and will probably have you dancing your troubles away.
Aquarius (January 21 — February 19)
Those who fall under this air sign are known to be independent, original and great problem solvers. They're deep thinkers who love to help others, but sometimes have trouble helping themselves when they feel overwhelmed. Shakira's "Try Everything" gives you permission to cut yourself a little slack and encourages you to get back on that horse and try again.
Pisces (February 20 — March 20)
The water sign prefers to go it alone, so, if you need a boost of self-esteem, turn Rihanna's "Work" way up and get back to yourself. Work, work, work, work, work on something that makes you feel good about who you are. Write a poem, paint a picture, compose a song, just do something that makes you love being you.
Aries (March 21 — April 20)
Rams are determined and passionate, always looking for answers to personal and metaphysical questions, so use Maren Morris's "My Church" as your guide to finding the solution to what will boost your self-esteem. No, you don't have to go to an actual church. You just need to find a place or thing that helps you when you need to find your way.
Taurus (April 21 — May 21)
For the reliable, patient and devoted bull, Rachel Platten's "Stand By You" becomes a song that will push you to keep going. Just as Platten says, you're not alone, so don't be afraid to ask for help.
Gemini (May 22 — June 21)
The twin sign is also a dual sign, meaning, you may never know which side you're going to get. A Gemini is known to be quick-witted and expressive, but can also be restless and indecisive. Sometimes you are your own worst enemy, which is why Aurora's "Conqueror" is your song. You sometimes have to conqueror your own astrological traits to get where you need to go.
Cancer (June 22 — July 22)
Those who fall under this water sign are emotional and sensitive, so we say lean into all those feelings with Lana Del Rey's "Freak." Feeling like you don't fit in? Don't worry. Do what Del Rey does, just embrace the freak inside you, and let your flag fly.
Leo (July 23 — August 21)
Lions are natural born leaders so Demi Lovato's "Confident" is the perfect song to get anyone with this fire sign back in the groove. Remember, there's nothing wrong with being confident. Always and forever.
Virgo (August 22 — September 23)
Virgos tend to be practical and analytical, so, if you're not feeling your best, put on Bebe Rexha's "No Broken Hearts" and start dancing. Don't overthink things this time. Just let yourself feel free to be who you are. Appreciate yourself without anyone else getting in your head.
Libra (September 24 — October 23)
Those whose birthdays fall under this air sign are known to be cooperative, but, when your self-esteem just isn't, Gwen Stefani's "Make Me Like You" can hopefully convince it to. Sure, confidence just seems like a thing that's there until it's not. And when it's gone, boy, do we miss it. Hopefully, this song will act as a siren call or at least give you a chance to dance around your room.
Scorpio (October 24 — November 22)
Scorpios are known for being brave and passionate, so your self-esteem anthem should be Carly Rae Jepsen's "Run Away With Me." Like you, Jepsen isn't afraid to take a chance, to go run off and try something new. Maybe you don't have to literally run away to get back your groove, but maybe you need to get carried away by something you feel passionate about.
Sagittarius (November 23 — December 22)
Independence is a strong characteristic of this fire sign, so what better way to declare you don't need anybody else than Hailee Steinfeld's "Love Myself?" The empowerment anthem, which certainly supports self-love, is perfect for the curious Sag who doesn't have time to waste on feeling bad about herself.
Capricorn (December 23 — January 20)
Those born under this Earth sign are known for being responsible, disciplined and full of self-control, which is why Meghan Trainor's "No" may help you get out of your funk with one word: No. Don't be afraid to say it loud and proud to the things that are bringing you down, because whatever it is, you need to let it go.
With just a listen to these songs, I think your horoscope will be getting better. I even predict your self-esteem will be back before you know it.
Image: RihannaVevo/Youtube