9 Bridesmaids Dresses That Don't Cost A Fortune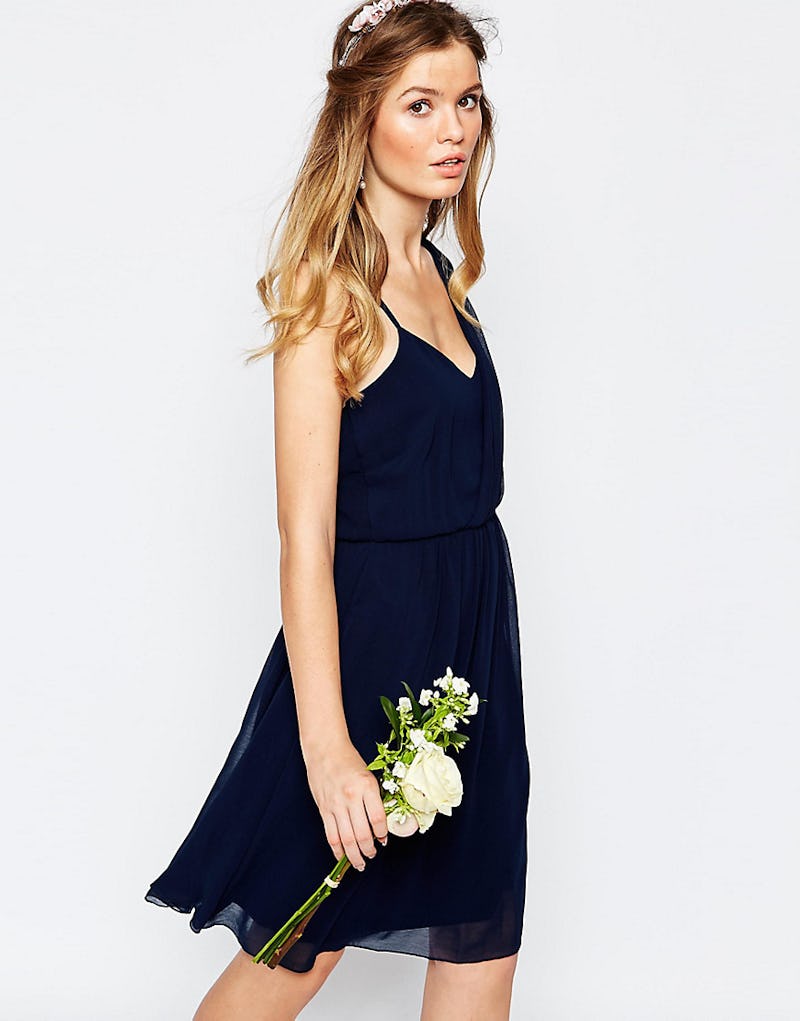 Wedding season is officially upon us all. With the weather warming up and the post-holiday and Valentine's day engagement stupor wearing off, brides are beginning to wedding plan. While florals are great, it's the dresses that are most exciting, in my opinion, and that includes the ones for the bridesmaids. These nine affordable bridesmaids dresses prove that your ladies don't need to spend gobs of money to be by your side.
If you've got girlfriends traveling in for your wedding or your bestie is in a graduate program, spending the average $673 may not be easy. Minimizing their cost while still keeping maximum style isn't a pipe dream, though. Tons of affordable retailers feature specific bridesmaids dresses and others have frocks perfect for your big day.
Bridesmaids dresses often get a bad rep. With movies like 27 Dresses spreading the myth that brides choose heinous styles, it's no wonder those who are asked to be in wedding parties cringe. From taffeta to patterns to solids, the options are endless, and sure, sometimes, it's true that some options aren't great, but that's far from the truth now.
I believe that bridesmaids dresses have come a long way, and while many would say that you can never wear your dress again, now, that's just not the case. With brands like ASOS and retailers like Target offering affordable and adorable bridesmaid styles, you and your ladies will have tons of great options.
These nine affordable bridesmaids dresses prove that you can get great style and amazing affordability. Your bridesmaids will surely thank you!
Floor Length Elegance
Women's Chiffon One Shoulder Maxi Bridesmaid Dress Fashion Colors TREVOLIO, $80, Target
Think affordability means a short dress? Think again.
Lovely in Lace
Women's Scalloped Lace V-Neck With Back Cut-Out Bridesmaid TEVOLIO, $70, Target
The details on the dress are perfect, and it rings in under $75!
Bejewled Details
Formal Illusion Sweetheart Floor-Length Gown, $69, Simply Dresses
Having a more formal wedding? This is perfect for an evening affair.
Dreamy Romance
Short Mesh Dress With Split Sleeves, $60, David's Bridal
Those gorgeous off-the-shoulder split sleeves are stunning.
Elegant Glam
Long Mesh Tank Dress With Illusion Neckline, $80, David's Bridal
This gorgeous gown is a steal. Elegance and affordability can totally go together.
Boho Flow
Boohoo Plus Double Layer Maxi Dress, $51, ASOS Curve
The flowing fabric of this maxi is perfect for a summer wedding.
Beachy Perfection
Villa One Shoulder Sash Dress, $68, ASOS
So perfect for a beach wedding.
Brilliant Hues
Emily And Fin Fun With Fundamentals, $100, ModCloth
Having a wedding that features lots of color? ModCloth has your answer.
Florals
Chi Chi London Plus Sateen Floral Midi Dress, $99, ASOS Curve
Thinking of something fun for your ladies? This dress is perfect with its floral details.
Want more fashion and beauty tips? Check out the video below and subscribe to Bustle on YouTube!
Images: Courtesy of brands