16 Green Foods For St. Patrick's Day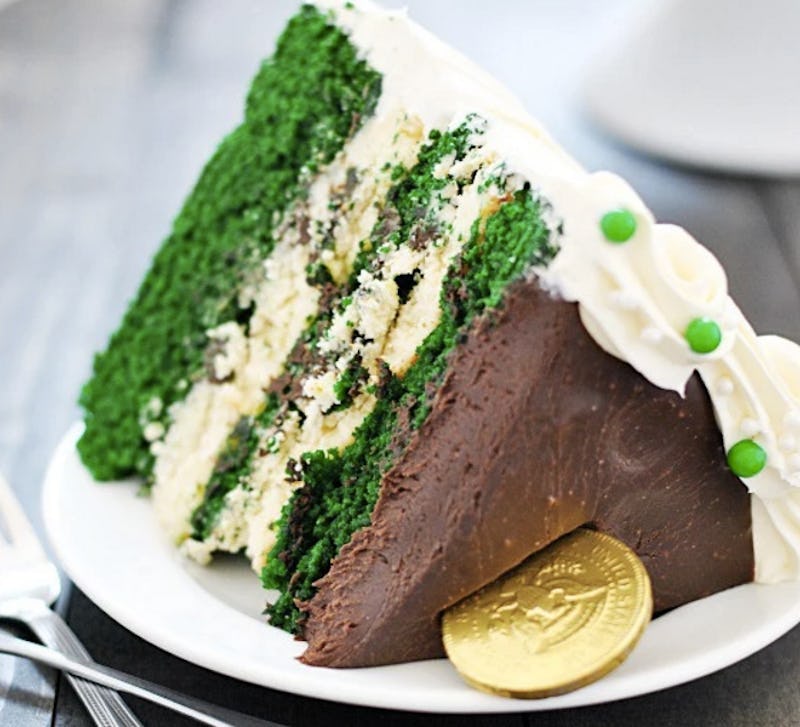 St. Patrick's Day is here, so have you decided how you are going to pack in as much green as possible? If you're still twiddling your thumbs, I've got all the green foods for St. Patrick's day you need that will definitely get you into the Irish spirit this holiday.
When it comes to St. Patrick's Day, the holiday has gone from a traditional celebration that would include church mass and family, to an all-out party where everyone is Irish ,and everyone has to embrace the green. Of course, I'm not arguing with that because that means more green foods, green cocktails, and green beer to imbibe in. Irish or not, you have to work a little green into your St. Patrick's Day, if only for the fear of being pinched.
In my opinion, it might as well be accomplished with food and drink. It's no lie that our lives revolve around food, and it's especially applicable for big festivities like St. Patrick's Day. Whether you're downing a DIY Shamrock Shake or digging into a pile of avocado hummus, you can rest assured that any form of green food that enters your mouth would be well worth the effort. Green food just tastes better, just like Dr. Seuss taught us.
1. Sneaky Shamrock Spinach Crackers & Green Dip
It's impossible not to feel festive with this crackers and dip recipe from Oh She Glows. The shamrock green crackers and green dip are a healthy way to start off a day of green feasting.
2. The Last Word Cocktail
Green beer is fun and festive, but let's be real. It's just watered down light beer that's been dyed green. Rise above the river of green beer and get classy with this green cocktail from The Kitchn.
3. Shamrock Shake Cupcakes
Every year I wait for the Shamrock Shake to grace us with its presence, and Brown Eyed Baker has captured my obsession with the drink perfectly… in cupcake form. Another way to enjoy a Shamrock Shake? I'm on board.
4. Irish Cream Cream Puffs
These green-kissed cream puffs from Lick My Spoon will make you feel classy AF next to your stout beer and Irish folk music on St. Patrick's Day. Talk about setting the bar high, right?
5. Shamrock Shake Cake
A green creamy cake like this one from Confessions of a Cookbook Queen is the best way to get your green in on St. Patrick's Day and also help yourself to an extra serving of shamrock deliciousness. Excuse me while I lick the screen…
6. Pistachio Pudding Linzer Cookies
For the true bakers out there, try your hand at these Linzer cookies from My Baking Addiction. These pistachio cookies have a mild flavor and are filled with a buttercream frosting that makes me want to do an Irish jig.
7. St. Patrick's Day Shamrock Cookies
Nothing beats a classic sugar cookie coated in a thick layer of sugary frosting like these adorable cookies from Brown Eyed Baker. It's green and will keep your sweet-tooth satisfied enough to counterbalance all that beer you'll be downing.
8. Boozy Shamrock Shake
A St. Patrick's Day green menu wouldn't be anything without a true Shamrock Shake, with a little booze thrown in like this one from The Kitchn. All the flavor you know and love, with just the right addition of alcohol to make it an extra special grownup treat.
9. Green Eggs & Potato Skillet
Skip the ham and go straight for the green eggs and Irish favorite, the potato. This is the ultimate St. Patrick's Day green breakfast to bust out on Thursday. Hearty and filling, Big Girls Small Kitchen nails the best pre-game breakfast in the world and made it green.
10. Thin Mint Shortbread Cookies
One of the best parts about St. Patrick's Day? It lands right around Girl Scout Cookie season. Combine your love of Thin Mints and everything green in one minty, buttery cookie from Something Swanky that will melt in your mouth.
11. Avocado Hummus
Avocados and their healthy fats in this recipe from Big Girls Small Kitchen will help you fight the hangover and get your green on all at once.
12. Grasshopper Brownies
The crème de menthe buttercream layer between a thick, moist brownie and layer of ganache is enough to make you want to kiss the Blarney Stone. Brown Eyed Baker makes green taste, and look, absolutely food porn-worthy.
13. Green Velvet Cheesecake Cake
Ditch the red dye and go straight for the green in this St. Patrick's Day-themed green velvet cheesecake cake from Something Swanky. It's a cheesecake, it's a cake, and it's basically everything you could ever want out of a dessert.
14. No-Bake Key Lime Pie
Who says you need to bake something to get a little green in your diet for St. Patrick's Day? Big Girls Small Kitchen brings the flavor and the color to the party with this no-bake key lime pie that'll surely blow minds.
15. Mint Chocolate Chip Ice Cream
Simple and classic, this recipe for mint chocolate chip ice cream from Brown Eyed Baker is a green dessert that you won't be able to wait to resist. It's the green food that everyone loves from age five to 50.
16. Leprechaun Chow
Need something to nibble on just before going out, or to pack in a doggie bag to munch on as you march from pub to pub? Something Swanky has you covered with this sweet treat made just for leprechauns.
Embrace the green!
For more ideas, check out Bustle on YouTube.
Images: Oh She Glows; The Kitchn; Brown Eyed Baker; Lick My Spoon ; Confessions of a Cookbook Queen; My Baking Addiction; Brown Eyed Baker; The Kitchn; Big Girls Small Kitchen; Something Swanky; Big Girls Small Kitchen; Brown Eyed Baker; Something Swanky; Big Girls Small Kitchen; Brown Eyed Baker; Something Swanky