Merrick Garland Could Be Obama's SCOTUS Pick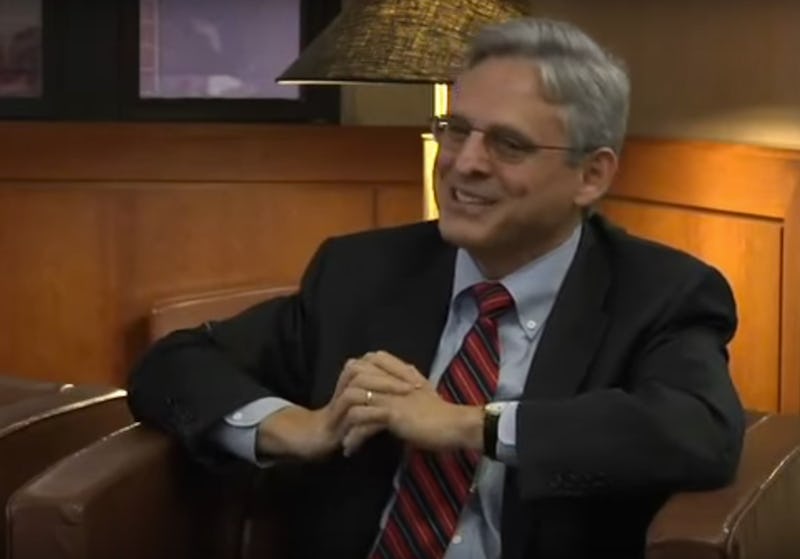 The prospective nominees for the open seat on the Supreme Court just keep on coming. And with GOP members in Congress vowing to block any potential appointment suggested by Obama, it's not unwise for the president to consider every person worthy of moving up to the high court before going all in on one candidate. And that search for the undeniably perfect justice certainly includes judges who have been close to snagging nominations in the past. One of the latest names to show up on the short list for the Supreme Court spot is Merrick Garland, who found himself in the same position six years ago prior to Elena Kagan's appointment. But who is Merrick Garland?
Garland currently serves as the chief judge of the U.S. Court of Appeals in the Washington D.C. circuit, a position he has held since February of 2013. He was first appointed to the appellate court back in 1997 during the Clinton administration. The former president would have been familiar with Garland's expertise: in 1993 Garland became the Deputy Assistant U.S. Attorney in the Department of Justice's Criminal Prosecutions Division, and a year later he was named the Principal Associate Deputy U.S. Attorney General. In that role, he helped supervise the prosecution of both the Unabomber and Oklahoma City bombing cases.
The appellate judge also offers a decade of experience in the private sector. Garland spent eight years with the Washington law firm Arnold & Porter in the 1980s. He then did a bit of back and forth, working as an Assistant U.S. Attorney for Washington D.C. for a few years, and then returning to Arnold & Porter for a year.
Overall, it would be hard for anyone to deny that the judge sure has the chops to become a member of SCOTUS — and Garland's even experienced the work of the Supreme Court up close in the earliest days in his career. After graduating from Harvard Law School, he served as a legal clerk for the late Associate Justice William J. Brennan, Jr.
It turns out members of the Obama administration may have been waiting for a situation exactly like the one before them to put forth Garland as a nominee, Reuters reported former advisors to the president said. The Washington judge could be viewed as a compromise nominee who Republicans would actually consider for a SCOTUS vacancy during an election year. If past advisors were correct in their thinking, now's the time to find out.