How To Pick The Best Shampoo For You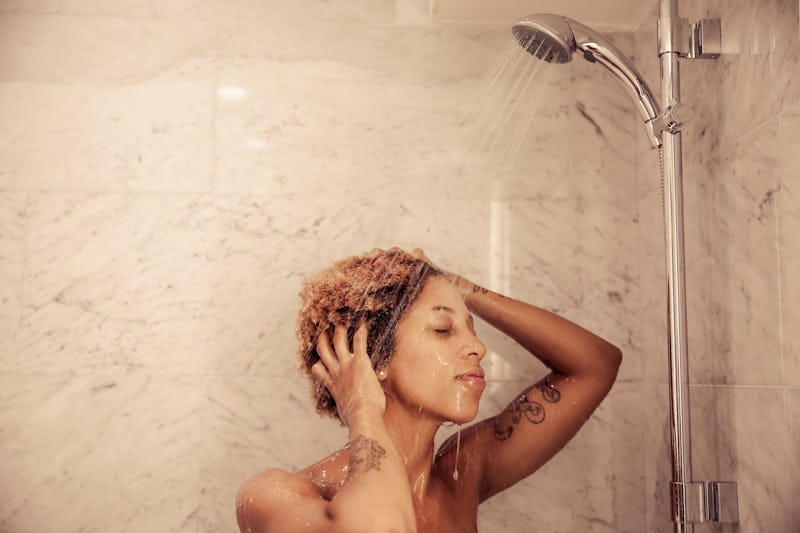 The shampoo and conditioner aisle of any store can be totally overwhelming (and let's not even get started on sifting through the endless amount of online options), but picking a shampoo that's perfect for your hair is actually possible. To determine how to pick the best shampoo for you, I reached out to a professional stylist. Armed with the right questions, you'll be able to zero in on exactly what you and your strands need.
I hit up Mirza Botanivic, Eufora Global Educator and stylist at Ammon Carver Salon in NYC, for details on how to pick the perfect shampoo. First and foremost, he says, "Ideally you would chat with your stylists about ... problems you want to address."
Reaching out to your stylist is worth the effort, as Botanivic tells me, "If you go to the store, most of the shampoos and conditioners use the same chemical ingredients and thus only work temporarily to relieve the symptoms [of whatever hair challenge you're trying to address]. A professional stylist can recommend professional products with customized ingredients to target specific problems."
Below are a few specific things to consider when asking your stylist about the best shampoo for your hair. I promise it's out there!
1. Do You Have Dry Ends?
Eufora Urgent Repair Shampoo, $18, Amazon
Botanivic recommended definitely bringing up concerns over dry ends if you have any to find a moisturizing shampoo that can address them.
2. Is Your Hair Brittle?
StriVectin Hair Ultimate Restore Shampoo, $25, Amazon
If your hair is not only fine, but brittle, definitely bring up concerns, says Botanivic.
3. Does Your Scalp Itch?
Eufora Aloe Therapy Shampoo, $18, Amazon
An itchy scalp could be caused by a multitude of things, which is why Botanivic urges you chat with your stylist to determine if your current shampoo is causing the itch, if you're dealing with dandruff, or if you need to talk with your dermatologist.
4. Are Your Strands Oily?
ALTERNA Haircare Daily Detoxifying Shampoo, $32, Sephora
On Lush's guide for choosing a shampoo, one crucial consideration is whether or not your hair is oily. If your hair is greasy, you'll want to find a hydrating shampoo that doesn't weigh you down.
5. Has Your Hair Been Chemically-Treated?
Phyto Phytokeratin Repairing Shampoo, $24, Sephora
If your hair has been relaxed or straightened (i.e. keratin!), your stylist can help you determine what shampoo will help enhance the treatment and keep your nourished.
6. Do You Have Sensitive Skin?
Briogeo Be Gentle Green Tea Shampoo, $24, Amazon
Using a shampoo with chemicals that you're unknowingly allergic to obviously wouldn't feel good! If you know you have sensitive skin, bring it up with your stylist to find one that won't irritate.
7. Is Your Hair Dull?
Phyto Phytojoba Hydrating Brilliance Shampoo, $23, Amazon
Lush suggested bringing up whether or not you would describe your hair as dull with your stylist to find a shine-boosting product if needed that won't just hide the dullness, but really heal your hair.
8. Has Your Hair Been Color-Treated?
Bumble and Bumble Color Minded Shampoo, $31, Sephora
As mentioned in Folica, whether or not your hair has been color-treated is a huge consideration in finding the right shampoo.
9. What's Your Hair Texture?
Ouidad Curl Quencher Moisturizing Shampoo, $18, Sephora
According to TotalBeauty, a crucial question is determining what your hair texture is in the first place. Once you know, you can substantially narrow down your options.
Want more fashion and beauty tips? Check out the video below and subscribe to Bustle on YouTube!
Images: Lea Dubedout/Unsplash; Courtesy of Brands